STORY: Kelly Skinner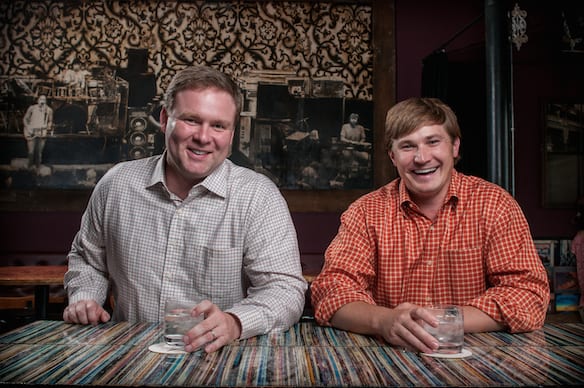 Jim Chasteen and Charlie Thompson have long fancied themselves whiskey connoisseurs. Heck, they swilled the stuff with urgency during their college days as roommates at the University of Georgia (someone's gotta do it) more than a decade ago.
At some point, they talked about making their own whiskey. And then they did. "To this day, I don't know why we did it," laughs Chasteen.
Chasteen, 38, who has relocated to Garden Hills, and his Brookwood Hills-located partner Thompson, 37, launched their spirit whiskey label, American Spirit Whiskey, in 2011 in Atlanta. (Spirit whiskeys are a classification of whiskey that incorporates neutral spirits, creating a mellower whiskey, and one that is quicker to produce.) Their flagship brand, available in more than 500 bottle shops and restaurants in the state and various others across the country (including The St. Regis Atlanta, Local Three Kitchen & Bar, Savi Provisions and Shula's Steak House in Buckhead) is a mellow white whiskey or "moonshine" that's easy to drink and translates well to cocktails. Instead of being aged in barrels for prolonged periods of time like most whiskeys, American Spirit Whiskey is stored briefly in oak barrels, then is filtered with ultrasonic waves, speeding up the maturation process and producing a clean, smooth whiskey that more closely resembles a vodka or light rum with more grain character. It is made with bourbon-quality mash and softened using 100-percent corn neutral spirits.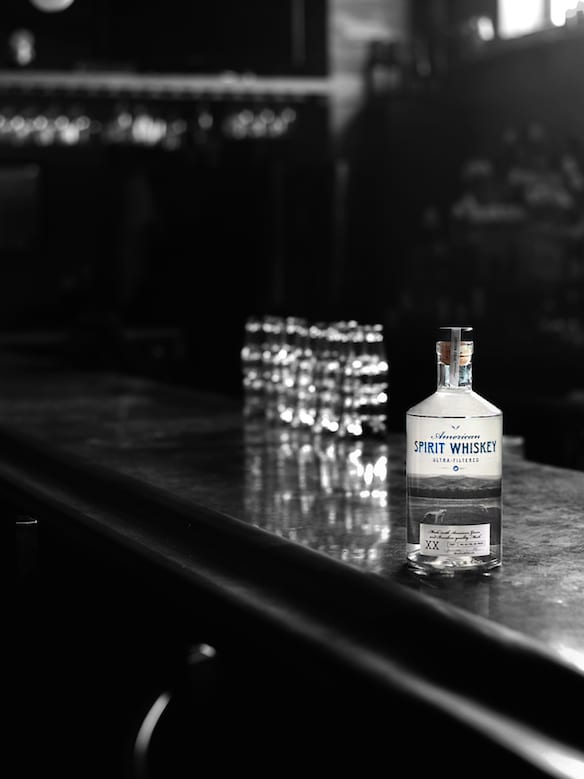 While you won't find the word "moonshine" on the bottle, the founders pay playful homage to America's bootlegging legacy with a prominent white dog (another name for white whiskey or moonshine) on the logo. The duo has been producing their spirit whiskey in North Charleston since its inception, but, thanks to a brand new distillery, Chasteen and Thompson will soon move all of their operations to south Buckhead's Armour Industrial District, adjacent to Brookwood Hills.
"The goal has always been to have an aged product," Chasteen confides, and due to recent developments, that's on the agenda in the near future. This winter, Chasteen and Thompson are taking over 6,500 square feet at the former location of Mason Murer Fine Art and are transforming it into a distillery that they'll call American Spirit Works. (Local company Novare Events has taken over 16,000 square feet of the building and will be using it as an event space called The Stave when it opens in 2015.)
"Once we get the distillery going, we'll be rolling out some very unique things. We'll be focusing on whiskey and brandy and will be incorporating Georgia grown produce [apples, grapes, peaches, muscadines] and eventually grains," Chasteen says. "In addition, we want to offer visitors a soil to still experience … you'll get to witness the entire process right here in Buckhead."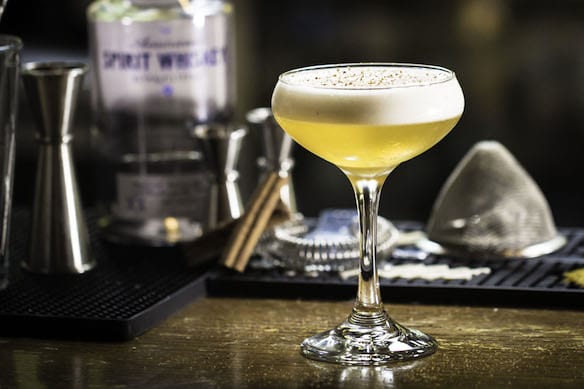 Thanks to its current operations, American Spirit Whiskey's production will be uninterrupted throughout the transition. But when the distillery is complete in the next 18 months or so (they aim to open in mid 2015 with production starting soon after), you'll be able to enjoy tastings, seminars and tours. Paired with the recent opening of Old Fourth Ward Distillery, it's easy to feel a bit intoxicated with the knowledge that Atlanta is in the beginnings of a distillery boom. We'll drink to that.
LOCAL THREE'S CHEF CHRIS HALL OFFERS THIS SPICED APPLE CONCOCTION WITH AMERICAN SPIRIT WHISKEY TO WARM YOU UP THIS WINTER.
Laws of Motion (Yields 1 cocktail)
INGREDIENTS:
1 1/2 ounces American Spirit Whiskey 1/2 ounce apple cider
1/4 ounce allspice dram
1/2 ounce Laird's Applejack
1/2 ounce simple syrup
1 dash Bar Keep Apple Bitters 1 egg white
cinnamon stick for garnish
Place ingredients in a shaker with no ice and shake vigorously for 30 seconds. Add ice to the shaker and shake again for 30 seconds. Strain into a cocktail or martini glass. Shave cinnamon lightly over glass. Enjoy.