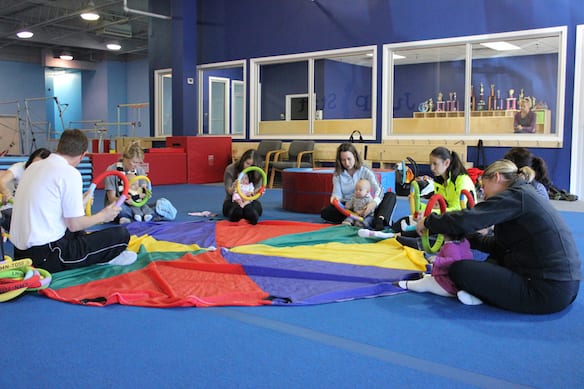 A visit to Jump Start Gym in Sandy Springs makes it clear that it's never too early to get children involved in fitness and activity. In fact, parents can participate right along with their babies as young as just 3 months old. The laughter and squeals of delight are perhaps the best endorsement that even the littlest gym members can benefit from physical engagement.
The sessions, which are divided into five different groups (based on development and ability with loose overlapping age brackets) for children under 3 years old, are fun for both parents and their little ones. During classes with cute names like Crawling Caterpillars and Jumping Jaguars activities include playing with bells, bars and rings; tracking bright objects with their eyes; rolling both ways on the floor to strengthen the non dominant side; and core work like lifting up and balancing. During each stage of development, the parents are present and participating, so the bonding and engagement are real.
"We really focus on development, so that classes are fun and productive for parents and their children," says co owner Courtney Smith, who founded Jump Start Gym five years ago with her husband, Todd. "We've designed them to help kids develop motor skills, socialization with other children, and hand eye coordination." The couple has three children, ages 8, 12 and 15, who are each active in the gym's gymnastic programs, which go all the way through adult.
Sandy Springs resident Megan Robison, whose 3 1/2-year-old daughter, Ryleigh, started attending when she was 13 months and her 18 month old son, Cole, started when he was 10 months, is a believer in the benefits. "With Ryleigh, we immediately noticed an improvement in coordination and gross motor skills, especially climbing stairs safely and walking on uneven surfaces like grass and carpet. With Cole, most of his improvements are in learning how to take turns, listening and trying to follow directions," she says. "It's also a great bonding time with your kids." While the classes focus on motor skills and coordination for developing children, there are also elements that are valuable for parents. "We help teach parents how to play with their children," Smith says. "For instance, by the time a child is 2 or 3, it's important for the parents to have verbal involvement, rather than physical, in the class, which teaches independence and helps kids learn to listen to the teacher." Such skills help prepare children for another milestone in life: school, where listening to teachers is paramount. The sessions also help parents learn safety and create a community with other parents whose kids are in the same stage of development.
45-minute classes start at $83 per month, with discounts for siblings. The first class, Moving Monkeys (for children 3 months old to crawling), is free.
5920 Roswell Road Sandy Springs 30328
404.252.5867 www.jumpstartgym.com