Georgia-produced masterpieces.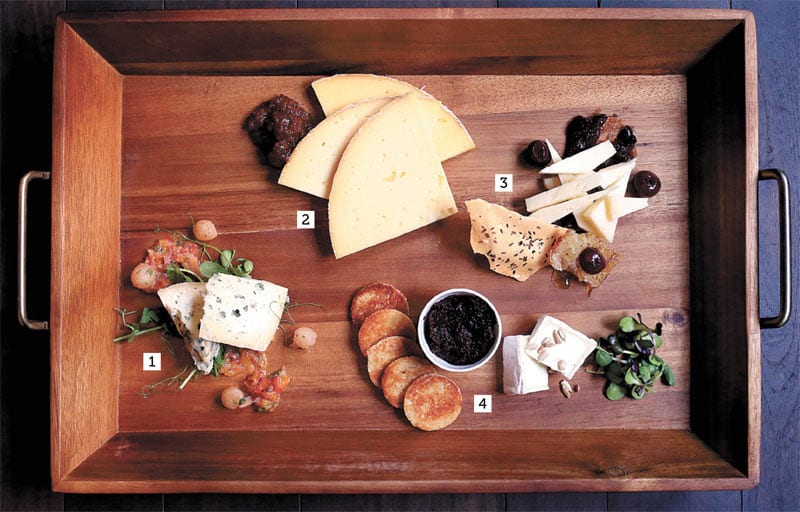 Georgia is a veritable agrarian paradise with its varied climate, topography and native produce— including cheese. It's only natural for Buckhead's chefs to showcase this locally produced fare on every part of their menus. Whether you prefer to start your meal with a savory cheese plate or have a bite as a dessert course (as the French do), you can't go wrong with any of these delicious cheeses and thoughtfully selected accoutrements, all of which change seasonally.
1. Double Zero Napoletana:
Elberton Blue ($14 for 3 cheeses)
This melt-in-your-mouth blue cheese, produced by Nature's Harmony in Elberton (northeast Georgia), has a mild flavor even "blue haters" just may love. It has the signature veining that makes it identifiable as a blue cheese and a dense, creamy, almost fudge-like texture. Perfectly appropriate as an antipasto or an alternative to dessert at this Southern Italian restaurant, it's served with spicy peach and fennel chutney and spiced apples—and your selection of two other cheeses.
5825 Roswell Road N.E.
Atlanta 30328
404.991.3666
doublezeroatl.com
---
2. St. Cecilia:
Thomasville Tomme ($16 for small Salumi e Formaggi board)
Created by Sweetgrass Dairy in Thomasville, this raw cow's milk cheese is aged a minimum of 60 days to get its rustic, buttery flavor. It's crafted in the style of a French Pyrenees tomme with a semi-firm texture and a smooth, rich, balanced taste. While the cheese may be local, it's served with sweet, grainy fig mostarda; charcuterie; and piadine, an Italian flatbread that originated in the Romagna region of Italy— apropos for St. Cecilia's simple, coastal European fare.
3455 Peachtree Road
Atlanta 30326
404.554.9995
stceciliaatl.com
---
3. Restaurant Eugene:
Georgia Gold Clothbound Cheddar ($6)
Even the cheese plate lives up to James Beard Award-winning Chef Linton Hopkins' reputation for offering refined, curated fare. With this selection, he elevates the humble cheddar, choosing a complex local cheese (also from Nature's Harmony in Elberton) with an earthy, malty flavor and an almost crunchy texture. To complement the natural intricacies of the taste, he pairs it with Savannah Bee Company honeycomb, brandy soaked cherries, fig preserves and housemade dill benne seed crackers.
2277 Peachtree Road N.W.
Atlanta 30309
404.355.0321
restauranteugene.com
---
4. Atlas Restaurant:
Garretts Ferry ($18 for 3 cheeses)
It's only natural that this elegant restaurant would serve an equally elegant three-cheese plate. One of said cheese options is from Many Fold Farm, just 30 minutes southwest of Atlanta, which creates a pasteurized sheep's milk cheese in the crottin style. Traditionally done in France's Loire Valley with goat's milk, the result is an ultra-luxurious, creamy cheese with a nutty flavor, alluring texture and soft, chalky white rind. Chef de Cuisine Christopher Grossman serves it with brioche melba rounds, fig jam and sunflower seeds and sprouts. Get it while you can: The farm only produces this little gem from February through October.
88 West Paces Ferry Road N.W.
Atlanta 30305
404.600.6471
atlasrestaurant.com
STORY: Jennifer Bradley Franklin
PHOTO: Sara Hanna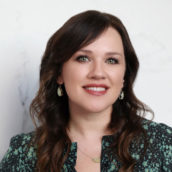 Jennifer Bradley Franklin
Senior Contributing Editor and Beauty Columnist at Simply Buckhead. Travel, Food and Design Writer and Author.