In Buckhead, successful family dynasties rule over the boardrooms of some of the most profitable private corporations in the Southeast. Their business acumen and creative talents are passed down through the genetic lottery. These cultured clans are making millions of dollars providing goods to those who want to splurge on life's finer things— diamonds, destination dining, custom cars and forward fashions. Ninety percent of the nation's business enterprises are family owned and operated, according to the Small Business Association. But only the strong survive. Here's how family enterprises flourish in Buckhead.
---
FOOD AND FAMILY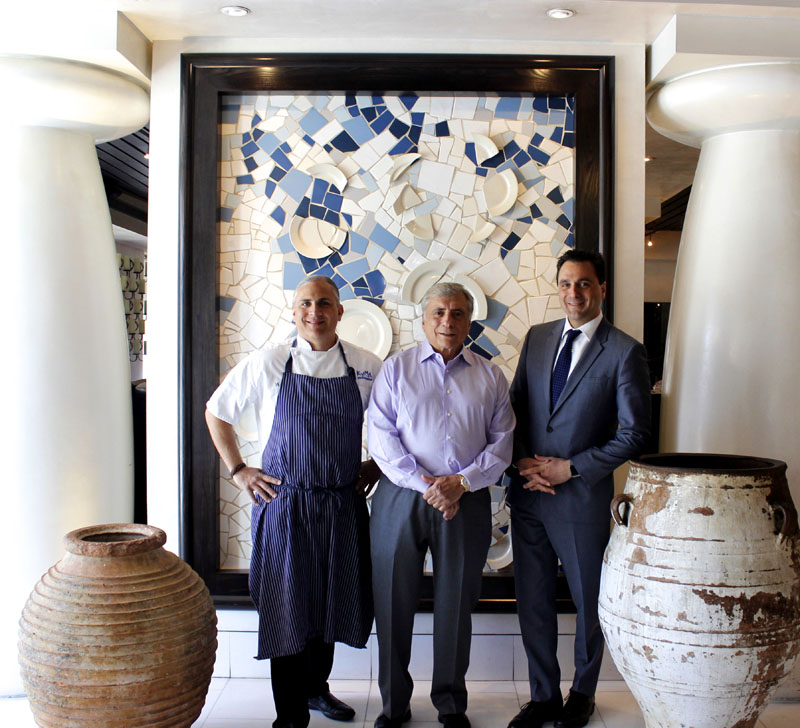 Pano Karatassos grew up in a close knit Greek family that appreciated the social bond created by a good meal. His father and namesake ran a successful cafe and food import business in Savannah that supplied international delicacies to local restaurants.
He learned the business from the floor up by pushing a broom, stocking shelves in the store and helping in the cafe.
"I did a little bit of everything," Karatassos says. "I had no choice. My father was a perfectionist. Through my father, I learned to work hard. I learned the meaning of hospitality." Karatassos spent four years in the Navy before branching out on his own. He later attended the Culinary Institute of America in Hyde Park, N.Y., which landed him in the kitchens and back offices of some of the world's finest resorts, including The Everglades Club in Palm Beach, Florida and the Fairmont Le Montreux Palace Hotel in Switzerland.
He wanted more. "I had the urge to open my own restaurant," he says. After reconnecting with old friend and fellow chef Paul Albrecht, Karatassos launched what would become the flagship for his new family business. Pano's & Paul's opened in Buckhead in 1979 and helped to raise the bar for fine dining in Atlanta. He opened another restaurant six months later, laying the foundation for Buckhead Life Restaurant Group. The company offers fare for all tastes at a host of restaurants, including Atlanta Fish Market, Pricci, Buckhead Diner, Chops Lobster Bar and Kyma, to name a few.
Karatassos created a legacy for his three children who joined him in the business. His son, Niko, worked his way up from a greeter to company president. Pano Jr. is executive chef at Kyma and oversees the quality of cuisine in the group.
"I couldn't be happier than to work with my children," Karatassos says. "We don't let titles go to our heads. Everyone rolls up their sleeves. We enjoy taking care of people and making them feel welcome in our restaurants."
BUCKHEAD LIFE RESTAURANT GROUP
Employees: 1,200
Family members in business: Pano Karatassos, owner and founder; Niko Karatassos, company president; Pano I. Karatassos, executive chef at Kyma and corporate chef for group; and Ann Karatassos, who works in business office.
Benefits of family business: "They have got my back. They are smart. They love the business," Pano Karatassos says.
Challenges: "Sometimes our communication is not always the best, but that is in the genes. In the end, we are all on the same page," Pano says.
---
A SHINING LEGACY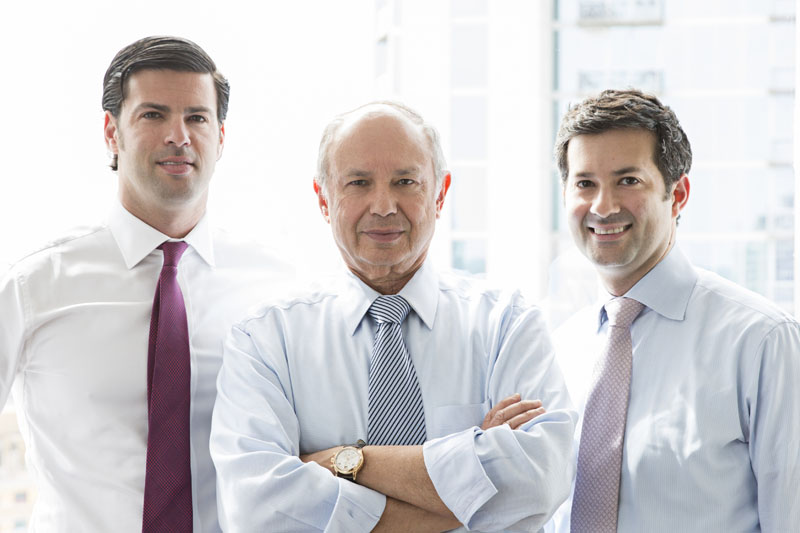 The patriarch of Buckhead-based Universal Diamonds, Amos Agami, came to Atlanta to study engineering at Georgia Tech. And like most college students, he was broke. He took on odd jobs to make some cash until a shift at a jewelry store in 1974 changed his life. Agami, a charmer, convinced a customer looking to buy a $1,000 ring to spend $10,000 instead.
"That was the equivalent of a $60,000 stone today, and it was his first sale," says Ronnie Agami, CEO of Universal Diamond Corporation and Amos' eldest son.
From that point on, the elder Agami forgot about engineering and built his future in diamonds. He became a wholesale and retail dealer. Today, Universal Diamonds carries one of the largest inventories of loose diamonds in the Southeast.
Agami' sons, Ronnie and Jonathan, joined the family business because it was in their blood.
"There are worse things to be born into," Ronnie says jokingly. "It is a really fun business. I used to go on appointments and buying trips with my dad as a kid. I would listen to him negotiate purchases. I would watch him take what some would say was a colossal diamond and recut it into something prettier."
Ronnie studied business at the University of Michigan and interned at Tiffany & Co. in New York before returning home in 2001 to share his expertise. "What I love about this business is you get to meet people at an exciting stage of their lives," he says. "We try to sell them something gorgeous that they will remember."
Amos allowed his sons to make their mark on Universal. "He never tried to be our boss," Ronnie says. "We are his partners."
UNIVERSAL DIAMOND CORPORATION
Employees: 10
Family members: Amos Agami, owner and founder; Ronnie Agami, CEO; Jonathan Agami, president.
Benefits of family business: "Trust, respect and love," Amos says. "It's very rewarding," Jonathan says.
Challenges: "Being patient. My brother John and I are very different. We don't see eye to eye every time, but in the end you have to love each other," Ronnie says.
---
THE ELLIS EMPIRE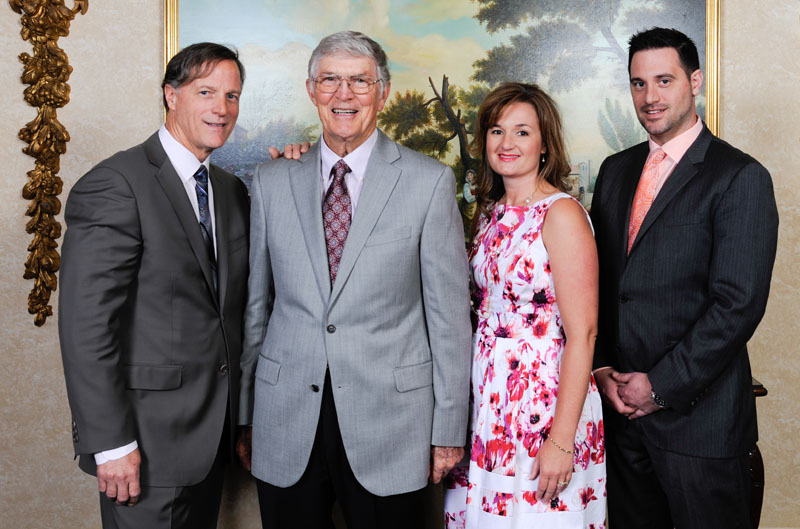 James W. Ellis Jr. is the visionary leader who turned a Volkswagen franchise he opened on Peachtree Industrial Boulevard in 1971 into a network of 13 family-owned dealerships serving the Atlanta area today.
The cornerstone for his success is reflected in his business motto, which promises "to deliver an experience to clients in a way that makes them feel like family." The Ellis Automotive Group employs 1,000 people, including three generations of Ellises. The family dealerships— eight that are located just north of Buckhead in Chamblee— grossed nearly $1 billion in sales last year moving 23,000 cars.
"I was in high school when Mr. Ellis founded our first dealership," says Ellis' son, James E. "Jimmy" Ellis, president and CEO of the company. (Yes, he calls his father Mr. Ellis.) "I came to work mopping floors, changing oil and washing cars part-time."
Upon graduation, Jimmy Ellis took some college courses but didn't finish because he wanted to stay close to the family business. He took jobs in service, parts and sales before being promoted to general manager. "I worked my way up through the business with a high school diploma."
The elder Ellis rewarded his son with a CEO position when he believed he was ready to take charge. "He made it very easy for me to work with him," Jimmy says of his father. "I couldn't have asked for a better mentor or boss."
Jimmy cautioned his children, Stacey and Wesley, to get their college degrees before considering a future in the family enterprise. He thought they needed something to fall back on in case the auto industry wasn't a good fit. They still went to work for their dad after earning marketing degrees from West Georgia and Georgia Southern colleges. Jimmy says he is "fortunate" to have family and trusted employees to carry on the business.
"It is rare to see a business like ours last through the third and hopefully fourth generation."
JIM ELLIS DEALERSHIP GROUP
Employees: 1,000
Family members: James W. Ellis Jr., founder and board chair; wife, Billie Ellis, secretary and treasurer of corporations; their son, Jimmy Ellis, president and CEO; and their daughters, Kristi Cohron and Karen Black, president and vice-president of the Jim Ellis Foundation respectively and board officers. Jimmy Ellis's children work in the family business, too. Daughter, Stacey Hodges, is vice president of Audi Atlanta and of corporate directors; son, Wesley Ellis, is vice-president of Jim Ellis Volkswagen Atlanta and Jim Ellis Hyundai; niece, Brooke Gatlin, is director of human resources and employee communications.
Benefits of family business: "Our business and family are intertwined. It brings a sense of family and community culture to our business," Jimmy says.
Challenges: "Making sure that everyone understands that the success of the business has to be held as the top priority. If the business is not successful, the family has no support," Jimmy says.
---
A DESIGNER AND HIS DAD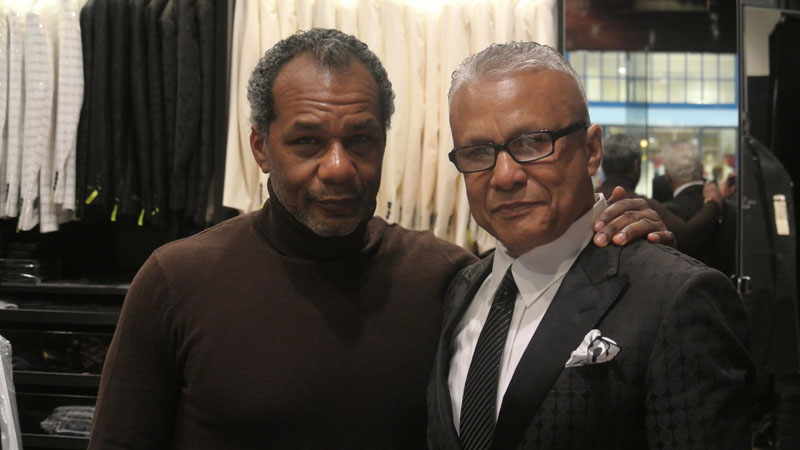 Designer Miguel Wilson sits behind a desk in his signature store in Phipps Plaza, creating formal wear, custom suits and casual styles that take classic cuts to the next level. He uses intriguing textures and a palette of bold hues and soft pastels to break up the monotony found in most men's closets.
His flair for design came with his genes. His father, Rafael Escoto, who now works with him, ran a multi million dollar interior design firm in Washington D.C. and outfitted the businesses and homes of celebs.
Wilson targets similar clients with his high-end fashions. His regular customers are a VIP list of NFL athletes, actors, recording artists and Fortune 500 execs. The Miguel Wilson Wedding Collection has graced the nuptials of "The Real Housewives of Atlanta" and Hollywood filmmaker Will Packer. Another Wilson original was recently worn by the host of the Latin Grammy's, Cristian de la Fuente.
But Wilson quickly learned that some of the greatest buzz generated by his fashions comes when his father walks the runway during local shows. It's a job that the age-defying, white-haired, tan and fit senior got drafted for, but has come to enjoy.
"My father won't tell anyone how old he is, but he sure is a crowd favorite," Wilson says. "He gets a lot of attention."
Escoto is a walking billboard for his son's brand, wearing custom suits and eye-catching accent jewelry wherever he goes. "He's my son, and I want to help him," Escoto says. "I love fashion and working with Miguel."
Escoto designed his son's store and works a weekend shift to give Wilson time off. He also works to build the brand.
"It's a blessing to be able to work with my father," Wilson says.
MIGUEL WILSON COLLECTION AND MIGUEL WILSON WEDDING COLLECTION
Employees: Miguel Wilson Collection has three full-time employees and several contractors who sew the clothing line.
Family members: Wilson is head designer and CEO and Escoto is a designer and stylist.
Benefits of family business: "It's so easy for my father to sell me. He gets his clothes from me. He is always meeting people and sending them my store. He has my best interests in mind at all times," Wilson says.
Challenges of family business: "We do our share of fussing, but my father is a great employee," Wilson jokes.
---
LIKE FATHER, LIKE SON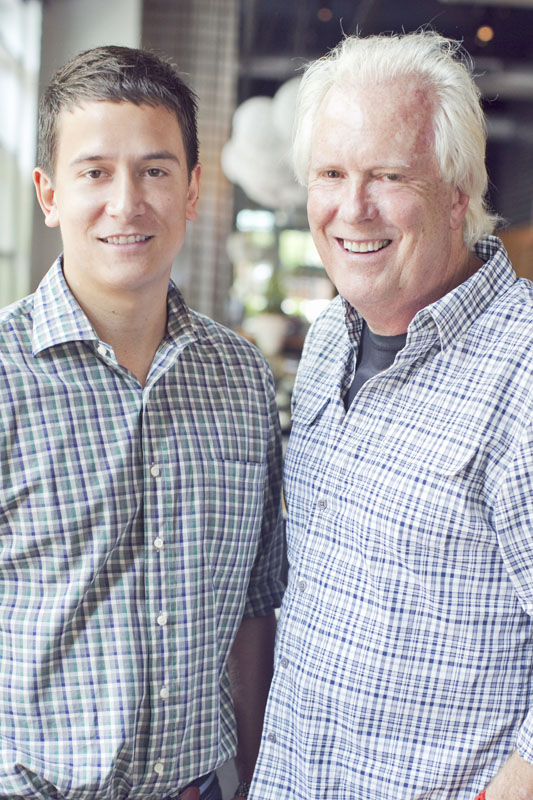 Bob Amick got his start in the food industry hawking hotdogs at football games in West Point, New York. For a college freshman, the work was intriguing. He got paid to serve his customers comfort food they loved that kept them coming back for more.
"It got in my blood and never got out," Amick says of the food industry.
Amick, who lives in Ansley Park, opened his first white-tablecloth restaurant, the Pleasant Peasant on Peachtree, in 1974. Twenty years later, he was a restaurant magnate with a partnership in 40 dining destinations across the country.
Amick's knack for transforming spaces into trendy cafes and elegant bistros made him a sought-after talent. He sold his interest in his first business, Peasant Restaurants, and eventually opened his family business, Concentrics Restaurants, which has 15 properties in five states and a consulting division. That gives Amick the freedom to design and manage one-of-a-kind restaurants for hotels and retail developments.
"We have a history of creating great restaurants that are high on quality and low on pretense," he says.
Amick opened Atlanta's One Midtown Kitchen 14 years ago to national acclaim for its refreshing approach to classic food and wine. This was followed by Atlanta's Two Urban Licks and a network of more successful restaurants. His Juniper and Ivy Italian eatery was rewarded with high praise from San Diego Magazine that named the property "Restaurant of the Year" in 2015. Amick plans to open several more restaurants by 2017, including concepts in Atlanta, Chicago, Seattle and Florida, among other states.
Amick's oldest son, Buckhead resident Justin Amick, calls his father's work "iconic," but he still wasn't sure he wanted to follow in his footsteps. His dad didn't pressure him. After graduating from Tulane University, Justin took an advertising job. "It took me about a year to realize I was miserable," he admits. "I called my father and said 'I want to come work in the company.'"
Bob helped his son learn back office duties under the tutelage of Chef Tom Colicchio. Then, Justin moved to Napa Valley to study wine making. He later won the prestigious Rudd scholarship from the Court of Master Sommeliers that honors the individual who receives the highest combined score on the advanced Sommelier exam. After working in operations helping run the family business for seven years, Justin's reputation as a connoisseur helped him to launch a venture of his own, The Painted Pin, a boutique bar, bowling and entertainment venue in Buckhead. It earned him and his business partner William Stallworth the honor of being named "Entrepreneurs of the Year" by the Buckhead Business Association in 2016. The duo's second venture, duckpin bowling venue The Painted Duck, will open in the Westside's Stockyards Atlanta development in early 2017.
Justin still works with his father, but he is also expanding his own empire. "I am doing everything my dad taught me to do."
CONCENTRICS RESTAURANTS
Employees: 500
Family members: Bob Amick, owner and founder; Rowina Amick, florals; Justin Amick, founder and president of Painted Hospitality, corporate wine consultant and Advanced Sommelier of Concentrics Restaurants; Marisa Amick Anderson, vice-president of marketing; and Hannah Amick, director of public relations.
Benefits of family business: "It's exhilarating, but it comes with drama. You take the good and the bad," Bob says. "It has brought us very close."
Challenges of working with family: "Learning not to take things personally," Justin says. "If hurtful things are said, you learn how to let them roll off your back. Family is family."
STORY: D. Aileen Dodd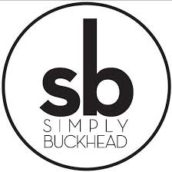 SimplyBuckhead
Simply Buckhead is an upscale lifestyle magazine focused on the best and brightest individuals, businesses and events in Buckhead, Brookhaven, Sandy Springs, Dunwoody and Chamblee. With a commitment to journalistic excellence, the magazine serves as the authority on who to know, what to do and where to go in the community, and its surroundings.