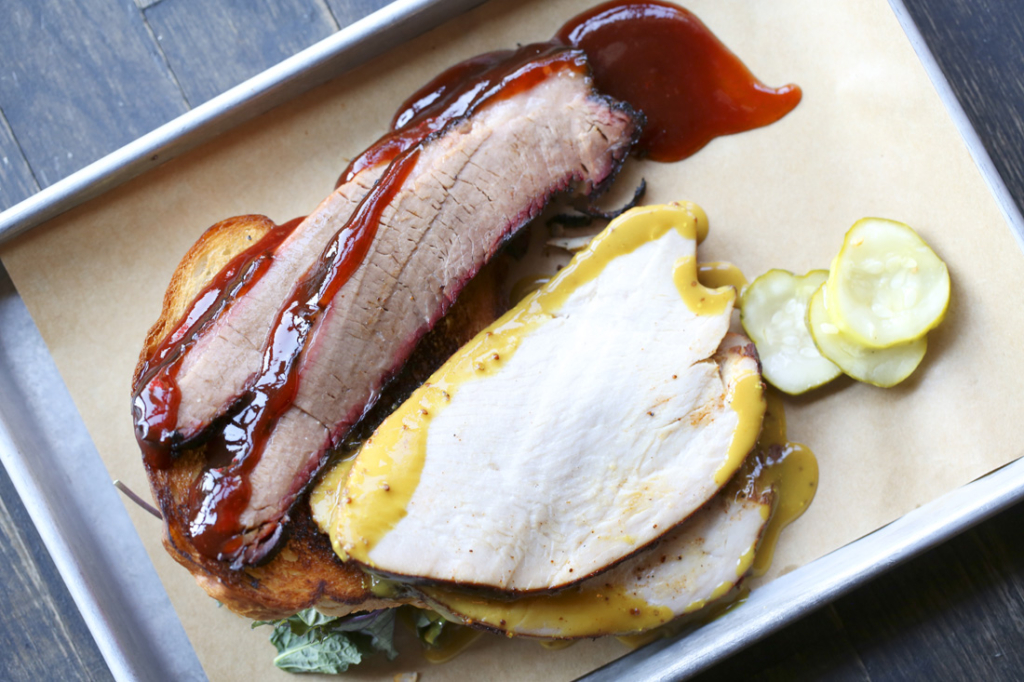 Smokebelly wafts over Buckhead with old-school tradition.
Driving through Buckhead, past the posh retailers of The Shops Buckhead Atlanta and the swanky St. Regis hotel, I pull into, of all places, a barbecue joint. Talk of barbecue ignites a passion in people, and often the most lauded spots are out of the way roadside shacks. They are the kind of places where servings come in Styrofoam containers or on flimsy paper plates, and side dishes are an afterthought.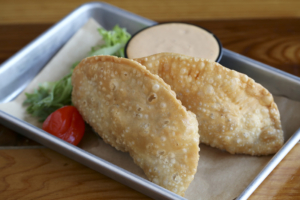 Smack in the heart of Buckhead on East Andrews Drive, Smokebelly BBQ isn't a roadside shack by any means, but it instantly reminds me of local poet Kevin Young's "Ode to Pork." His poem ends with the line "I want my cake and to barbecue too," evocative of traditional barbecue in these exclusive surroundings. One of seven restaurant concepts of Southern Proper Hospitality Group (that also includes The Big Ketch Buckhead, The Blind Pig Parlour Bar, The Southern Gentleman and Gypsy Kitchen), Smokebelly has an interior that's rustic yet elevated. Wood is not only for smoking here. The floors are wood, planks line the walls and Mason jars suspended from pallets hang from the ceiling. A sun-washed, faded mural of peaches on a brick wall appears like the outside of an old building, paying homage to those roadside shacks. A large porch is retrofitted with artificial turf where stylish, young professionals unwind.
Smokebelly doesn't adhere to any distinct style of barbecue. The menu is made up of old-school Southern barbecue staples put forth in new directions. Five different proteins come off the Southern Pride rotisserie smoker, stoked with hickory wood. You'll find tapas, BBQ plates, sandwiches and salads.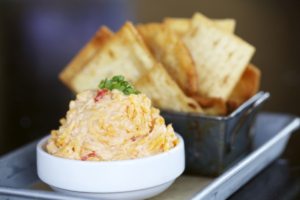 Standout tapas include the smoked brisket and sofrito empanadas that arrive steaming hot and crisp. The flaky, hand-forked crust yields a tender and juicy meat bomb of flavor—so much so that the chipotle dipping sauce isn't needed. The creamy pimento cheese comes with a choice of pork rinds or house-made crackers to use as a vehicle. I chose the thick crackers that have a bite much like that of sourdough. It's tangy paired with the sharp cheddar, but I could have done with less mayo in the mixture. Large, meaty wings are rubbed with spices, smoked and then flash-fried; even so, the smoke comes through in the moist meat.
A couple of the tapas are entrée worthy. Served in a cast iron skillet, mac and cheese has three preparations: Porky Pig with smoked pork, buffalo with smoked turkey and bacon with smoked feta, all meaty and all piled high. I went for the Porky Pig— molten, creamy macaroni with a crown of pulled pork, sprinkles of green onion, and crumbs made of pork cracklins. It's a fun play on texture as well as taste.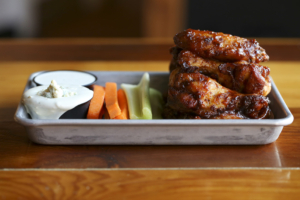 Fun choices need to be made when considering plates and combo platters. Metal trays come loaded with meats from the smoker, two sides and a thick slab of Texas toast. Ordering brisket requires an additional choice: lean or fatty. Choosing the latter yields generous slabs of meat with a caramelized cap of fat arching across the top. Although brisket is among the tougher cuts, the slow and low cooking process marinates the marbled meat. The outer bark lends crunch, and the dry rub delivers just the right amount of seasoning. The opposite of brisket is probably lean turkey breast, an often less flavorful and drier selection. Here, the hickory wood imbues its flavor with a deeply smoked essence, and the meat remains moist, tender and juicy.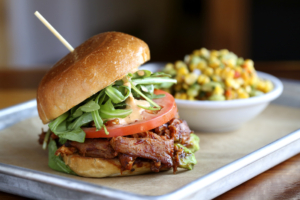 The menu includes almost a dozen sandwiches. The BBQ chicken sandwich with pulled chicken, slices of avocado and tomato, and leaves of peppery arugula make a great combo. The only downfall is the excessive amount of sauce that overpowers the flavor of the chicken. I tried to order the pressed banh mi, but they were out of the Ratio Bakeshop baguettes that our server said makes it so good. Instead, she suggested the Smokebelly stack. It's a tall mess of pork and brisket slices, tomato, onion, arugula and lots of chipotle aioli—tough to eat, and nothing like a banh mi.
I rarely look to barbecue joints for memorable sides or salads, but here, Smokebelly sets itself apart. The quinoa and mixed vegetable salad is both my favorite side and favorite entrée (called quinoa super food salad on the menu). It's a zesty bowl of shredded and sliced veggies nestled around a mound of chilled quinoa on a bed of young greens. The black pepper-honey vinaigrette adds tang and punch.
Portions are generous so it's difficult to save room for dessert, but piecrust lovers will dig the tiny pecan pie with a high crust-to-pie ratio. It pairs well with a house Old Fashioned and the spice notes of its bourbon. I found most of the cocktails on the sweet side, but there's also 20 beers on draft. A Creature Comforts Tropicalia has all the right fruit-forward and hop notes to go with barbecue. And this is the place where a glass of rosé feels fitting.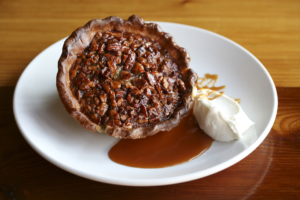 Those out of the way roadside barbecue shacks have a certain sanctity, but here, you can get deliciously smoked meats with craft cocktails in a chic interior that corresponds with the upscale neighborhood surroundings So you can have your cake and barbecue, too.
SMOKEBELLY BBQ
128 E. Andrews, Atlanta 30305
404.848.9100
smokebellybbq.com
Prices: Cocktails $4-$10. Tapas $4.50-$11.50.
Sandwiches and salads $6.50- $12.50.
Barbecue plates $14-$27. Dessert $7.
Recommended: Sofrito empanadas, quinoa mixed vegetable salad, smoked turkey plate, brisket plate, pimento cheese.
Bottom line: Classic barbecue staples with healthful sides and salads that shine.
STORY: Angela Hansberger
PHOTOS: Sara Hanna
Angela Hansberger
Drinks columnist at Simply Buckhead. Food, spirits, and culture writer.