The cooler months bring on a popular pastime known as leaf peeping, which takes people on a journey to find the best fall foliage.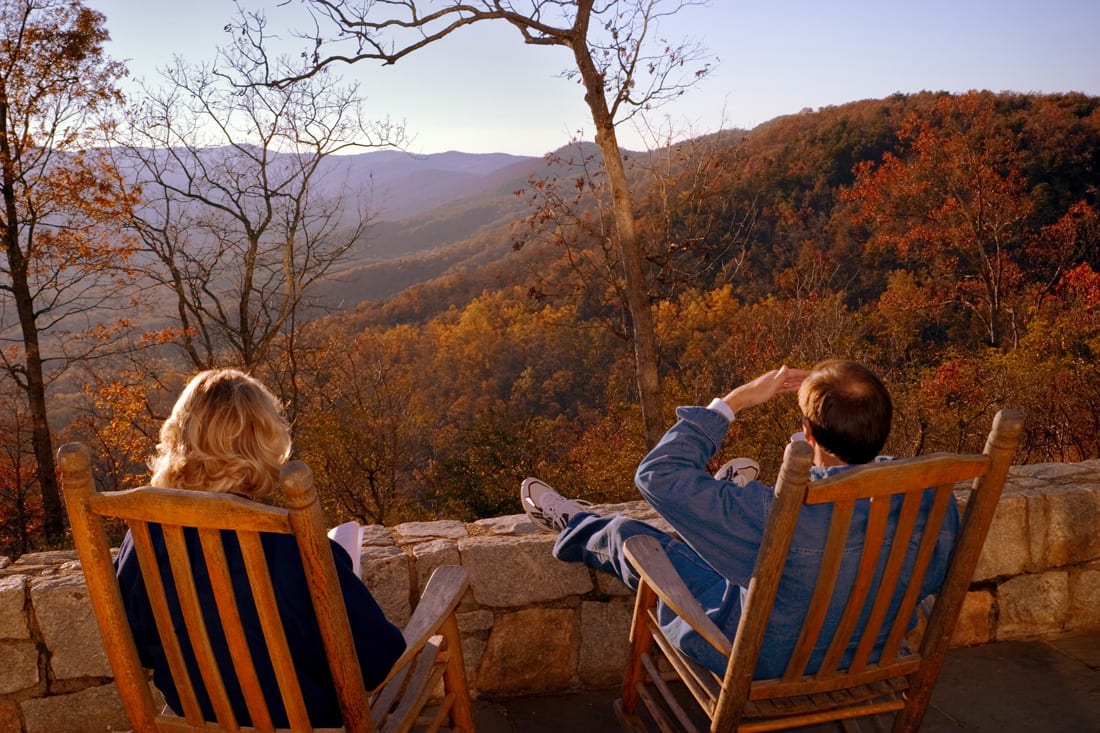 STORY: Jessica Dauler
It's difficult to predict the exact dates for optimal viewing, but lucky for us, many nearby options make it easier to find a window of opportunity.
Amicalola Falls State Park
Dawsonville, Georgia
This popular mountaintop area is just two hours from Atlanta and home to one of the Southeast's highest waterfalls at 729 feet. An easy-access overlook awaits at the top, but if you desire a challenge, start at the bottom of the falls and hike up the steep staircase; it's easy to find on a map. There are plenty of hiking and viewing opportunities for all levels, including access to Springer Mountain, the southernmost start of the Appalachian Trail. Non-hikers can also enjoy leafy views by booking a room at the rustic Amicalola Falls Lodge.
706.344.1500 • amicalolafallslodge.com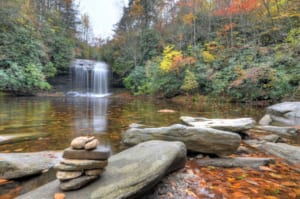 Panthertown Valley
Cashiers, North Carolina
Known as the "Yosemite of the East," Panthertown Valley is a dream destination for outdoor enthusiasts given its more than 30 miles of mixed-use trails, granite rock domes and 12 plunging waterfalls. Well marked hiking trails offer overlooks with 360-degree views of the stunning red, orange and yellow valleys below. The season starts at the highest elevation in early October, gradually progressing to the lowest elevation later that month and in early November. Peak season occurs around mid-October.
828.269.4453 • panthertown.org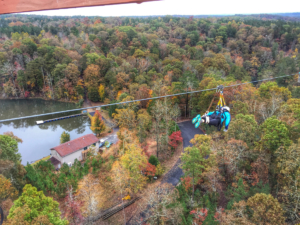 Historic Banning Mills
Whitesburg, Georgia
Drive one hour southwest of Atlanta and discover Historic Banning Mills, an outdoor adventure park that holds two Guinness World Records for Longest Hiking Suspension Bridge and Longest Continuous Zip Line Course. The exploits are tempting any time of year, but extremists can enjoy a bird's-eye view of the 250 acres of fall foliage, which peaks in late October, while soaring through the air or traversing a suspension bridge. Non-adventurous types can also enjoy similar views by reserving the on-site treehouse accommodations.
770.834.9149 • historicbanningmills.com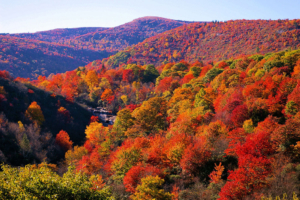 Gatlinburg
Gatlinburg, Tennessee
The Great Smoky Mountains offer some of the most spectacular fall colors, with more than 100 species of native trees. In fact, a TripAdvisor poll named Gatlinburg one of the top 10 foliage destinations in North America. Most of the area is great for viewing, but if you have to pick a starting point, the aerial tramway at Ober Gatlinburg is a great start. Mid-October, the leaves in the highest elevations will reach their peak. Then, about a week later, the trees in the lower elevations will show off their most vibrant colors and linger until early November.
865.436.4178 • gatlinburg.com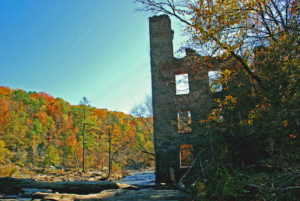 Sweetwater Creek State Park
Lithia Springs, Georgia
A quick 30-minute ride west of Buckhead, this peaceful escape from city life offers everything from top-rated whitewater rafting and waterfalls to wooded trails and ruins from the New Manchester Manufacturing Company, a textile mill burned during the Civil War. The park contains 12 miles of trails perfect for a family hike or trail run amid the changing leaves. Sweetwater Creek's Yurt Village allows visitors to turn day-trips into weekend getaways.
770.732.5871 • gastateparks.org/sweetwatercreek