Making Masks Accessible to All
When the COVID-19 pandemic hit, people rushed to find the most comfortable mask for their face shapes. But what about those for whom wearing a mask meant they couldn't communicate or move around? For those who suffer from a host of neuromuscular conditions such as multiple sclerosis, wearing a standard mask could prohibit them from living life to the fullest.
That was an immediate concern for Adina Bradshaw, a speech language pathologist in the Assistive Technology Center at Buckhead's Shepherd Center, a not-for-profit hospital dedicated to the treatment and rehabilitation of those with conditions such as spinal cord injuries and multiple sclerosis. Bradshaw and her colleague, biomedical engineer Erin Radcliffe, came up with three ways to quickly and easily transform traditional masks to meet the needs of those with disabilities.
The duo published three free guides that instruct family members and caregivers on how to modify masks in about 30 minutes. The designs enable patients to continue using lip reading to converse, for example. Other patients needed ways to stay protected while powering a wheelchair using sip-and-puff, a method that involves breathing through a tube.
In the sip-and-puff case, the modified masks include a straw-size hole and a grommet to close them. Bradshaw's guides include two methods for making adjustments to both cloth and KN95 masks. When lip reading is necessary, the modified masks include a clear vinyl inlay, providing mouth visibility.
"The masks were developed out of necessity," says Bradshaw, who has worked at Shepherd for 10 years and in the field of augmentative communication for 20. "The patients couldn't communicate and couldn't drive their wheelchairs without being exposed."
Bradshaw has been passionate about helping the disabled since high school. After moving from Cleveland, Ohio, to Atlanta, she began working with children with special needs. She continued on this path throughout college and graduate school, focusing on each individual she meets, learning from them just as they learn from her.
Her modified masks are "just as effective at preventing the virus" as traditional masks, Bradshaw says, as long as users are diligent about closing the grommet and washing their hands.
The guides have been shared all over the world. Volunteers even conducted a virtual make-a-thon using Bradshaw and Radcliffe's instructions.
"It's been an incredible response. We're super excited about it," Bradshaw says. "Our goal is to get people what they need in an easily accessible fashion."
She points out that the modified masks could have uses beyond the walls of the hospital, too. Restaurants and bars could offer them so customers could keep their masks on while drinking, and teachers and therapists could benefit from masks that allow children to see their lips. Bradshaw and her husband recently modified their own masks to allow them to drink at her sister's wedding.
"I'm a helper by nature. I like problem solving," she says. In her work at Shepherd, Bradshaw also created and published custom boards for adults who are struggling to communicate. The boards depict common words and pictures that patients can point to, or families can hold up, to express themselves without getting frustrated.
"I'm overly passionate, sometimes obsessive, about finding solutions for individuals to continue to be independent and safe after a catastrophic injury or being diagnosed with a disease like ALS or MS," she says. "People have the right to communicate."
For more information on Bradshaw's modified mask guides, visit bit.ly/adaptivemasks.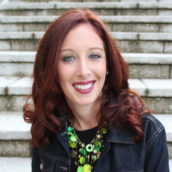 Carly Cooper
Foodie Tastemaker Columnist at Simply Buckhead. Contributing Editor at Atlanta Magazine. Restaurant Aficionado and Mother of Two.