AN AMATEUR DESIGNER HITS A HOME RUN WITH HER BUCKHEAD FAMILY HOME
STORY: Giannina S. Bedford
PHOTOS: Sara Hanna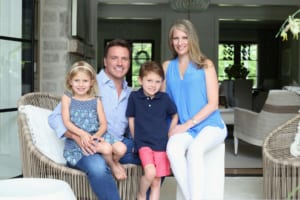 Blair and Jennifer Brookins were outgrowing their Buckhead townhouse. They loved the Pine Hills location overlooking Shady Valley Park, but with four flights of stairs and two young children, they knew it was time to move. "It's great when you're single and have a dog. It's perfect to have no yard. But not for carrying groceries and having two kids and strollers," says Blair, the founder and president of ITelNetworks.
They looked for a home for a year and a half, with no luck. Then, in 2015, Blair was riding his bike on W. Roxboro Road and noticed an elderly woman placing a "For Sale" sign in the front yard of a home on a half-acre corner lot. "I stopped the bike and asked, 'Are you selling this lot?'" he recalls. "I always thought it would be a great lot."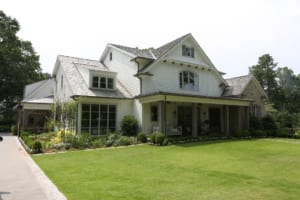 Seizing the moment, Blair got the property under contract in 24 hours. Then the ball began rolling for the Brookins to design and build their ideal home. It took 14 months and lots of ups and downs—including a pool variance, tree permitting and two sets of architectural plans—but in 2017, the family of four finally moved into the 6,500-square-foot abode.
With a front porch out of a picture book, a resort-worthy pool deck complete with a hot tub, 6.5 bathrooms and 5 bedrooms, plus a mother-in-law suite Blair uses as a home office, the residence is everything the Brookins ever wanted. Once building was underway, Jennifer went to work picking the finishes for the interior, which features shiplap walls, reclaimed wood beams, brick and more. The finished product screams the work of a professional interior design, but it's all the result of Jennifer's discerning eye. "I've always liked to decorate," says Jennifer, a former Sarah Smith Elementary teacher and now stay-at-home mom who has taken to helping friends and neighbors with their home design projects. "She's on Pinterest a lot," Blair teases.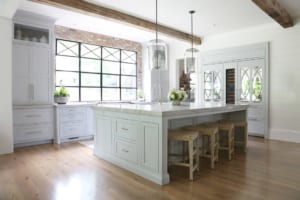 The vision for the Brookins' coastal-chic interior was inspired by many of the homes in the communities along Florida's 30A, such as WaterColor and Seaside, and the architectural gems at Serenbe. While vacationing near 30A, Blair often hit the beach with the kids while Jennifer toured homes taking photos and gathering information on materials and where to source them. The wood beams in the main living space, for example, were reclaimed from an Ohio barn and the lime-washed bricks framing the kitchen's picture window were once part of a Chicago building that was torn down.
Other eye-catching touches include the living room's pecky cypress ceiling arranged in a diamond pattern and the schmeared Indiana limestone fireplace (the schmear done in large part by Jennifer's own hands). All of it meshes seamlessly with sophisticated furnishings from Lee Industries, Faulkner's Custom Furniture, Redefined Home, Serena & Lily and Palecek. "It was difficult to furnish an entire house on a strict budget. I ended up going to every sample sale in town from the day we began building," says Jennifer.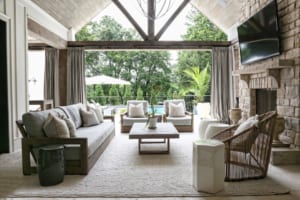 The home's open floor plan features two casual dining spaces, a rustic yet sleek kitchen and a keeping room tucked into a corner of large windows. This is where Jennifer sips her morning coffee and bird watches with the kids. Near the main entry, a formal dining room impresses with a wall in reclaimed wood and a drum pendant light from EllaHome. Complementing the upscale beachy vibe is an abundance of enormous windows that let in the natural light. "I don't have shades or curtains and people can see in," says Jennifer, "but that doesn't bother me. Where we need privacy, we have it."
One of Jennifer's favorite windows is the one above the kitchen's cooktop that allows her to look outdoors while she cooks and the sun to illuminate the heart of the home, an oversized island topped with an impressive slab of quartzite from Levantina. "It took me two months to find a piece [of Sea Pearl quartzite] that didn't have a seam," she says.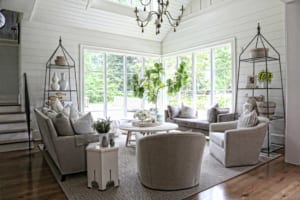 Jennifer didn't let little challenges hold her back from fulfilling her design vision, and the extra touches are what give each room character and interest. In the master bedroom, the vaulted ceiling features reclaimed wood beams, and the master bathroom is hidden behind antique French doors sourced from Scott Antique Markets. "They're from a building outside of Versailles," says Jennifer. "Those are some of my favorite pieces. They are very, very old."
Sliding open Jennifer's prized doors reveals a master bathroom with floor-to-ceiling blue-glass tile that emanates a feeling of being underwater. The bathroom also features gray cabinets by Keystone Millworks, a custom Penhaglion tub, a walk-in shower and a private water closet behind frosted glass.
While the home's main level was created to fulfill Blair and Jennifer's every desire, the upstairs is all about the kids. At the top of the stairs, a fun and funky playroom is equipped with an attic-turned-loft, book- and toy-stuffed built-ins, family photos and a hidden room behind a tiny door they call the "fort," where the Brookins' kids, 5-yearold Wesley and 4-year-old Hannah, love to hide. "They spend hours up there, and when we can't find them, they're usually in the fort," says Jennifer. The upstairs also houses the kids' bedrooms. Hannah's is a pastel-hued space with painted checkered floors and Wesley's sports a nautical theme with a compass painted on the floor at the foot of his bed.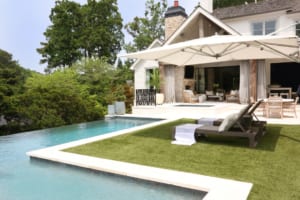 Everyone in the Brookins' home has his or her preferred space and Blair's is, without hesitation, the outdoors. "The porch, the pool, the hot tub—I just want to go out there," says Blair. "I love being able to close the gate when I get off work and the kids ride scooters on the big, long driveway, and we can sit out on the front porch with a glass of wine and just listen to music and watch them for hours."
Now that the Brookins have their spacious home, they love to share it with others. They entertain three or four times a week, hosting casual dinners, grill-outs on the Big Green Egg and kid-friendly pool parties. The basement, with its 86-inch television, is another great space for entertaining.
"I never imagined living in a home where I got to design every inch of every room just how I wanted it," says Jennifer. "I love that every space is used every day and that our children get to grow up in such a fun home."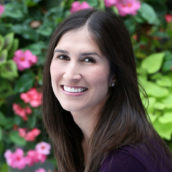 Giannina Bedford
Giannina S. Bedford is multi-faceted writer and editor. Her work covers design, travel, food and business. She's penned Simply Buckhead's home feature since inception and held a variety of editorial roles at the magazine. Her freelance work has appeared in Condé Nast Traveler, USA Today, Virtuoso Life, Hemispheres and TravelandLeisure.com. She also contributes regularly Atlanta Business Chronicle. Fluent in Spanish, Giannina was born in Miami and grew up in Brazil, Chile, Hawaii and Australia. She currently lives in Dunwoody with her two kids and husband.