A FEAR FREE EDUCATION HELPS PET PROFESSIONALS ALLEVIATE THEIR FOUR-LEGGED CLIENTS' ANXIETY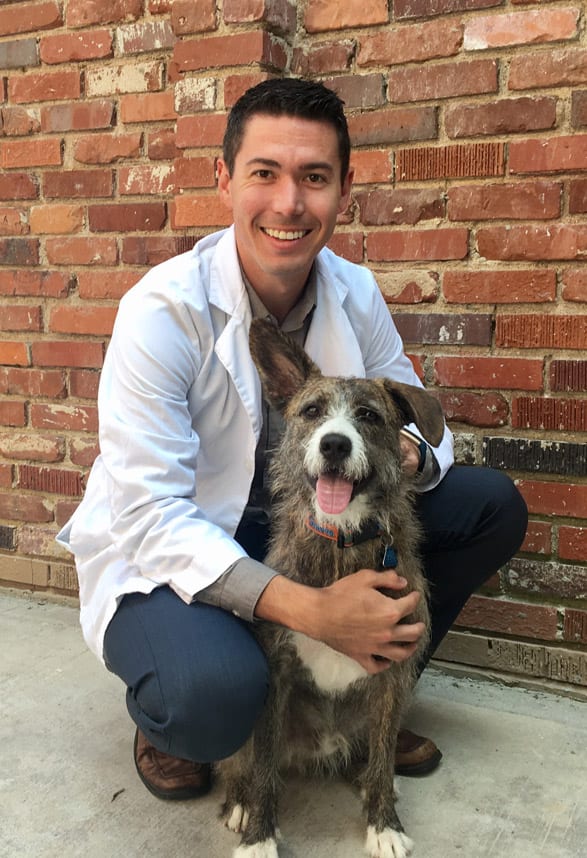 STORY: Laura J. Moss
One of veterinarian Mark Belyeu's regular patients is an older, small-breed dog with a collapsing trachea, a disorder that restricts the airway, especially during times of stress. The dog was growing increasingly anxious with vet visits, and once his stress was so bad that Belyeu, who practices at Peachtree Hills Animal Hospital in Buckhead, had to administer oxygen to the animal.
Recognizing that the pup's fear was a hazard to its health, Belyeu discussed the issue with the dog's owner, and they came up with a plan. "We dispensed a pre-appointment medication that was safe for him and could significantly reduce his stress," he says. "We attempted this medication at the next visit, and the pet did wonderfully. A complete exam was performed without issue, no oxygen was needed, and the pet even seemed to enjoy his visit."
Severe anxiety while receiving veterinary care isn't uncommon among pets. In fact, the stress it can cause our furry friends is one of the chief reasons many pet owners, especially kitty caregivers, forgo regular vet checkups. That's why Dr. Marty Becker, who earned the nickname "America's vet" from Dr. Oz, created Fear Free, an organization that aims to "take the 'pet' out of 'petrified'" by educating professionals on how to alleviate animals' stress.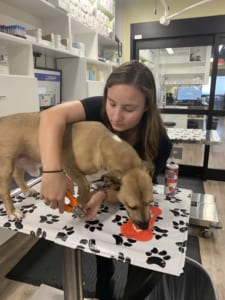 Belyeu, who is Fear Free certified, says the training he received as part of the program has positively impacted his personal practice and helped him to be more sensitive to pets' needs. "Taking the course and implementing it in my daily practice has allowed me to put myself in the pet's shoes," he says. "I am empathetic to the fact that a pet is taken out of its normal day-to-day and placed into a potentially stressful environment."
But Fear Free involves much more than simply administering medication. Professionals who complete the education learn how to recognize signs of fear, as well as a variety of techniques to help alleviate it. The courses include methods of distractions, tips for using calm body language and recommendations that pet owners themselves can implement prior to a vet visit. Belyeu says he uses the techniques he learned on a daily basis.
"The Fear Free concept is based on reducing the signs of fear, anxiety and stress in pets," he says. "When those signs are reduced, I'm a better veterinarian. I'm able to have a calm approach to performing a thorough exam and obtaining samples that can give us insight into the pet's health. This allows me to be the best advocate for my patients."
Whether it's teaching felines to tolerate nail trims or feeding treats to energetic dogs to help them relax during an exam, Belyeu says Fear Free training revolutionizes pet professionals' relationships with their clients and helps them develop customized care for every animal.
"Every pet is different and responds uniquely to each situation," says Belyeu. "So when a pet is anxious, stressed or fearful, we can discuss this with the owner and develop a specific, individualized plan that will allow us to reach the best possible outcome for that pet."
To learn more about Fear Free, or to find a Fear Free certified professional near you, visit fearfreepets.com.