Homestyle Iraqi cooking makes Atlanta debut.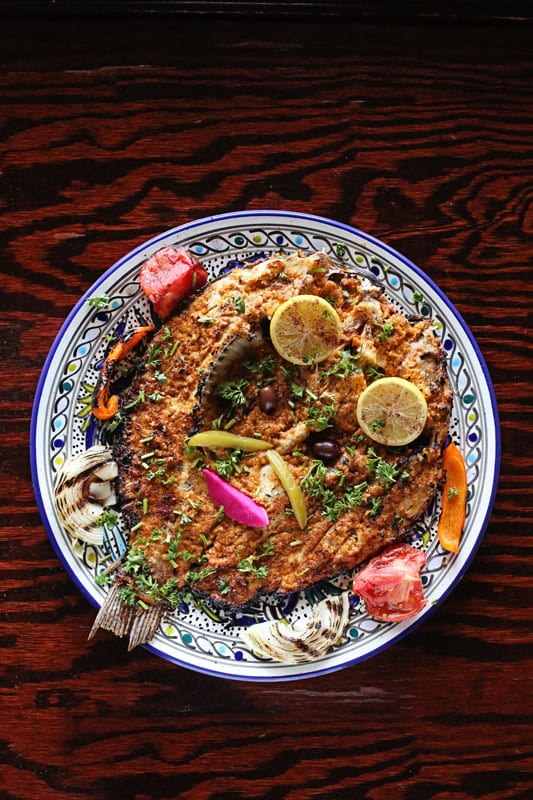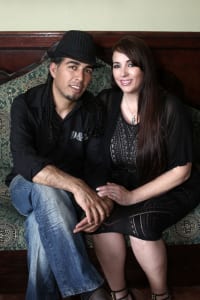 So there's this little neighborhood café you love. You go there because the food is delicious and you can always count on the chef to stop by to chat you up and tell you how he makes the food he remembers from home.
But what does "home" mean, and how does it taste?
In the case of Saad Marwad, the chef and roaming chatterbox who is likely to swing by your table to make conversation at Babylon Café, home is a faraway place shattered by politics and war. Yet the Iraqi immigrant has transported the earthy and evocative cuisine of the land once known as Mesopotamia to his kitchen at the corner of Lenox and Cheshire Bridge roads.
Last year, Marwad and his wife, Kelly Rafia—who was born in Saudi Arabia, grew up in the States and studied at Emory University—opened Babylon Café, and the foodie community started to buzz about the couple's fresh, flavorful repertoire of Middle Eastern classics, from falafel and hummus to kebabs and baklava.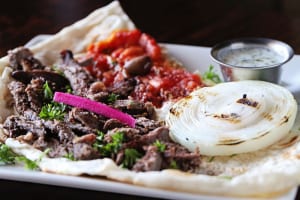 As a sprawling metropolis with an endless buffet of ethnic restaurants from around the world, Atlanta has plenty of places that offer tabbouleh, baba ghanoush and pita wraps. But best I can tell, Babylon Café is our city's first and only Iraqi eatery.
Adventurous, well-traveled diners may have a déjà vu moment the minute they step inside the yellow-and-blue stucco building that sits at a diagonal on Lenox Road. (As I perused the menu and tasted the fare, I had flashbacks to Turkey, Greece and my Persian dining experiences in the ATL.) In this celery green room decorated with swags of royal blue, you'll find hooka pipes, backgammon boards and a milky-white, anise-flavored aperitif that is similar to Greek ouzo or Turkish raki. Here it's called "arak," and it is served in a short glass over ice. It's super-strong, so you can dilute with water to taste, sip it slowly as is, or chase it with beer.
You'll want to begin your feast with a sampling of "mezza," from the left side of the menu. The hummus and baba ghanoush are creamy and delicious; the "tabula" (tabbouleh) is fresh and light on the bulgar wheat—a veritable garden of chopped parsley, tomato and onion. Even more memorable are the falafel patties, laden with herbs and fried to a crisp. "Dulma" (dolma) are little grape-leaf cigars stuffed with gently spiced rice and marinated in lemon oil. Fattoush is a wonderful salad of tomato, cucumber and onion with lemon-garlic dressing and pita croutons; it's presented on a pretty purple cabbage leaf, and so tasty.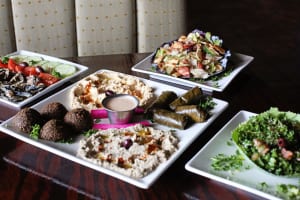 As you begin to contemplate your entrée, you may notice that some of the dishes sound familiar. Chicken tikka and biryani reflect the influence of India; qurma sabzi and eggplant badenjan are variations of Persian standards. Why? Rafia tells me that Iraq has always been a crossroads of cultures: Sumerians, Assyrians, Babylonians, Greeks, Turks, Arabs, and so on. She says she spent six years studying the region's history and foodways, tweaking her recipes because she wanted Atlantans to taste the true essence of authentic Middle Eastern cuisine.
It shows.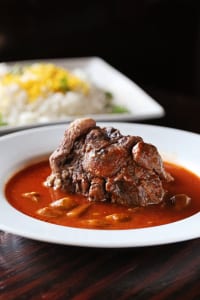 More than the mezze, I loved this couple's deeply flavored, long-simmered stews, which can be ordered with oxtails, lamb shanks or meatless. Much like the ghormeh sabzi of Iran, Babylon's qurma sabzi is made from a compound of spinach, parsley, dill and cilantro; while the Persians like kidney beans in this concoction, Babylon uses black-eyes, a nice touch. When our lamb-shank-topped qurma sabzi arrived at table with a pile of basmati rice on the side, Marwad told us to shake the bone and the meat would fall off. He was right, and it was excellent.
As an okra lover, I was eager to try the bamia, a stew of tomatoes and okra pods; this time, we asked for oxtail, and the dish did not disappoint.
From the list of chef's specials, we tried— and really dug—the beef shawarma plate; you can get it with a side of rice, but we liked it with the Iraqi flatbread. Strips of tender, wonderfully seasoned meat are surrounded with grilled onions and piled high on a rectangle of lavosh, the thin unleavened flatbread that's a staple of the Mideast. Conveniently, the kitchen slices this heavenly stack into strips. So all you need do is drizzle on a little of the tzatziki dressing, roll it up, and swoon. Samak masguf—a whole grilled wild tilapia sprinkled with sumac and breadcrumbs and plated with onion, tomatoes and beets—is a real showstopper. People rave about this dish, and you might like it, but to be honest, it was just a little too fishy and charry-eyed for me.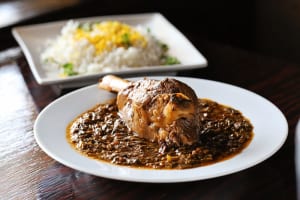 Before moving on to desserts (and maybe another glass of arak), here are some things to keep in mind: Addis, the lentil soup, which can be ordered as a mezze but comes with most entrées, is a perfect little bowl of lemony goodness. Eggplant badenjan, which may be requested as a side dish or main, is massaged with tahini and lots of dried herbs, and it is also quite heavenly.
The restaurant also offers sandwiches— falafel, chicken or beef shawarma, etc.—but it recently stopped serving lunch, when these choices would have probably been more appropriate.
When it comes to sweets, the options may be few, but they are not to be dismissed. Warm baklava is topped with vanilla-bean ice cream, drizzled with date syrup and sprinkled with chopped pistachios. Lovely! Even better is the kanafeh: two layers of shredded phyllo pastry stuffed with homemade sweet cheese, doused with rose- and orange-water syrup, and topped with pistachios. Because the strands of phyllo bake up crispy on top, the delicately flavored confection has a lovely contrast of textures. For the gluten-abstaining crowd, Babylon offers a flourless carrot cake.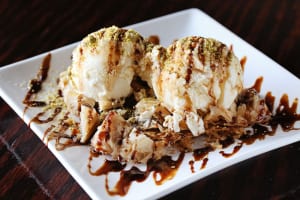 In sum, Babylon Café is a delightful addition to the city—a laid-back spot where you can while away an evening playing backgammon and drinking beer, or hunker down for a long, multi-course meal of lovingly prepared Iraqi home cooking. Marwad and Rafia take great pride in introducing the cuisine of ancient Mesopotamia to a modern American crowd. Let the word go out; shout it from the Tower of Babel: Iraqi food has come to Atlanta. What a blessing.
BABYLON CAFÉ
2257 Lenox Road, Atlanta 30324
404.329.1007
babyloncafeatl.com
Prices: Appetizers and sides, $2-$7. Sandwiches, $7-$9. Entrées, $12-$20.
Recommended: Fattoush, baba ghanoush, hummus, falafel, dolma, addis, tabbouleh, eggplant badenjan, beef shawarma, bamia, qurma sabzi, baklava, kanafeh. Bottom line: Atlanta's first taste of the vibrant, healthy cuisine of Iraq.
STORY: Wendell Brock
PHOTOS: Sara Hanna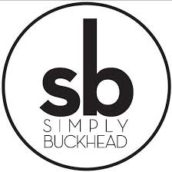 SimplyBuckhead
Simply Buckhead is an upscale lifestyle magazine focused on the best and brightest individuals, businesses and events in Buckhead, Brookhaven, Sandy Springs, Dunwoody and Chamblee. With a commitment to journalistic excellence, the magazine serves as the authority on who to know, what to do and where to go in the community, and its surroundings.