EAST POLE COFFEE PERKS UP BUCKHEAD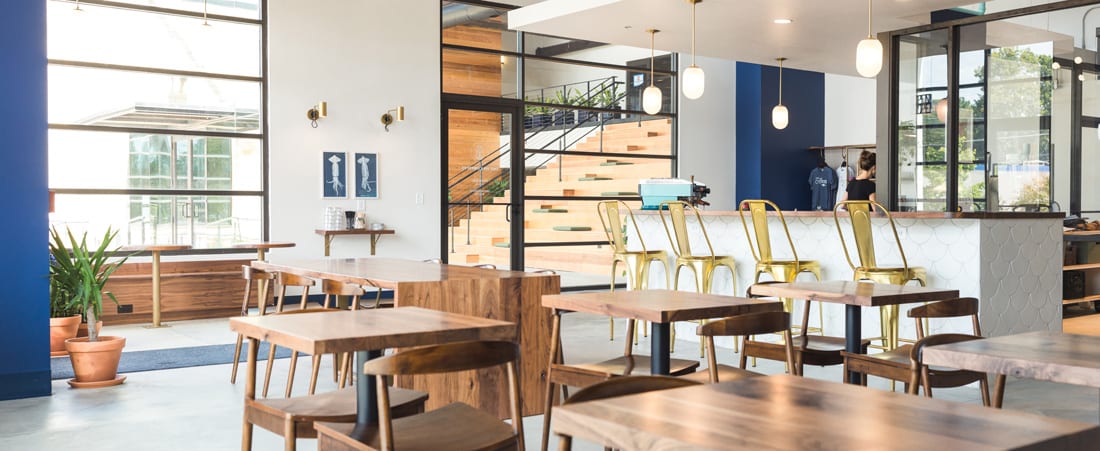 Just in time for the cooler weather, Buckhead residents can cozy up to locally roasted brews at the newly opened East Pole Coffee. The creation of Jared Karr and Jules Tompkins, East Pole is the latest resident of the ever-expanding Armour Yards development. The aesthetic is crisp and modern, encouraging you to sit for a spell with your cup of joe and a good book. Beyond the glass wall behind the counter you can see the shimmering roasting machine. East Pole is a reflection of Karr and Tompkins' love of specialty coffee, and they hope people will come for a learning experience in addition to sipping for enjoyment.
You would never guess it now, but coffee wasn't Karr's first love. Upon graduating from UGA, he moved to Indonesia, the "East Pole" of the world, to learn how to speak Indonesian and fully immerse himself in the culture. While living in Jakarta, he worked with farmers and became smitten with the behind-the-scenes process of coffee making, and a passion sparked. He learned about coffee's nuances and witnessed the process of bean to cup firsthand. "Coffee is like a passport to the world and an opportunity to meet really great people and impact them in a good way," says Karr. Determined to roast coffee and launch his own brand after returning home, he linked up with Tompkins, a friend since high school, and the two coffee buffs plotted. Eventually they bought their first roaster and roasted beans in a friend's garage for a bit. They honed their technique and introduced their product to the Atlanta coffee-drinking community in 2015 at festivals and restaurants around town. When they were contacted by Armour Yards developers Third & Urban in 2016, their brick and mortar dream became a reality.
Now Karr hopes to pique people's interest in coffee the way his was in Indonesia. One way he does this is through weekly "cuppings" hosted in their roastery. Participants are given a bowl of ground coffee and hot water and told to slurp the coffee like soup and taste the flavors in their truest form. He describes the experience as being in a VIP lounge and says, "You can see everyone drinking our coffees from the roastery, but you're cupping it in the heartbeat of our facilities."
All of East Pole's coffees are single origin (sourced from a single farm), and they always have seven different selections on rotation. The one coffee always available? Traffic. "We took the idea of something that's incredibly frustrating to Atlantans and put a fun spin on it," explains Karr. Traffic also serves as their "gateway" coffee: It's a little bit "roasty" and finishes sweet. They hope it will make people delve into their other coffees.
East Pole is a welcome addition to Buckhead, where specialty coffee shops are a rarity. Swing by, pick out a pastry (they offer options from Ashley Sue's Baked Goods) and enjoy it with an espresso, brewed coffee or pour over. Or ask if they have Traffic … you already know the answer.
East Pole Coffee
255 Ottley Drive
Atlanta 30324
eastpole.coffee
BY: Lia Picard
Photo: Jonathan Wade
Lia Picard
Freelance writer covering food, travel, and interior design.