Doctor MOM
Buckhead dermatologist combines medicine and entrepreneurship
By Jennifer Bradley Franklin

It's said that necessity is the mother of invention, and for Sandy Springs resident and mother of two Dr. Amy Kim, that proved to be true. When her son, now 4-year-old Will, developed eczema, she created Baby Pibu, a line of skin care products tailored for the needs of babies. The board-certified doc, who completed her residency at Emory, has a thriving practice at MetroDerm PC, so creating these gentle baby products took two years of develop- ment in her "spare" time, and she launched the line this spring. Baby Pibu is made in the U.S. and includes eight products (ointment, bath wash, scalp lather, sunscreen and more, starting at $16.50). The products, sold online at www.babypibu.com, come in gift sets too ($98 for the comprehensive Newborn Essentials Kit). Here, we find out what the develop- ment process was like for this savvy supermom.
What inspired you to create Baby Pibu?
My first moment of inspiration was when I became an aunt 10 years ago and was just starting my practice. I looked to see what was out there for baby skin care and was disappointed to see a lack of information on what to choose and how to use it. My second moment of inspiration came when I used to pack a little box of products for my pregnant friends. I thought, "Wouldn't it be great for new parents to have a kit of skin care paired up with doctor's instruc- tions?" That's really where the idea took off. I wanted to translate these shower gifts into reality.

Where did the name come from?
I'm Korean and pibu means "skin" in Korean. My husband's Thai, and elephants bring good luck in that culture. So we used a cute elephant in the logo.
What makes Baby Pibu so unique?
Really, three things. It's the first line that's been created by a dermatologist mom. Secondly, people can trust the products they're putting on their babies because they're clinically tested. Thirdly, a lot of other baby products don't have endorse- ments by highly regarded organizations— three of our products are recommended by the Skin Cancer Foundation and the National Eczema Association. It was important for me to have them clinically tested, because I knew they'd be scruti- nized by my medical colleagues.
Why is it important to treat babies' skin carefully?
Babies' skin is different from adult skin. Their top layer of skin is thinner and has a higher opportunity for irritation or even infection. For instance, it's important to have a pH balanced cleanser, so that it doesn't strip the natural oil.
Do you have any advice for budding entrepreneurs?
My philosophy is that life is short. If you think there's a market for your product, do it! Also, budget at least 30 percent more than you think it's going to cost. To make the dream happen, you have to have the practical part down.
Do you have any favorite places around Buckhead to pick up products for little ones?
For baby shower gifts, I like Gretchen's and Baby Braithwaite. They are great places to find a nice, unique gift.
Baby Pibu
www.babypibu.com
Photo Credit: Anderson Smith Photography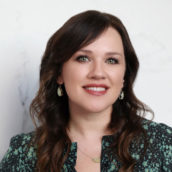 Jennifer Bradley Franklin
Senior Contributing Editor and Beauty Columnist at Simply Buckhead. Travel, Food and Design Writer and Author.