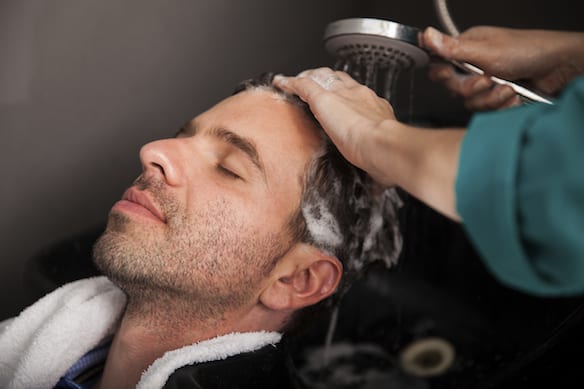 BARBERSHOP FOR THE BOYS
Story: Olivia Putnal Delong
You can't trust just anyone with your tresses or skin, so finding a barber who can hold a conversation (or understands you'd just like to read your magazines and drink your cold one) while he or she does a stellar job with your locks, is priceless. Simply Buckhead understands the task at hand, and has helped narrow your search. Read on for barbershops that provide reputable products, reasonable pricing and most importantly, expert professionals. The shops invite you to relax and enjoy their ambiance. Lounge on an antique sofa, watch the game on TV or enjoy a local beer and prepare to feel refreshed upon your exit.
18/8 Men's Grooming Salon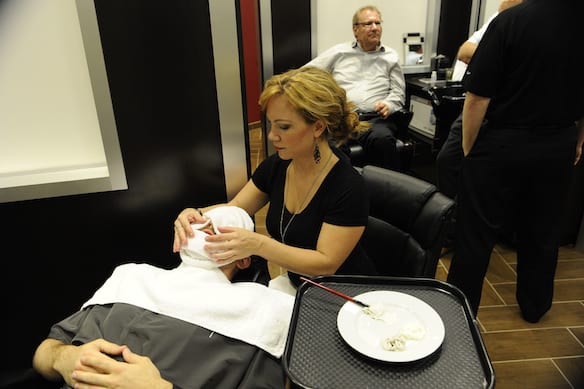 Since opening its doors in May, 18/8 Men's Grooming Salon in Town Brookhaven has be- come known as a one-stop shop. Owners Nancy and Skip Plesnarski serve up haircuts, scalp mas- sages, shoeshines and craft beer during services. All barbers and stylists complete the same America Crew Method that creates a smooth, blended look with uniform lengths or smoothly graduated layers. Upon entering, clients are escorted to the waiting room for a beverage and a spot in front of the big screen TV. The stylist then shows you to his or her own station, complete with a reclining "Presidential Chair" and sink, so that you receive a private experience. And beyond these normal services, you can indulge in scalp treatments, nail treatments, shaves, waxing and coloring options too. American Crew and GO24-7 are the two product lines they use most in their stylish, hand- crafted haircuts.
Starting price for haircut: $39
18/8 Men's Grooming Salon
305 Brookhaven Avenue, Suite A1140 Atlanta 30319 | 404.481.5368 | www.eighteeneight.com
---
Cuts Inc. for Men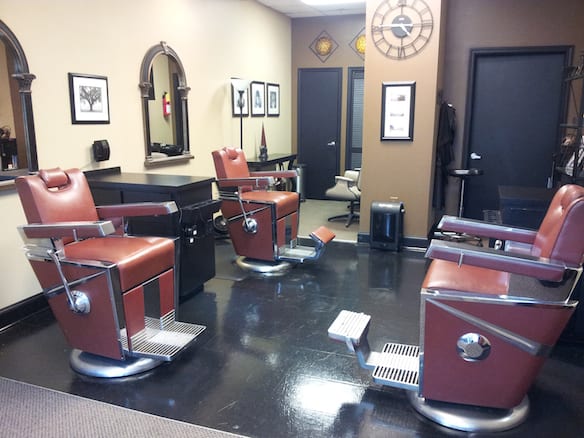 Originally named Long's Barber Shop and located on the corner of Peachtree and Piedmont roads in 1959, Cuts Inc. for Men has evolved over the years. In the early 1960s the shop was renamed Long's Cuts and Styles. In 1981, current owners Becky and Steve Haymes purchased the business and moved it to West Wieuca Road, renaming it Cuts Inc. In 2000, the couple again moved the business to its cur- rent location at Roswell Road's The Fountain Oaks Center. Cuts Inc. specializes in men's hairstyling, hair loss and hair color—a unique and specified concept. The stylists use VitaTress, Numinox, Redken and Phyto Organics products when styling and cutting hair. What separates this shop from others is the close-knit, discussion-encouraged atmosphere. Clients come from all over Atlanta and often chat with one another while receiving their services. While giving updates on their various business and personal news, clients relax in antique leather chairs from 1959. The décor also features black-and-white images of the Haymeses' favorite European travel destinations.
Starting price for haircut: $30
Cuts Inc. for Men
4920 Roswell Road, Suite 31, Atlanta 30342 | 404.255.3579 | www.cutsincformen.com
---
Roosters Atlanta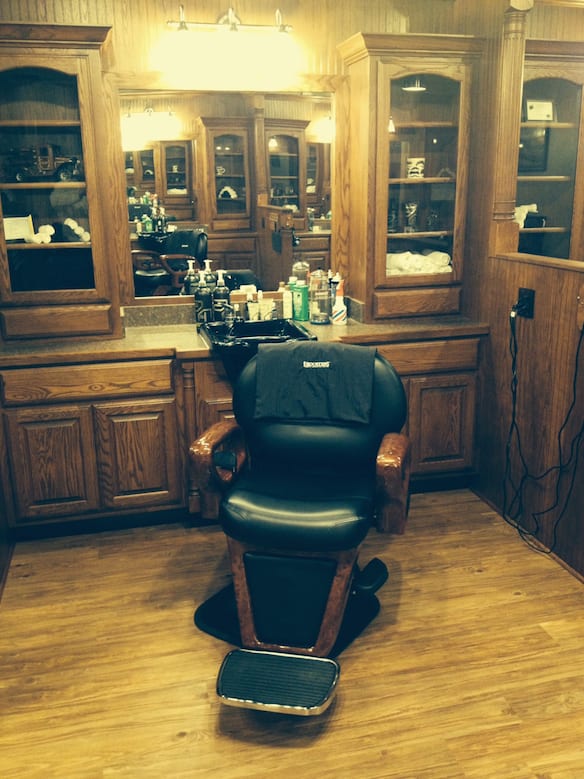 Roswell Road's Roosters Atlanta trans- ports you to a classic movie barbershop. With a modern, industrial feel, the shop is filled with wood accents and over- sized leather barber chairs. It's the ideal ambiance in which to end the day with a cold beverage, delicious-smelling Aveda Men products like Men's Pure- Formance Shampoo and Conditioner, and the latest ESPN news story. The shop offers cuts, trims, shaves, waxing, hot towel service and facials, and provides complimentary neck trims between visits—and have been doing so since opening in 1999.
Starting price for haircut: $30
Roosters Atlanta
4969 Roswell Road N.E., Atlanta 30342 | 404.963.1953 | www.roostersatl.com