Cupcakes are as "in" as ever
By Jennifer Bradley Franklin | Photos by Sara Hanna
More than just for birthdays, cake is a way to celebrate just about any milestone, or a tasty treat for no special occasion  at all. Perhaps better than their full-sized counterparts, these diminutive cakes are portable, fun and highly customizable. Here are some of our favorite cupcakes in Buckhead.
1. Classic Cami: CamiCakes ($2.75) This Peachtree Road bakery, swathed in pink, turns out plenty of fun flavors, but we decided to feature their original: yellow cake with more than two towering inches of velvety buttercream frosting. These sugary desserts can have their frosting dyed to suit just about any color of the rainbow, making them a favorite for birthdays. Close your eyes and let the fond, sweet memories from childhood come flooding back.
CamiCakes
2221 Peachtree Road N.E.  | Atlanta 30309
404.748.4288 | www.camicakes.com
__________________
2. Red Velvet: Piece of Cake ($2.95) Since 1985, the Buckhead location of this bakery (now with outposts all over the city) has been the go-to place for sweets, and what could be more classic—or decadent— than red velvet? This delight, in all of its of- fered forms (entire cake, slice of cake, cup- cake or mini cupcake) has accompanied countless Buckhead festivities for good reason: quite simply, it's delicious. The bright red, moist, chocolaty cake is topped with impossibly dense cream cheese frost- ing, making this seemingly personal-sized indulgence surprisingly weighty.
Piece of Cake
3215 Roswell Road N.E. | Atlanta 30305
404.351.2253 | www.pieceofcakeinc.com
__________________
3. Strawberry Shortcake: Gigi's ($3.25) While these cute cupcakes are available all year long, the strawberry shortcake flavor seems just perfect for spring. The sup- porting cake is infused with bright pink strawberry and topped with sky-high frost- ing—seriously, it clocks in at almost three inches tall—with an even more intense berry flavor. The crowning glory: a cute decorative frosting strawberry, complete with a green leaf.
Gigi's
3655 Roswell Road | Atlanta 30342
404.846.4400 | www.gigiscupcakesusa.com
__________________
4. Black & White: Sprinkles ($3.75) This California cupcakery has been open in Lenox Square Mall for less than six months and already it's developed a near cult-like following, due in part to its signature black and white cupcake (OK, and its cupcake ATM, which allows patrons jonesing for a sweet treat 24-hour access). Rich Belgian dark chocolate cake is frosted with a gener- ous spread of vanilla frosting and perfect square flecks of chocolate. The result tastes familiar (imagine your best chocolate cake growing up), but elevated.
Sprinkles
3393 Peachtree Road N.E. | Atlanta 30326
404.846.1599 | www.sprinkles.com
__________________
5. Twinkie: Mae's Bakery ($2.75) Craving something nostalgic? We got our fix with this smart, and surprisingly delicate, twist on the original "golden cake." Subtly sweet yellow cake is carved out in the cen- ter and piped full of marshmallow butter- cream, then topped with a hint of whipped cream and ethereal rainbow sugar crystals. This throwback take on a classic childhood treat morphs into a grown-up pleasure, particularly when paired with the bakery's Counter Culture coffee.
Mae's Bakery
2770 Lenox Road N.E. | Atlanta 30324
404.565.0938 | www.maesbakeryatl.com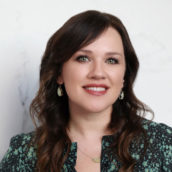 Jennifer Bradley Franklin
Senior Contributing Editor and Beauty Columnist at Simply Buckhead. Travel, Food and Design Writer and Author.