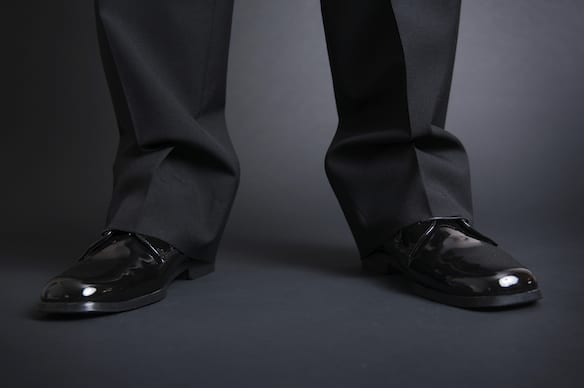 Story: Olivia Putnal DeLong
Shoe shining and maintenance seems simple, but it's one of those things that get pushed to the bottom of the to-do list. Or, if you're like me, shoes ride around in the back of the car until your husband reminds you for the third time that he's in need of his favorite dress shoes for work! Simply Buckhead is making your shoe maintenance routine a little easier by scoping out some neighborhood shops you can trust with your most beloved kicks. We also asked shoe specialist Ryan Embry for advice on how often you should head to the cobbler for shines and repairs, how to maintain and store your dress shoes, and what to know when you buy a new pair.
5 SIMPLE SHOE TIPS
Whether you're in the market for a pair of new dress shoes or looking to refresh a pair of classics, make sure to follow these tips from owner and master cobbler of Classic Shoe and Leather Service, Ryan Embry.
CONDITION OFTEN: "General rule of thumb is to shine and condition your dress shoes every one to two months if they've had regular wear."
EXTEND THE WEAR: "If cared for properly, dress shoes should be replaced only every 15 to 20 years."
UPKEEP IS KEY: "Good care for your shoes requires plastic levered shoe trees, regular shoeshines and conditioning of the leather."
BEFORE YOU BUY: "When purchasing shoes, don't pay attention to
sizes. Try them on and walk around in them for 10 to 15 minutes in the store."
STORE SMART: "Heat and moisture are damaging to leather, so always store leather goods in a cool, dry place."
Bennie's Shoes
Buckhead's Bennie's Shoes has been in business since 1909, when Mr. Ben- nie Shemaria came to Atlanta via Ellis Island from the Greek Isle of Rhodes. The shop began as a repair shop only, but has expanded to include retail, carrying designers like Johnston & Murphy, Sebago, Cole Haan and Allen-Edmonds. Although the original 1909 shop started in downtown Atlanta at the corner of Marietta Street and Techwood Drive, the current family-run shop holds strong in the Buckhead Crossing shopping center. If you're in a hurry, but need a quick touch-up, Bennie's offers shoeshines for $6 that will take only 10 minutes! Mr. Bennie turned the business over to his three sons in 1959, and since then, the duties have been passed down from generation to generation. Currently, Mr. Bennie's grandsons Mark and Brian run the shop.
Bennie's Shoes
2625 Piedmont Road
Atlanta 30324 404.262.1966
---
Classic Shoe and Leather
Shop owner and master cob- bler Ryan Embry has been in the business for 25 years. He and wife Amy Embry run and own Classic Shoe and Leather on Pharr Road. The Embrys are skilled in different aspects of leather repair and pride them- selves on being able to repair any leather item, from pre-civil war restorations through custom work for movie, theater and of course, regular jobs. In addition to repairs, you can drop by for a 10 to 15 minute (depending on the difficulty level) classic shoe- shine starting at $10.
Classic Shoe and Leather
312 Pharr Road N.E.
Atlanta 30305 404.949.9844
---
TRIO Shoe Service
TRIO Shoe Service has been in Buckhead since 1926, when it was started as a laundry and shoe repair business. In the 1960s, the shop became a shoe repair shop only and is now owned and operated (and has been since 1974) by Dave and Ginger Embry. The Embrys' children and lifelong employees serve as staff members, providing clients with not only shoe repair and touch-ups, but also things like bag repair and bead replacements. Men can stop in and receive a shoeshine starting at $15 (price varies depending on the condition of the shoe), or bring a few pairs and leave them to be spiffed up on the same day.
TRIO Shoe Service
3145 Peachtree Road N.E. Suite 117
Atlanta 30305 404.233.8122