THERE'S MORE TO THIS WESTSIDE HOME THAN MEETS THE EYE!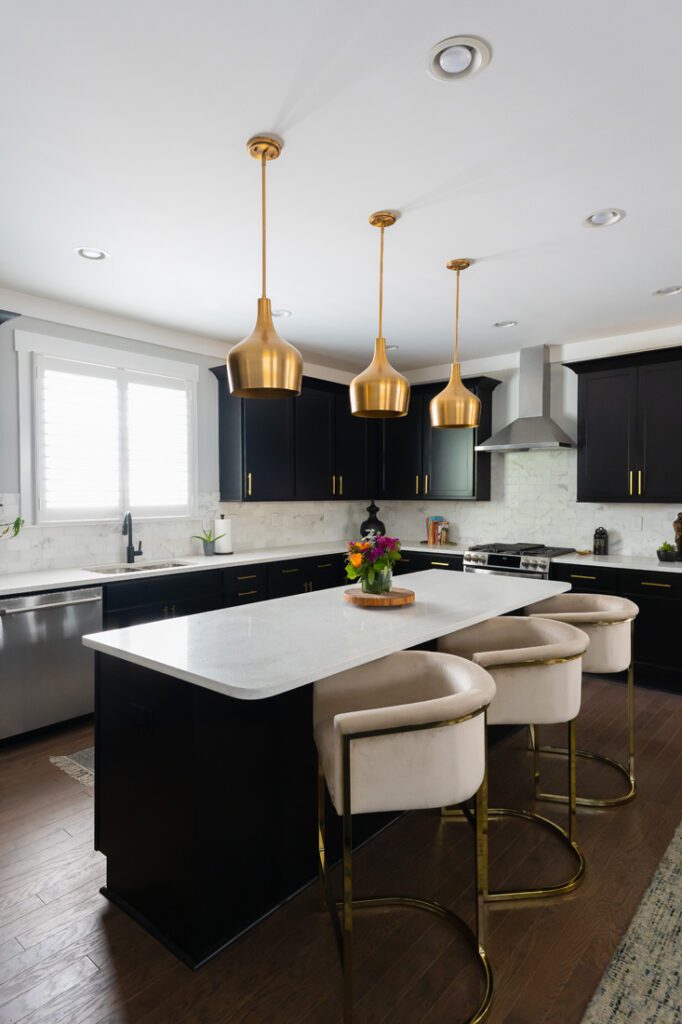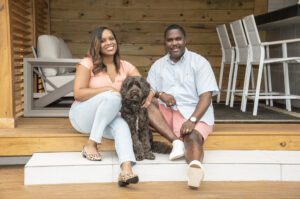 They say when you know, you know. And when Dr. Shani and Greg Clay stumbled upon plans for a new construction home on the Upper Westside, they just knew they'd finally found the home they'd been looking for.
The itch to move out of their condo at Atlantic Station began during the pandemic. Especially with two dogs (a goldendoodle named Duke and a labradoodle named B'rocko) who "run the house," Greg and Shani were ready for a new, more spacious chapter in their lives.
When they came across a yet-tobe- built home in the up-and-coming Riverside neighborhood on the Upper Westside of Atlanta, down the street from where Greg's mother grew up and nearby close friends, the decision to pursue the property was a no-brainer.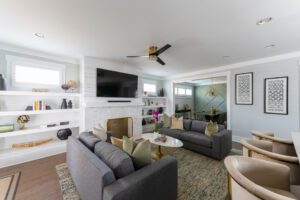 "We came over the very next day to meet with the builder and talk about the proposed plans, and we fell in love with it," says Shani, a board certified gastroenterologist practicing at Emory Healthcare. "We'd come here with our dogs and walk around and think, 'This is where we're supposed to be.' It's a very eclectic and diverse neighborhood. You have homes that are 60 years old, then you have new construction. We love that about the neighborhood."
To bring their modern farmhouse vision from rendering to real life before they officially moved in December 2021, the couple tapped Amber Guyton, interior designer and founder of Blessed Little Bungalow, whom they met through a mutual friend. Guyton was brought in when Greg and Shani were meeting with the builder to map out floor plans and architectural details for the 3,000-square-foot home. "Amber knew exactly when to step in and also when to let us make important decisions. We really appreciated that," says Greg, a fourth-generation Atlantan who works under Atlanta Mayor Andre Dickens as commissioner of the Office of Constituent Services.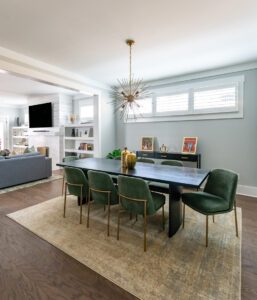 "I was grateful to Shani and Greg for bringing me into the process as early as they did," Guyton says. "It was really helpful for me to lay the foundation of their likes and dislikes, and assist them with decisions with the builder. It also laid a great foundation for our relationship and the interior design process."
A one-hour planning meeting quickly turned into four as the three hit it off while talking shop. From the living room, dining room and kitchen to the upstairs bedrooms and beyond, Guyton transformed Greg and Shani's five-bedroom, four-bathroom abode into a customized oasis.
"Each room has its own little personality while still being connected to one another," Guyton says. "More than anything, Shani and Greg are starting a new phase of life, so I was careful with selecting pieces that were transitional to leave room for their tastes and needs to change as they continue to grow together."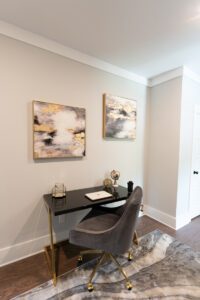 Never ones to pass up the opportunity to host friends and family, Greg and Shani worked with the builder and Guyton to create a space primed for entertaining. The ground floor's open floor plan and thoughtful juxtaposition of parallel West Elm sofas, coupled with conversation pieces like an accent wall crafted by The Boardroom Accent Walls off the dining room, are just a few ways their team personalized the new home to complement their social lifestyle.
After calling their Atlantic Station condo home for four years, Greg says, "The ability for us to host has been remarkable. It's a new chapter of our lives making memories with families and friends in a home that's been designed for us. The opportunity now to enjoy making memories in our home is what life is all about for us."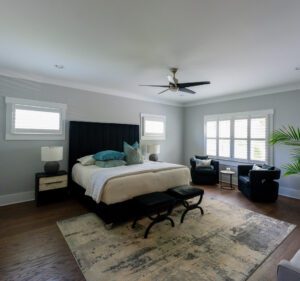 Although Greg and Shani came to the drawing table with ideas such as black cabinets for the kitchen, they're quick to credit Guyton every time their guests compliment their home's elegant yet inviting aesthetic that seamlessly marries neutral hues with pops of color and contrasting metallics.
"Amber really pushed us out of our comfort zone, specifically with color, and I really appreciated that," Shani says. "I went into this thinking we wanted to keep everything neutral.
But Amber is very colorful, both in her personality and her style of designing homes. It was great because we met in the middle. As a result, we have a beautiful home that otherwise may have been a little more 'blah' if I'd designed it myself."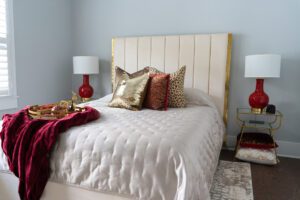 Between entertaining and having two dogs running around, Guyton knew stylish performance fabrics and low-pile rugs from Wayfair and Overstock in high-traffic areas were going to be key to ensuring Greg and Shani were left with a home that would withstand the test of time. Guyton always kept one eye on function and the other on design as she hand-selected accouterments from tried-and-true retailers such as Crate & Barrel for the living room coffee table, West Elm for accent pillows and the dining room table and chairs, and Meridian Furniture for the kitchen's statement-making velvet bar stools. "Every selection was made with their comfort in mind," she says. "I wanted them to feel good and relaxed when they came in, and not feel like it wasn't livable or like they couldn't sit down on their own sofa."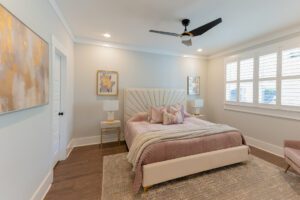 It was even more crucial to the couple that their home be a place of peace, especially considering their hectic careers. From the Adirondack chairs that flank the front lawn and the private backyard complete with a custom-made pergola, to the many keepsakes from their travels on display, it's no wonder Guyton playfully dubbed their home the Riverside Retreat.
"The outside of the house doesn't prepare you for the inside. It's almost as if it doesn't match, but in a good way," Shani says. Adds Greg, "It feels like a getaway, especially when you look at the color scheme, at the pops of turquoise and orange. It doesn't feel like you're sitting at home in Atlanta. It feels like a retreat."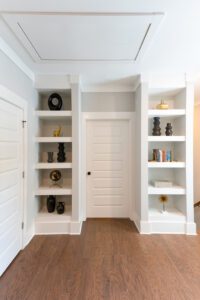 FAST FAVORITES
Shani: "My favorite room in the house is a tie between the living room and our bathroom. The living room is so relaxing and open. With mementos on the bookshelves and pictures of loved ones, it makes for a cozy feel. Amber also helped us pick out the tile and fixtures for our primary bathroom. We really wanted a black bathroom, and it has mood lighting, so it's relaxing to walk into after a long day."
Greg: "My office area, which is separate from the main house, has become a space for downtime and has also been a cool complement to the main house for hosting. I didn't want a traditional home-office feel. It's extremely functional and can be used however we like with minimal work to move things around."
STORY: Ashton Pike
PHOTOS: Brittany Bah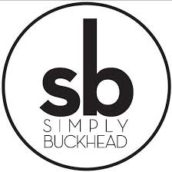 SimplyBuckhead
Simply Buckhead is an upscale lifestyle magazine focused on the best and brightest individuals, businesses and events in Buckhead, Brookhaven, Sandy Springs, Dunwoody and Chamblee. With a commitment to journalistic excellence, the magazine serves as the authority on who to know, what to do and where to go in the community, and its surroundings.