Ear seeding's therapeutic benefits.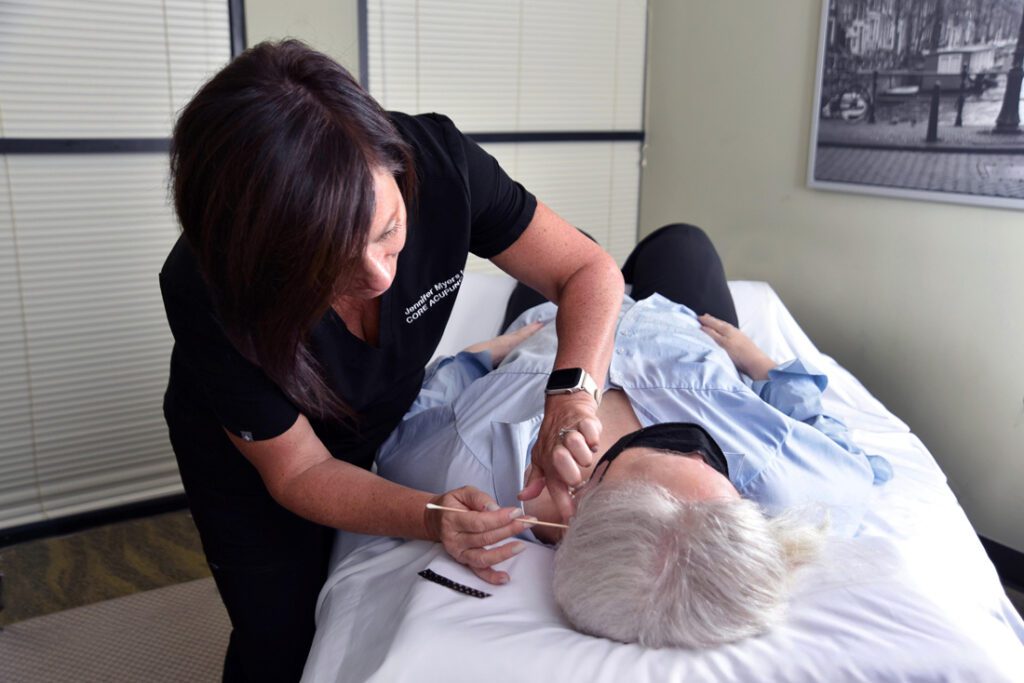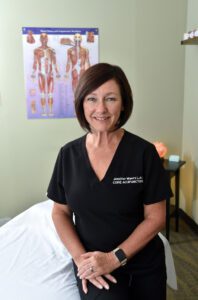 The alternative medicine practice of acupuncture places thin needles on meridians and acupressure points to stimulate the body's natural healing abilities. "Our body is connected in all sorts of ways," says Jennifer Myers, licensed acupuncturist and owner of Core Acupuncture Health + Wellness in Buckhead. The ears are particularly unique in that they represent a microcosm of the entire body. "Each ear provides a mini map of the body through which health can be supported. There are hundreds of points on the ear alone," Myers says. From lobes to pinna, ears can be needled like the rest of the body, or they can receive ear seeds. Here, we'll explore what those little healers are.
What Are Ear Seeds?
Ear seeds are tiny balls that are gently applied to acupuncture points on the surface of the skin and held in place by tape. There are different styles of ear seeds, including those sporting Swarovski crystals, that all essentially do the same thing. "The seeds I use a lot have a tiny metallic ball that is applied by a small sticker," says Myers, who has worked with patients for 10 years.
Unlike an acupuncture needle that can from time to time feel briefly uncomfortable upon insertion, the application of a seed is totally painless. It's along the lines of pressing a stick-on earring. Myers typically seeds one ear per visit and alternates between right and left but notes "every acupuncturist has their own style and method of doing things."
Myers doesn't charge extra for ear seeds; if needed, they come with her needling treatments ($105 for 45-55 minutes after the initial intake visit). However, some practitioners charge between $20-$35 for this add-on.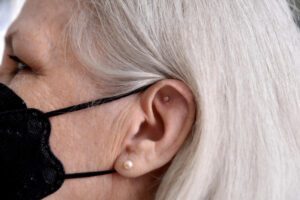 Benefits of Seeds
The seeds provide some subtle and supplemental health support for anything that ails you, from soothing anxiety to lessening pain from an injury. "Most of the time, people don't notice the benefits it brings until it falls off. For a couple of days, they might have taken everything in stride and felt less stressed driving through traffic. Then when it comes off, they realize how impatient they feel," Myers says.
When to Get Them
In addition to targeting ailments, acupuncture and ear seeding are great preventative wellness tools. "Invest in your health, not just when something's wrong," says Myers. "Many people ignore those 'check-engine-light' signals that the body sends, and the light gets bigger and brighter and more annoying until it can't be ignored."
Short Life Span
Ear seeds aren't meant to stay on your ears for an extended period of time. For cleansing purposes, Myers recommends removing them after four to five days at the most if they haven't already fallen off on their own.
Is DIYing Safe?
It is, but Myers recommends going to an acupuncturist for your first ear seeding for accuracy. "The ear is so small, and all those hundreds of points are so close together that it helps to have a professional pinpoint exactly where the seed should go to address your particular issue." Otherwise, you could be treating your shoulder when you want to reduce anxiety.
CORE ACUPUNCTURE HEALTH + WELLNESS
770.375.5594
coreacupunctureatlanta.com
@coreacupunctureatlanta
PHOTOS: Joann Vitelli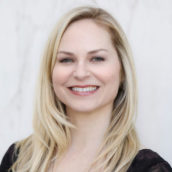 Karina Antenucci
Managing Editor and Wellness Columnist at Simply Buckhead. Blogger at Badass + Healthy.