After a summer of social distancing, everyday wardrobes have become more relaxed, and loungewear has taken on new meaning and possibility.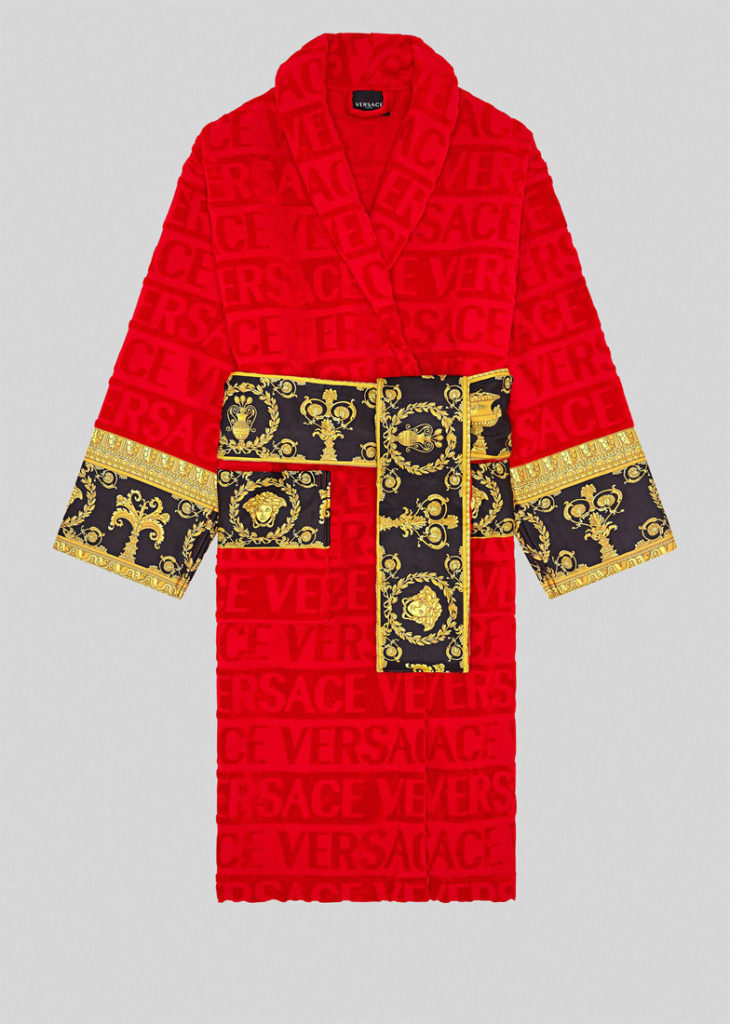 But the T-shirt and sweats PJ rotation might be getting a bit old, even if you're not seeing anyone and staying at home. The following fashionable pajama options elevate daily loungewear looks to feel great about staying in without sacrificing comfort.
---

Marie Jo Agatha Homewear ($202)
Luxury lingerie curators Rigby & Peller know how to deliver comfort and elegance in this lavish loungewear set. A take on the classic two-piece, this wearable design is everything you want. It's comfortable yet sexy. The shoulder lace appears to draw fragile flowers directly on the skin while the color compliments almost every skin tone.
Rigby & Peller
3500 Peachtree Road N.E.
Atlanta 30326
404.261.9333
rigbyandpeller.com
---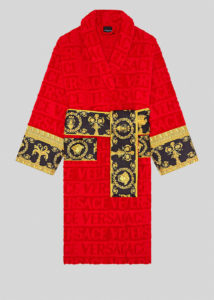 Versace Men's Barocco Sleeve Robe ($595)
Lounge in pure grandeur in this iconic, Italian-made, soft cotton robe. A subtle Versace logo is woven throughout the fabric and highlighted with ornate baroque-style print and the brand's signature Medusa head motif on sleeves, pockets and belt. This big and bold style is fun, and the absorbent material is functional, whether you have just stepped out of the shower or emerged from the pool.
Versace
3500 Peachtree Road N.E.
Atlanta 30326
404.814.0664
versace.com
---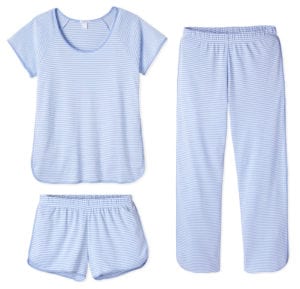 Lake Pima Weekend Bundle in French Blue ($144)
A comfortable matching pajama set can help anyone look and feel put together while at home. This effortless style bundle from Georgia-based Lake is a comfy addition to your home office wardrobe. Made from Peruvian cotton, the set includes a crewneck top, matching pants and shorts. It is perfect for those who prefer shorts for sleeping but require more coverage for daytime lounging.
Lake
3535 Northside Pkwy. N.W.
Atlanta 30327
404.963.6730
lakepajamas.com
---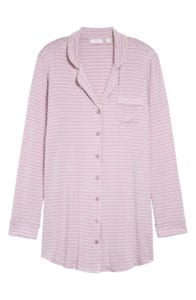 Ebergey Gisele Sleepshirt ($89)
A sleepshirt is a classic that doesn't compromise comfort. Lounging is never boring in a tailored sleepshirt. It's always a wise choice for a bit more coverage than a nightie, yet more liberating than traditional PJs. A brand favorite for a reason, the Gisele is menswear inspired and made from super-soft jersey fabric for that cozy, sexy, borrowed-from-my-boyfriend vibe. Lazy Sundays never looked so good.
Neiman Marcus
3393 Peachtree Road N.E.
Atlanta 30326
404.266.8200
neimanmarcus.com
---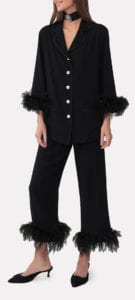 Sleeper Feather-Trimmed Party Pajama Set ($320)
Wearing silk pajamas out of the house has been deemed appropriate since Sex and the City made it popular. Channel your inner Carrie Bradshaw in the Sleeper, which is much too lavish for at-home use only. This refined update to classic sleepwear is perfect for any at-home party, pajama or not. Made of lightweight silk, the relaxed buttondown shirt and wide-leg pants are trimmed with fluffy feathers and cuffed at the hem.
Intermix
3031 Bolling Way N.E.
Atlanta 30305
404.816.8190
intermixonline.com