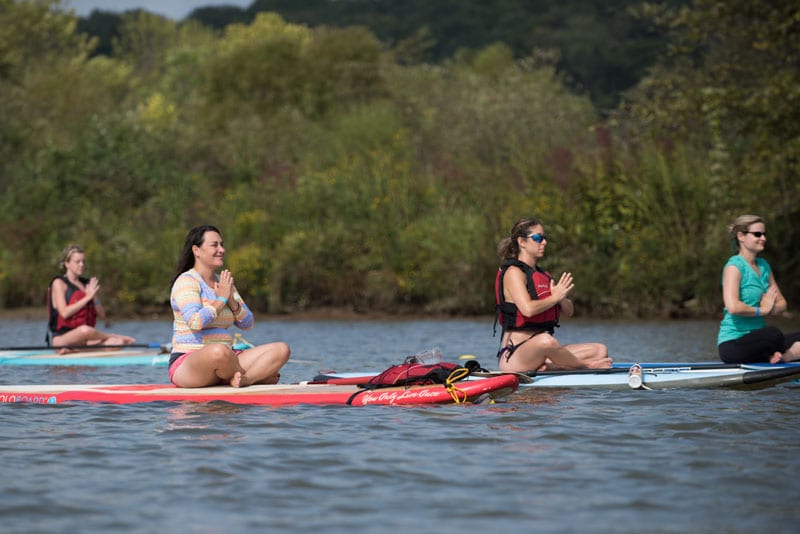 Holding triangle pose on a paddleboard while floating on the Chattahoochee might sound a little intimidating to yoga beginners. But Laurie Ben-Moshe doesn't let the challenge stop her from enjoying the stand-up paddleboard (SUP) yoga classes offered at Morgan Falls Overlook Park.
"I've only practiced yoga since April, and for Mother's Day, my husband gave me a package of SUP yoga classes," she says. "I would definitely recommend SUP yoga to anyone who loves paddleboarding and yoga, or to anyone who has never paddleboarded but loves yoga. SUP yoga is about being adventurous, challenging oneself and just trying something new."
The 90-minute group classes at Morgan Falls are offered by Buckhead's High Country Outfitters. Classes are open to all levels and ages, and begin with instruction on how to properly use a paddleboard and paddle out to the water where the boards are anchored. The rest of the class is spent practicing yoga on the floating board. Participants can include the rental of a board, paddle and lifejacket in the cost of the class ($40), or bring their own ($25).
"So many Atlantans have no idea how close they are to water, trails and the peace of being outdoors," says Caroline Peters, one of the SUP instructors, who also teaches classes at Infinity Yoga in Brookhaven. "Yoga just makes sense outside. There are no distractions, and the simple sound of the wind and the warmth of the sun remind you to breathe easy. We practice yoga to let go and reconnect with ourselves, and SUP yoga allows us to do that while being outside."
It's being in nature that keeps Ben-Moshe coming back.
"In addition to Caroline being so encouraging, I really enjoy being outside, hearing the birds, and feeling the coolness of the water," she says. "And I like to see people taking advantage of the Chattahoochee Recreation Areas like Morgan Falls—most people don't even know it exists."
Morgan Falls Overlook Park
200 Morgan Falls Road
Sandy Springs 30350
highcountryoutfitters.com/SUPYoga-64
WORD OF ADVICE:
The key to SUP success is not taking yourself too seriously, says Ben-Moshe. "Listen to Caroline and let her guide your practice. Let her guide you to enjoy yourself," she says. "And just jump or fall in the water. Once you fall in, you smile, laugh and have more fun."
NEARBY BITE:
Grab breakfast or lunch at Morgan Falls Café where you can enjoy everything from a create-your-own omelet to burgers and sammies.
7840 Roswell Road
Sandy Springs 30350
770.399.5709
morganfallscafe.com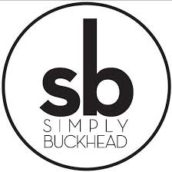 SimplyBuckhead
Simply Buckhead is an upscale lifestyle magazine focused on the best and brightest individuals, businesses and events in Buckhead, Brookhaven, Sandy Springs, Dunwoody and Chamblee. With a commitment to journalistic excellence, the magazine serves as the authority on who to know, what to do and where to go in the community, and its surroundings.