In the coastal Georgia resort community of Sea Island, Tom and Jennifer Bell have created a soul-filled family escape.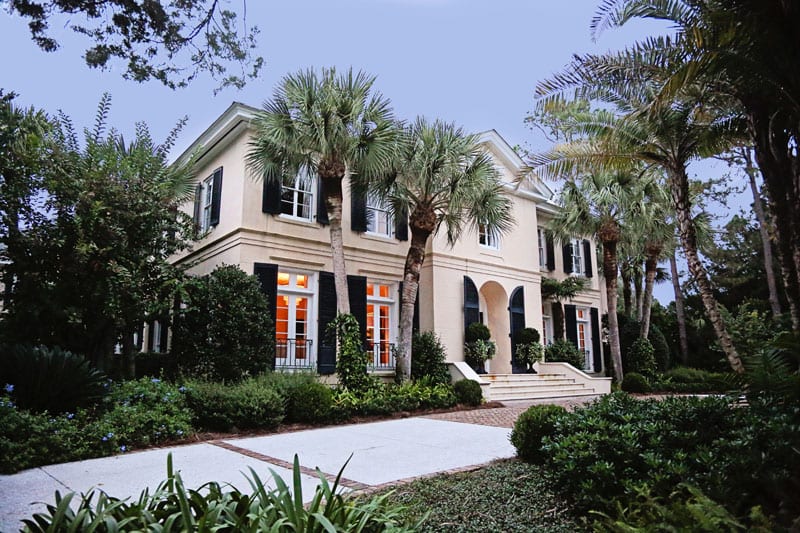 The number of places that Tom and Jennifer Bell and their family have called home over time is impressive. Their primary residences have included Potomac, Maryland; Greenwich, Connecticut; Savannah, Georgia; and now Buckhead for 13 years. And that's not to mention the secondary residences they've owned in Hilton Head, South Carolina, and Albany and Lake Rabun in Georgia. But it wasn't until 2012 that the couple found what they now say is one of their favorite family escapes to date: a vacation cottage in the storybook resort town of Sea Island.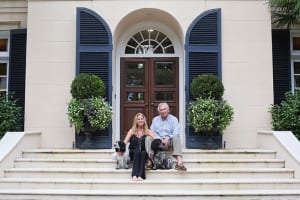 Despite their healthy appetite for adventures in home ownership, Tom and Jennifer Bell weren't in the market for a new vacation home when their journey to Sea Island started.
"We weren't really thinking about another house," says Tom, chairman of real estate investment firm Mesa Capital Partners and formerly chairman of Cousins Properties. "We had a house at Lake Rabun in North Georgia, which was great when our kids were young because they loved being at the lake. As soon as the water got warm enough, we were there pretty much every weekend." But when the couple's three kids— Devereaux, now 34; Kevin, 23; and Hannah, 20—left for college, family trips there became more of a waning memory than a regular weekend occurrence. The parents agreed that the lakeside retreat no longer served its most essential purpose of bringing everyone together. "It just wasn't working anymore," Tom says.
Call it fortuitous or call it fate, but a most unexpected phone call eventually put the Bells on yet another new path.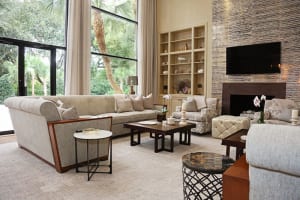 "We had a realtor call us up and say, 'I've got somebody who'd really like to buy your house,'" Tom recalls of the Lake Rabun home. The house wasn't on the market, but Tom and Jennifer saw no harm in letting the couple have a look. They sold it in 2012.
Suddenly free to start thinking about a retreat that would serve the family's evolving needs, the couple eventually zeroed in on Sea Island and "a house where our kids would eventually want to come with their kids, and somewhere we'd have a network of friends that's not too far from Atlanta," Jennifer says. Tom had traveled there previously on business, and several of their friends had already settled there.
Initially unable to find a house they loved, the Bells bought a condo there instead. Growing more enamored of the Sea Island lifestyle, they stayed committed to their search. "The beach club, the spa and the workout facilities are all right there, and we never have to leave the property to get good food," Tom says. In September 2012, they closed on a seven-bedroom, Frank McCall-designed house with soaring ceilings and loads of natural light.
With their Sea Island vacation home secured, Jennifer set about turning it into a cozy home and livable entertaining space. She enlisted the help of her longtime friend and interior designer David Herchik, whom she met 20 years ago after falling in love with a friend's Washington, D.C., home whose interiors Herchik had designed.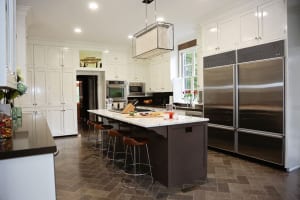 "This house had such great potential, but it was so tired," Jennifer says. "It was built in 1987, and I don't think it had really been redecorated."
Together, Jennifer and Herchik reworked features of the home's floor plan that impeded its flow, making everything from subtle adjustments—removing a pair of bulky owners' closets on the upstairs landing— to more major changes, such as replacing the ground-floor master suite's awkward, compartmentalized entryway with a more fluid footprint. They also opened up existing shelves and a countertop in a corner of the high-ceilinged family room to create a proper bar, which has since become a favorite gathering spot in the house for guests.
When it came to aesthetics, Jennifer, who has her own keen eye for design, entrusted much of the scheming to Herchik. "He's amazing," she says of her friend, with whom she's decorated about eight of her homes. "His sense of color is like no one's I've ever met."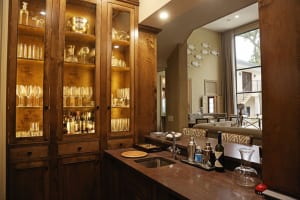 One place where Herchik's creativity is particularly evident is the home's two-story foyer. Its floor is still covered with the home's original black and white tiles, its walls with a black-and-white geometric-print wallpaper, and its curved staircase with black and white speckled carpet. What sounds like the makings of a chaotic combination instead feels fresh and fun, a reflection of the minds that conceived it.
"David really gets in there and figures out what you're trying to do, and he and Jennifer do stuff as a team that I would never have done in a million years," Tom says of the designing duo. "If you gave me a hundred wallpapers, I would have picked that one out last," he adds, motioning to the foyer. "But then I walk in, look at it and go, 'Wow, that really works.'"
While Herchik lent his knack for combining colors and patterns to the decorating of the Bells' home, Jennifer's inherent warmth and her affection for her family kicked into gear when it came to adorning its walls. She felt photography would strike a good balance with the home's light and sleek interiors, and would tell the family's story. Instead of buying shockingly expensive photos at a chic Sea Island gallery or having pieces shipped in from some far-flung place, Jennifer hired her own daughter to supply the snapshots.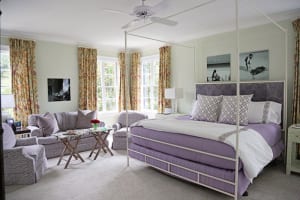 "At the time, Hannah was taking these incredible photographs with no training at all," Jennifer says. "I thought, 'These photos could tell a great story.'" The women pored over Hannah's extensive personal photo library, divvying up their favorite shots into categories, including animals, sunsets and family, among others. Using a website called Fracture, Hannah created oversize prints—some black and white, others in vivid, living color—which now hang in neatly arranged grids or individually throughout the house. The effect is instantly warming.
Just as Jennifer had hoped, each photograph tells a sweet story—of family boat trips in the Bahamas, sunsets observed in the company of giggling girlfriends, even silly moments spent with the family's two adoring spaniels, Piper and Chief.
"I never stop looking at these," Jennifer says, nodding toward a living room sunset print aglow in neon orange. "With each one I look at, I see a quick memory. Something just jives for me."
More than anything else in the house, the photographs—given both their subject matter and their source—best represent Jennifer's intention for this home to be a warm and welcoming place that her family and friends will want to come back to.
With the promise of Jennifer and Tom's unique brand of homespun hospitality waiting to greet them, it's safe to say they certainly will.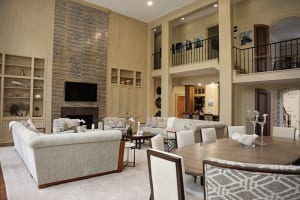 HOME HIGHLIGHTS
Interior designer David Herchik shares where he sourced some of the Bells' most striking accessories.
~ Kitchen island chandelier from Wired
~ Foyer wallpaper from Phillip Jefferies
~ Carpet on front stairs from Stark Carpet
~ Black and white "Marion" table in the entryway, pair of "West Ender" sectionals in the great room and the etched brass, onyx and wood "Taos" tables in the great room designed by David Herchik.
All items are available to the trade and can be sourced through the Atlanta Decorative Arts Center (ADAC) in Buckhead.
STORY: Lindsay Lambert Day
PHOTOS: Sara Hanna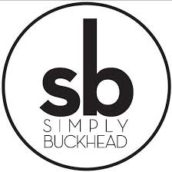 SimplyBuckhead
Simply Buckhead is an upscale lifestyle magazine focused on the best and brightest individuals, businesses and events in Buckhead, Brookhaven, Sandy Springs, Dunwoody and Chamblee. With a commitment to journalistic excellence, the magazine serves as the authority on who to know, what to do and where to go in the community, and its surroundings.