The site of Sir Richard Branson's newest resort dates back to the 16th century.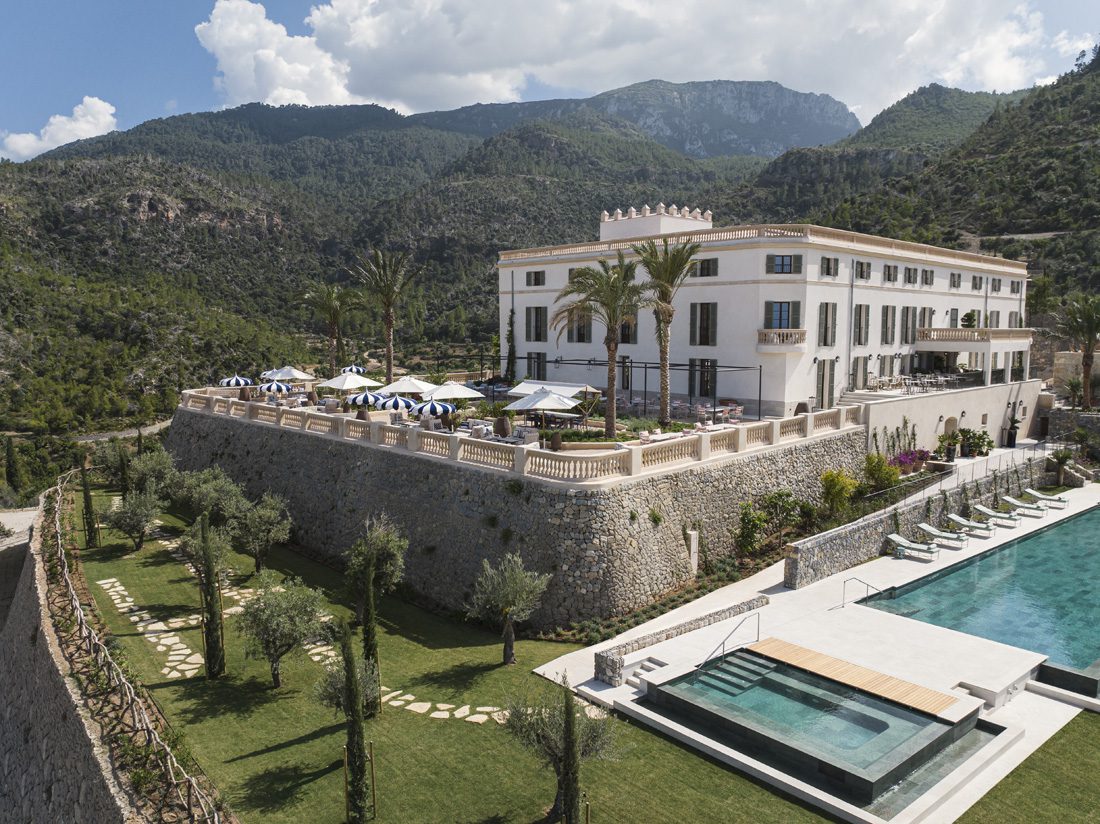 Some destinations are arresting by virtue of their stunning locales, architecture or amenities. Others are easy to fall in love with because of a storied history. It's less common to find a perfect blend of the two, but that's precisely the allure of Son Bunyola, a resort by Sir Richard Branson on the northwest coast of Mallorca, Spain. The story of how it came to be in its current state is almost as enchanting as the property itself.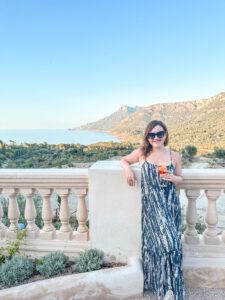 As a child, British-born Branson fell in love with this part of the world on regular trips with his parents. After becoming an accomplished hotelier and adventurer, he purchased a 1,300-acre historic property in 1994. The estate was once a strategic defense point and a productive farm with centuries old buildings that had fallen into disrepair. Since it sits in the Tramuntana Mountains, the entirety of which is declared a UNESCO World Heritage Site, nearly everything is restricted, down to the crops grown and the type of gravel used. Branson worked for years to navigate the approvals to develop the resort of his dreams and restore the fast-deteriorating structures. However, frustrated with a lack of progress, he sold the property in 2002. The idea of the resort wouldn't let him go, and he bought it back in 2015. The second time around, he tapped a team of Mallorca-based architects, a historian, an archaeologist and interior designers to bring the estate, which was first documented in 1229, to its current glory. It opened in June, and I was lucky to be one of the first guests to visit.
It is, in a word, spectacular. When I arrived after 15 hours of traveling from Atlanta, all I could think about was the prospect of a nap. Instead, when my car turned down the drive to reveal panoramic views of the Mediterranean Sea and the stately, sand-colored hotel, excitement replaced exhaustion. Twenty-six guest rooms and suites are built into the existing structures, some of which in the finca (traditional farmhouse) date back to the 1500s, and all have a sea view. I settled into the massive 805-square foot falcó (falcon) suite, complete with a king-size bed, wood-beamed ceiling, four closets, a bathroom with soaking tub and rain shower, a living/dining room and two terraces overlooking the resort's 92- foot swimming pool. Each of the accommodations is adorned with oneof- a-kind artwork, much of which is by Mallorcan artists, and stocked with treats made on the island.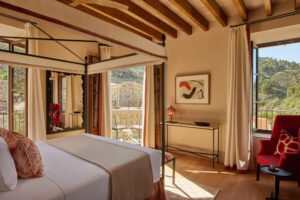 I could have easily spent three days luxuriating in my suite, but there was so much else to do. One morning, I joined a local guide on a hike around the property, learning about previous (as in centuries ago) residents and skirmishes that necessitated the defense towers that have become some of the resort's premier suites. Another afternoon, a paddleboard tour took me up the pristine coastline for a view of the hotel from an entirely different vantage point. One off-property highlight: renting a 40-foot yacht in nearby Sóller. We swam under a giant rock formation to float in a cathedral-like open space in the center and dropped anchor for lunch at Sa Foradada, a clifftop restaurant only accessible by boat or a lengthy hike.
Back at the resort, a massage therapist kneaded out my travel induced kinks with local almond oil in a spa room with a domed ceiling that once housed the farmhouse's massive oven centuries ago. Now the modernized kitchen turns out flawless Spanish fare at two on property restaurants, Sa Terrassa and Sa Tafona, both of which have sweeping views of the landscape.
Every element of the resort is impossibly thoughtful, picturesque and steeped in history. It's a triumph. And it's easy to see why this piece of paradise captured the heart of a man, who, arguably, has it all.
SON BUNYOLA
virginlimitededition.com
@sonbunyola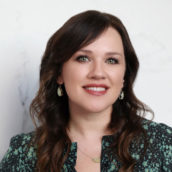 Jennifer Bradley Franklin
Senior Contributing Editor and Beauty Columnist at Simply Buckhead. Travel, Food and Design Writer and Author.