Celebrated Buckhead pastry chef whips up a jewelry business!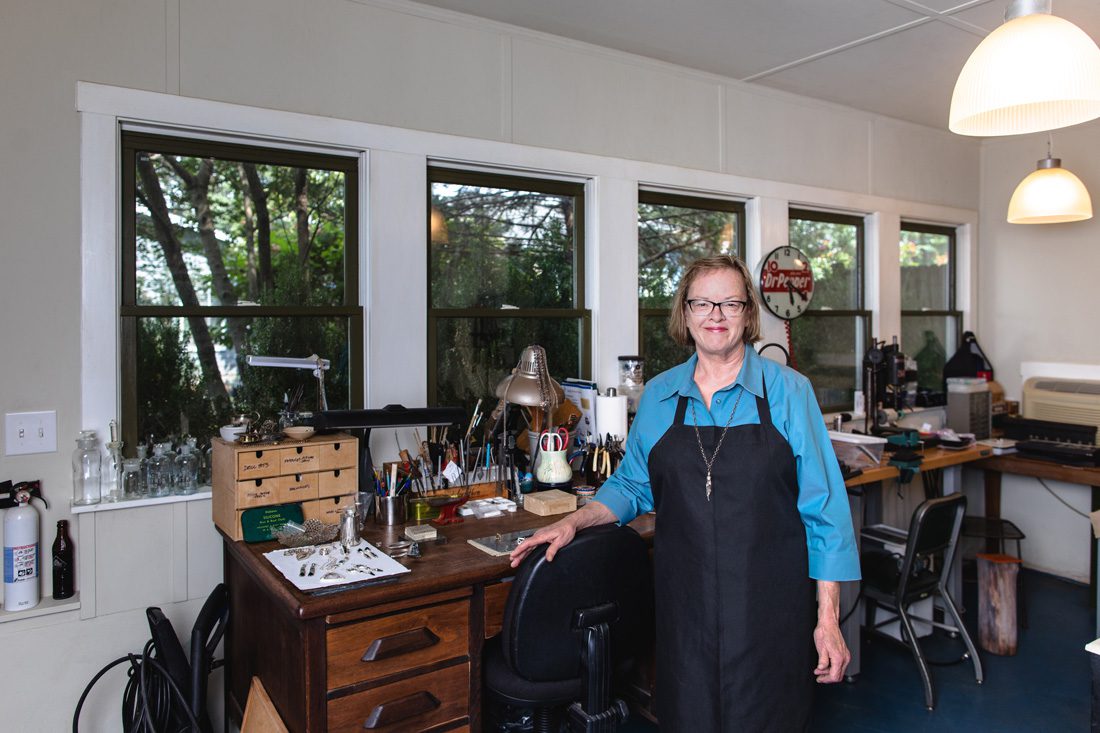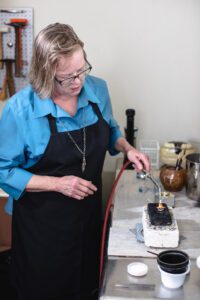 The first time I successfully soldered two pieces of metal together, I felt like I could make anything, even a building. You can talk to people who've been working with metal for 50 years, and they'll tell you it can still be a mystery because each piece reacts differently. When I soldered those pieces together, it was so exciting. Everything just went on from there.
I always wanted to learn how to make jewelry. I studied ceramics and design as an undergraduate student at the University of Georgia, but I decided that the life of a ceramics artist wasn't for me. I had begun working in restaurants at the age of 16, and I migrated to cooking as a profession. Years ago, I helped open Canoe as the assistant pastry chef and then spent a number of years on the pastry staff of what is now the Four Seasons Hotel in Midtown. I've been the pastry chef at Aria in Buckhead for the last 23 years, and I just love creating interesting desserts with highquality ingredients. For me, it's all about technique. How do you make a perfect puff pastry? It's in the technique. I've found that jewelry is very similar to pastry in that way.
I started jewelry making as a hobby about 10 years ago. I initially took classes at the Spruill Center for the Arts in Dunwoody and began making pieces for myself. I'd also give them to my sister and friends as gifts. After a while, I realized that I didn't want to sit on all of this precious inventory; I had to sell some of it. That's when I launched Black Crow Metalwork. I make rings, bracelets, pendants and earrings, as well as small boxes and vessels, perfume vials and other one-of-a-kind pieces using a combination of materials such as sterling silver and semi-precious stones.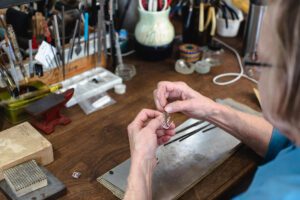 Each item takes a long time to craft, but I love learning and using new techniques. I moved on from the Spruill Center and now work with a private teacher who holds small classes in her converted garage studio. I'm always learning new skills. I don't think I'll ever stop learning.
I think that shows in the jewelry line I started last year, Black Eyed Pearls. A friend asked me one day if I was familiar with Charleston rice beads, which are oval sterling silver beads symbolizing the rice that historically was grown in the city and are used in necklaces and bracelets. She wondered if I'd ever thought of doing something like that with black-eyed peas. I had not, but it sounded really interesting. So I started working with real dried black-eyed peas, which I have cast in sterling silver. I then finish them with a chemical that's like an instant patina; it leaves this beautiful blackness around the eye of the pea and in the wrinkles. I've been able to do something similar with dried okra pods.
Right now, I'm just making necklaces, but I hope to expand into other pieces as well. The reaction to them has been wonderful, particularly from gardeners, cooks, chefs and Southerners in general. There's a sort of nostalgia around those vegetables. It's funny because I just started by buying some black-eyed peas at a local farmers market. From there, it was trial and error. You should have seen me trying to drill holes in a tiny, dried black-eyed pea. Right now, I mainly sell through my website, but I recently discovered a place in Grant Park called Grant & Little. It's an old corner grocery store that was purchased by three women who are interior designers. They opened the space as a place to showcase their interior design pieces. On Sundays, they feature different items. I had a jewelry show there in August. It was the perfect spot, and I hope to do more shows.
Making pastry and making jewelry allow me to be creative in ways that are both different and the same. Both processes feed my need to invent and create, and I'm passionate about both. Of course, making jewelry was an unexpected endeavor. I built a garage a few years back, and now half of it is a studio. When I go in there to make jewelry and I'm in the middle of crafting a piece, I'm in my zone. I just love it.
BLACK CROW METALWORK
@black_crow_metalwork
BLACK EYED PEARLS
blackeyedpearls.com
@black_eyed_pearls100
As told to Amy Meadows
PHOTOS: Erik Meadows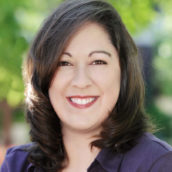 Amy Meadows
15 Minutes With columnist at Simply Buckhead. Freelance feature writer, children's book author and President of Green Meadows Communications, LLC.