As chef and owner of Il Giallo in Sandy Springs, Jamie Adams cooks a lot of Italian food, including the restaurant's Feast of the Seven Fishes, a seven-course Christmas Eve tradition with origins in southern Italy.
But when it comes to a holiday meal at home, it's all about American tradition. The Buckhead native, who spent five years in Italy working at Michelin-star restaurants, now resides in Brookhaven. He doesn't travel much for the holidays since it tends to be one of the busiest times at the restaurant (the third or fourth top revenue-grossing evening each year). Along with his wife, Kim, and two adult stepchildren, he enjoys hosting gatherings for their extended family.
Do you cook for the holidays or is it a family effort?
It's funny how, a lot of times, it ends up just being me. I love the classic tradition, and my wife and I make everything from scratch, including the stock and gravy. We use good bread for the stuffing and do it all from the ground up. We have a similar menu at home for both Thanksgiving and Christmas. Sometimes we'll also have a ham for Christmas.
What's on your menu?
The holidays at my home are all about turkey, sauce and vegetables. Turkey and gravy are my favorite things to do. I get an organic turkey from one of the restaurant's purveyors, like Bell & Evans, then brine it; rub herbs like sage, rosemary, thyme and garlic all over it; and slow roast it. Everyone in the household loves their veggies: cauliflower, cabbage, beets, Brussels sprouts. And then there's some kind of potatoes, either mashed or roasted, or a sweet potato casserole with marshmallows and a little bit of cheese.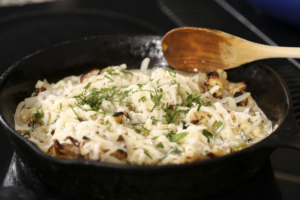 Are any of the menu items something passed down from a family member?
My mother made two primary things that have to be there on Thanksgiving: cauliflower and squash casseroles. For the cauliflower, she oven roasted it first, then reduced a little cream, poured it over it and added a good sharp cheddar, and popped it in the oven. The squash is sautéed with onions and baked with breadcrumbs and grated Parmigiana cheese.
Do your dogs benefit from the holiday meal, too?
Oh, absolutely. They help keep the floors clean. We have an Australian shepherd and a schnauzer-shih tzu mix.
What's the must-have beverage at your holiday gathering?
Prosecco before the meal. When we sit down at the table, that's when all the good wine that we've saved for Thanksgiving or Christmas gets opened and consumed. I have a lot of Italian wine—no crazy cellar stash, but in the 100- to 150-bottle range. Pinot noir from Washington, Oregon or Napa goes great with turkey.
What's on the music playlist?
There's definitely some Christmas music. As time progresses, and when I get control of the player, I slide into a little rock 'n' roll and Southern rock—Led Zeppelin, Allman Brothers. We keep music playing until everyone drifts off to sleep.
What's your favorite thing to make with holiday meal leftovers?
We always make a broth out of turkey bones. My wife makes a soup that lasts us for a couple of days. And nothing beats a turkey sandwich with what my dad called "jelly gravy," the congealed stuff from the bones that sticks like jelly when refrigerated.
Have you ever done something nontraditional over the holidays?
Last Thanksgiving, a group of 16 of us, including my brother and sister who live in New York, traveled to South Africa. We stayed on a game reserve for a safari and made arrangements to make a traditional Thanksgiving meal for everyone, and invited the nine staff members to join us. We had Brazilian turkeys, native cauliflower, pecan pie, pumpkin pie, biscuits and gravy and green bean casserole. It was a blast!.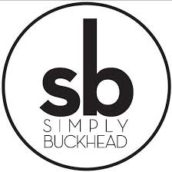 SimplyBuckhead
Simply Buckhead is an upscale lifestyle magazine focused on the best and brightest individuals, businesses and events in Buckhead, Brookhaven, Sandy Springs, Dunwoody and Chamblee. With a commitment to journalistic excellence, the magazine serves as the authority on who to know, what to do and where to go in the community, and its surroundings.