LOCAL CHOIRS COME TOGETHER TO PROMOTE UNITY.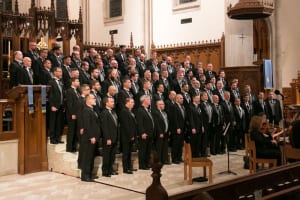 The melodious sound of 140-plus singers will ring out March 18 and 19 as part of the Peachtree Road United Methodist Church's annual music series. Titled And Justice For All, the trio of concerts features the first-ever combined performance of the Atlanta Gay Men's Chorus and the Atlanta Women's Chorus, known collectively as Voices of Note. Musical selections from And Justice For All focus around a theme of unification. "They depict conflict, nationalism, war, peace and the overcoming of adversity," explains Atlanta Gay Men's Chorus Artistic Director Kevin Robison.
"There's a spiritual element, though not defined as such, and the music is certainly multicultural. It ranges from an Irish folk tune about fighting for country to a piece about Sudanese basket weavers expressing the pain and hope they experienced in the famine of the 1980s." The highlight of the performances will be the world premiere of "Libertad," an original work composed by Robison. A 25-minute, four-movement piece for mixed chorus, string orchestra, piano and percussion, it was inspired by the writings of Walt Whitman. "The word 'libertad' is one Whitman used in his poetry," Robison says.
"Whitman was writing way ahead of his time, and the words chosen for 'Libertad' meet common thematic criteria: equanimity, injustice, social change and empowerment." Scott Atchison, music director at the Peachtree Road United Methodist Church for the last three decades, has taken strides to introduce an increasingly diverse and wide-ranging selection of performances to audiences over the years, and is looking forward to showcasing these choirs and compositions, adding, "The PRUMC sanctuary is a remarkable place for music making." – Jill Becker
AND JUSTICE FOR ALL
March 18 at 8 p.m.,
March 19 at 2 and 8 p.m.
$30-$35
Peachtree Road United Methodist Church
3180 Peachtree Road
Atlanta 30305
voicesofnote.org