EXPLORING A TRENDING TECHNIQUE.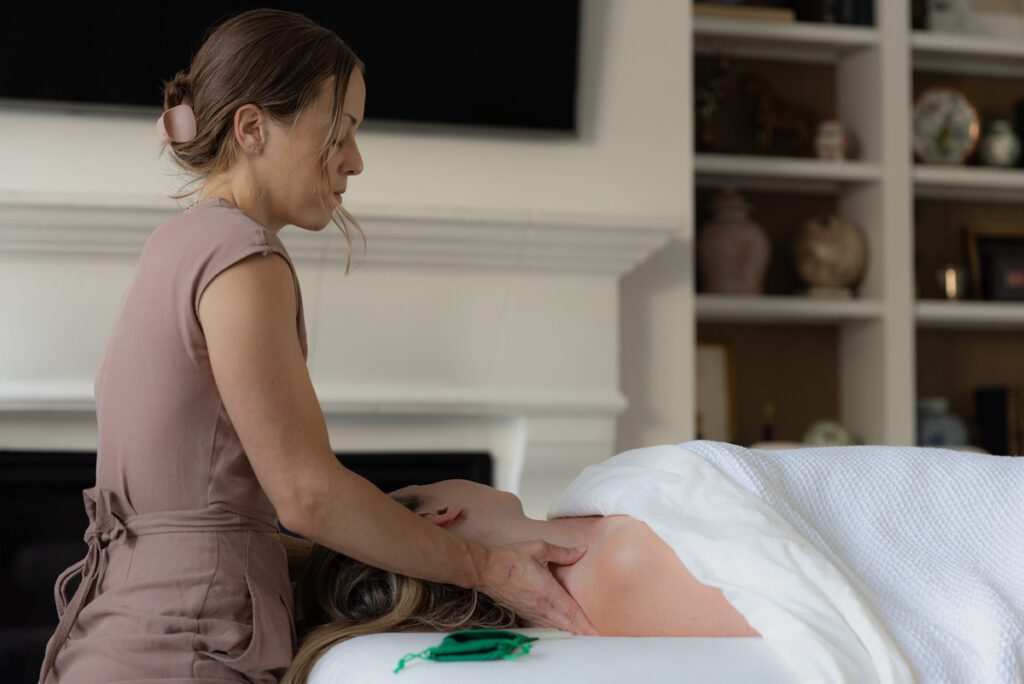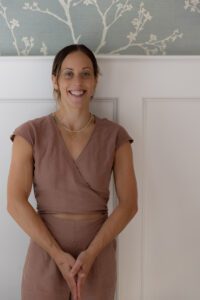 Gua sha add-ons are all the rage on spa service menus, and how-to videos are hot on Instagram. So should you try it?
"Gua sha, which translates to 'scrape illness,' comes from traditional Chinese medicine. It's both a scraping technique and a smoothedged tool to help energy flow freely throughout the body so that health problems, including muscle tightness that can lead to other issues, don't occur," says Carly Rominger of Carly Rose Massage Therapy. Rominger's mobile service—exclusively serving Buckhead—often incorporates gua sha into the 60-, 90- or 120-minute massages and bodywork.
Here, she explains what to expect from the practice and its benefits.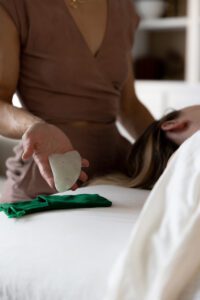 The Tool
Walk into any wellness retail space or browse online and you're sure to find the flat tool that often comes in a pretty jade or other stone like pink quartz. "The original gua sha tool was a no-frills wooden spoon. And that still works, too!" says Rominger, who favors a C-shaped jade piece and promises that it's not necessary to buy an expensive tool for at-home use.
The Technique
During a body treatment or massage, the therapist might use the tool to gently scrape various areas on your body. It is typically laid flat and moved slowly across fascia, muscles and lymphatic fluid. "This creates friction that draws old, stagnant blood up to the surface, making space for oxygen and nutrients to flow more freely in your muscles and body," Rominger says. "If muscles are really tight, there's not enough blood being pumped through the muscle." It's also beneficial to break up scar tissue and reduce chronic pain.
Gua sha shouldn't be painful. "You'll feel it in a tight area, but it shouldn't hurt," Rominger says. "Having healthy, fresh, oxygenated blood throughout is how the body is designed to work. When something is stuck, it will cause pain and injury over time. When the blood is moving freely, your systems are going to work better together, and you'll feel better."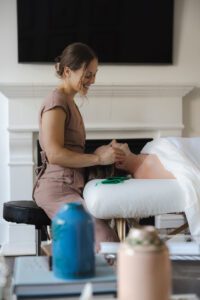 The DIY
From face to forearms, you can add gua sha into your daily wellness and beauty routine at home. Rominger advises to warm up an area with your hands while applying oil or lotion. Then anchor the target area with one hand while holding the tool flat in the other. Create pressure without digging in and keep that pressure as you slide the tool across your body. Traveling over bony parts is fine; just adjust the pressure as needed. "Go slow, be intentional, create fluidity." On the face, start in the middle and move outward and then down the neck to the clavicle to help drain lymphatic fluid. Need a visual? Rominger likes @wildling_ beauty on Instagram for how-to's.
The Contraindications
Avoid gua sha if you've recently had surgery, are taking blood thinners or have clotting disorders, broken bones or varicose veins. Rominger also says it isn't good for anyone with skin inflammation such as eczema or psoriasis.
CARLY ROSE MASSAGE THERAPY
@carlyrosemassagetherapy
Photos: JP Schlick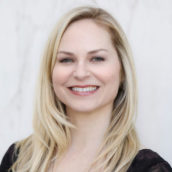 Karina Antenucci
Managing Editor and Wellness Columnist at Simply Buckhead. Blogger at Badass + Healthy.