St. Lucia's Viceroy Sugar Beach is a first-rate getaway.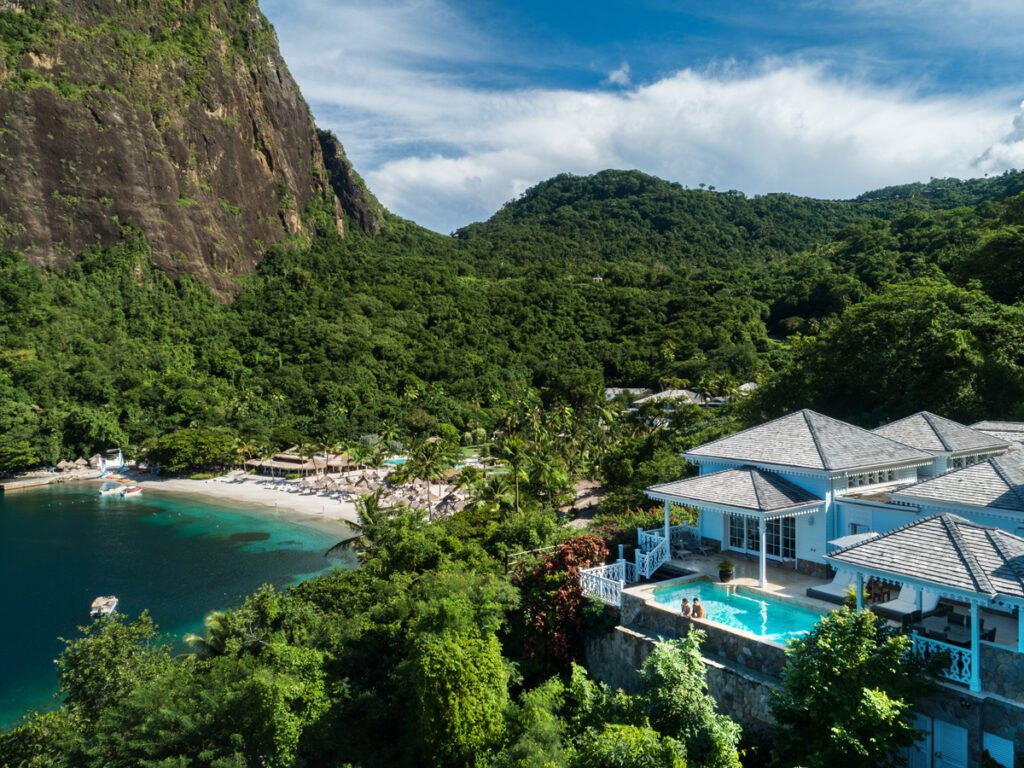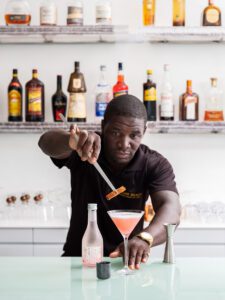 Time is standing still in the best possible way. Instead of scurrying to start my day or make it to an appointment as I would be on a standard Atlanta morning, I'm reclining in the lone hammock suspended over aquamarine water. My view is filled with puffy clouds passing behind St. Lucia's majestic Pitons, the peaks that frame the bay where the Viceroy Resort of Sugar Beach sits. The gentle waves lap against the hammock frame, glittering like cut crystal. It's a near-perfect moment.
The enchantment started early. From the moment my driver turned into the 100-acre property set in a tropical forest, the glittering sea spread out before me. The resort still bears remnants of its past as a working sugar plantation, including the hauntingly beautiful ruins of an 18th-century mill. Since the majority of the 130 rooms and suites are standalone villas and bungalows, my driver deposited me directly at my sprawling accommodations, perched on the side of a mountain. Felicia, my butler, welcomed me with a build-your-own rum punch kit with a petite bottle of Chairman's Reserve Rum. I settled in, relishing every element from the high-beamed ceilings and a deep soaking tub to the private infinity pool with jaw-dropping views of both Pitons and the sea below.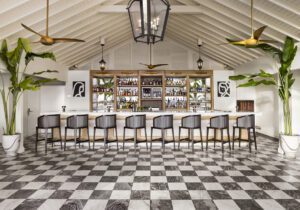 While I would have been content to luxuriate in my villa, discovery beckoned. I joined local tour guide Sherman Abraham to see some of the area's top draws. St. Lucia boasts the only volcano in the Caribbean where you can walk in the crater, and I smelled it before glimpsing the sulfur-scented steam rising from the caldera. Last erupted in 1766, the volcano gives the town of Soufriere (meaning "sulfur" in French) its name. The rich mix of minerals such as copper and magnesium is reported to have healing properties, so of course I had to see if they would, in fact, help me age backwards. Mud bath guests pack on the mineral-rich sludge and let it dry before rinsing off in a series of naturally heated baths. I can't confirm the anti-aging benefits, but I certainly felt rejuvenated. Our next stop was the lush Diamond Botanical Gardens, where a proliferation of brightly colored plants thrives. Red hibiscus (the national flower), vanilla orchids, mahogany trees and cashews line the pathways leading to the rushing Diamond Falls.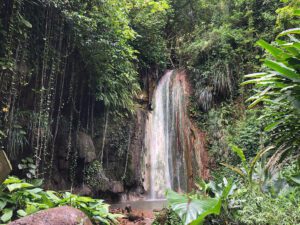 Back on property, I indulged in a massage at the Rainforest Spa. A freestanding gazebo built among the trees added a touch of whimsy, and birds chirped outside as the therapist kneaded knots with floral- scented oil. I wandered back to my villa in a haze of relaxation and happy appreciation for the resort, which seamlessly blends lush natural beauty, stunning architecture and a first-rate art collection that includes works by Andy Warhol and Banksy. The food here is just as artful, with pristine sushi at The Cane Bar, contemporary presentations of local favorites at Bonté steps from the sand and, the culinary pièce de résistance, The Saltwood, where oysters Rockefeller and Kobe beef are illuminated by soft candle light.
Everything on this island getaway felt like a revelation, from the arresting scenery and genuine hospitality to the wide variety of activities and flavors. Though my perfect moments are now a distant memory, I'm cheered that paradise is just a 4.5-hour direct flight from Atlanta away.
SUGAR BEACH, A VICEROY RESORT
viceroyhotelsandresorts.com/sugar-beach
@sugarbeachviceroy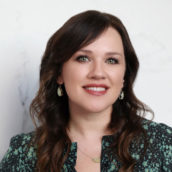 Jennifer Bradley Franklin
Senior Contributing Editor and Beauty Columnist at Simply Buckhead. Travel, Food and Design Writer and Author.