A BUCKHEAD PROPERTY WITH PEDIGREE BECOMES TRAVIS REED AND MICHAEL KRIETHE'S UNEXPECTED DWELLING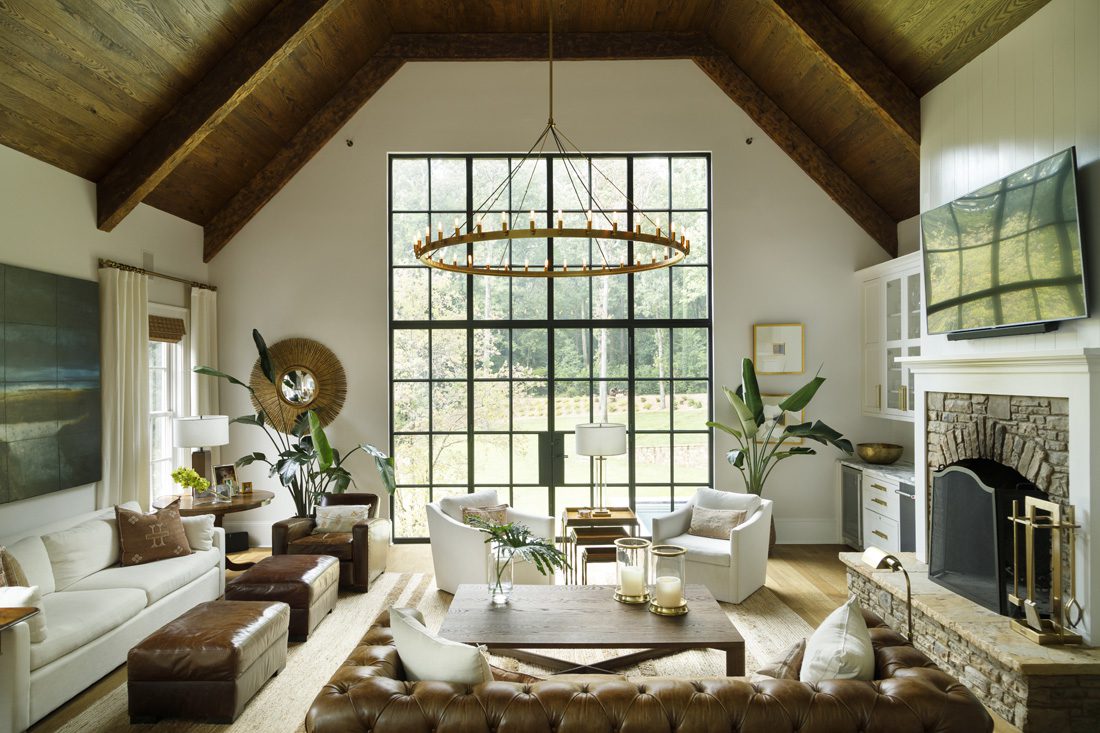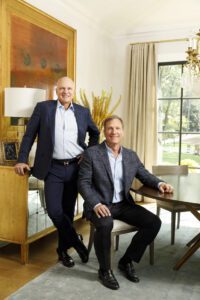 Travis Reed and Michael Kriethe are no strangers to home renovations. As veteran real estate agents and owners of HOME Real Estate, they've bought, fixed and sold their fair share of residences. When their daughter, Lilly, started school in Buckhead, they traded their Virginia- Highland home for a 2006 six-bedroom residence in Buckhead's West Paces Ferry neighborhood. They purchased the two-story abode with a basement in July 2019 and thought they'd live in it for a couple years before moving on. But as they began renovating, they were impressed with the quality of its construction.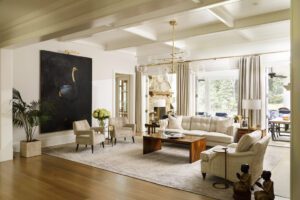 "We bought it because it has a great architectural pedigree. The bones and construction were really good," says Reed, who showed the William T. Baker-designed and Berndsen Custom Homes-built residence to several clients before purchasing it. "When we bought it, I thought we'd paint it, get rid of the brick in the kitchen and sell it, but when we started working on it, it's so much better than we thought it would be. As the contractor was taking it apart, the house was built better than anything we'd ever owned."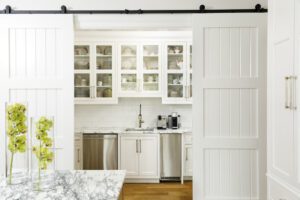 Despite its good bones, the dwelling needed updates. In 2021, Kreithe and Reed embarked on renovations with the help of Lucas Tilton Residential. They updated the heart pine wood floors with quarter sawn white oak. The kitchen got a complete overhaul: Sleek marble took the place of brick backsplash, and the small window above the sink was enlarged and replaced with a steel paneled window to bring in more daylight.
They changed the orientation of the kitchen island and went from one to two; one island doubles as informal dining for up to eight people. The pantry and kitchen office space became a scullery to hide small appliances behind sliding doors.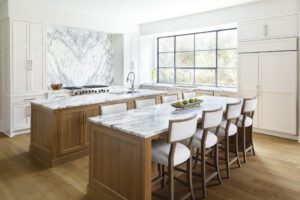 The refreshed and modern kitchen opens to a den that overlooks the backyard through new steel-paneled windows and doors that will lead to the soon-to-be-added outdoor terrace. Because of pandemic induced supply chain issues, what was supposed to be a four-month renovation stretched into a year.
"Usually we run out of money on renovations. This time we ran out of patience because we were doing it through COVID," Kriethe says. "The windows were delayed for six months, and they took the windows out so we had holes in the house covered with plywood. At one point, we moved the kitchen into the laundry room."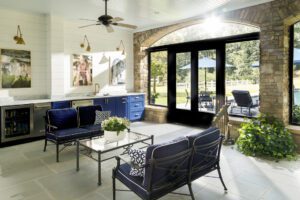 In the end, the waiting was worth it. The transformed main living areas are ideal for entertaining, flowing easily into the formal living room and dining space. One of the home's biggest surprises during renovation, however, was the lot it sat on. Previously covered in foliage with a hillside, Kriethe and Reed cleared and unearthed to create a gorgeous green space that now offers a pool, fire pit and an orchard with 10 peach trees. It also has blueberry bushes and plum trees, and they are planning to add a pecan tree out front. "We tried to put in a lot of food plants," Reed says.
The backyard also boasts a recently redone screened terrace accessible from the finished basement level. Equipped with an outdoor kitchen, natural stone countertops and blue cabinetry, it screams pool party.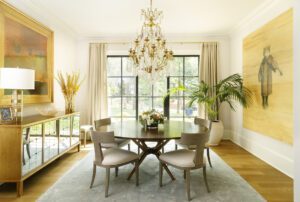 "We do lots of entertaining for our company, including the annual Christmas party, summer pool parties and monthly coffees on the porch. The house lends itself to large gatherings both inside and out," Reed says.
Inside, the homeowners decorated with hand-picked items, including furniture purchased from Shane Evans at Ansley Interiors and one-ofa- kind pieces found during travels to Thailand, Myanmar, Morocco and Greece. Art is also abundant, including a noteworthy 5-by-9-foot ostrich painting by the late Todd Murphy in the formal living room that Reed obtained by trading commission on Murphy's personal home. In the dining room hangs a 6-by-7-foot work by Tony Hernandez, who shared a studio with Murphy in the late 1990s. The dining room also showcases a sparkling rock crystal chandelier purchased from Red Baron Antiques.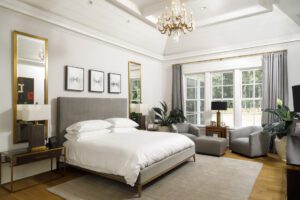 "The chandelier has been with us for the longest time. Before we started buying jewelry for our daughter, it was the most expensive thing we ever bought except for cars," Reed says. "We moved it from Virginia- Highland to Hawaii and back."
Kriethe and Reed have come a long way in making this residence their own, but they are not done. After finishing the terrace off the den, they plan to add a new front porch, rework the basement level with a bar, yoga room and sauna, and add a larger dressing room and closet for Lilly upstairs.
"This house is a work in progress," Reed says. "We always thought we would end up in a more formal 'old Buckhead' type home. We bought it thinking we would only be in it for a couple of years. As we developed the front and back yards, we realized that the property would be difficult to duplicate. We adjusted our more formal lifestyle to the less formal house, and during the process, fell absolutely in love."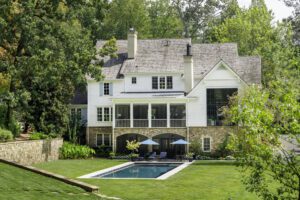 Travis Reed's Favorite Design
Details 1. Glass window wall over kitchen sink. "In addition to the light, this lets the outdoors into the kitchen space."
2. Scullery. "This all around perfect extra kitchen space gives us a coffee bar, dishwashing area for events and extra storage all in one place that can be easily opened to the main kitchen or shut off completely."
3. Wide plank quarter sawn white oak floors. "We waited a very long time to get these from Kentucky. The cut of the flooring adds stability and less shrinkage to the floors and the grain is much more subtle."
PHOTOS: Patrick Heagney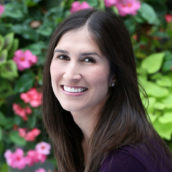 Giannina Bedford
Giannina S. Bedford is multi-faceted writer and editor. Her work covers design, travel, food and business. She's penned Simply Buckhead's home feature since inception and held a variety of editorial roles at the magazine. Her freelance work has appeared in Condé Nast Traveler, USA Today, Virtuoso Life, Hemispheres and TravelandLeisure.com. She also contributes regularly Atlanta Business Chronicle. Fluent in Spanish, Giannina was born in Miami and grew up in Brazil, Chile, Hawaii and Australia. She currently lives in Dunwoody with her two kids and husband.