A sampling of great eats in and around Buckhead.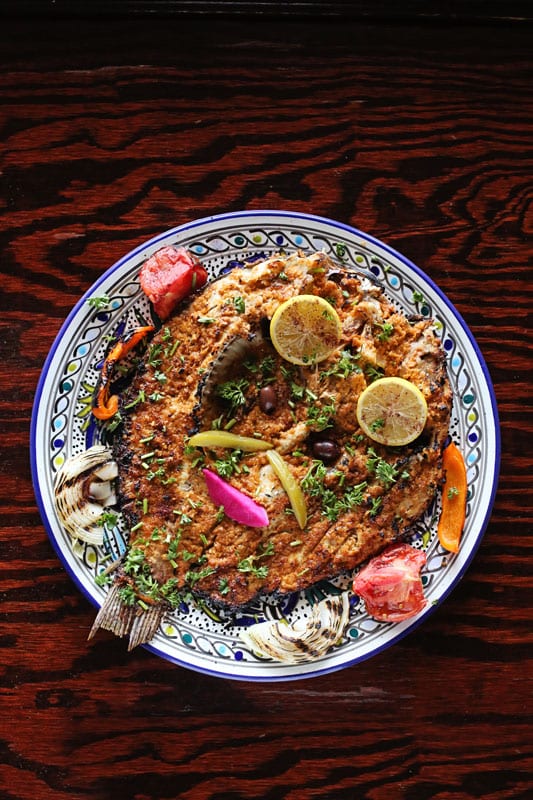 BABYLON CAFÉ
When Iraqi native Saad Marwad and his wife, Kelly Rafia, opened Babylon Café in 2014, the city's foodie community started to buzz about the couple's fresh, flavorful repertoire of Middle Eastern classics, from falafel and hummus to kebabs and baklava. While the starters are quite good—try the fattoush salad, the lentil soup and the eggplant badenjan—the earthy, long simmered stews are unlike anything else in town. We like the herb-based qurma sabzi with super-tender lamb shank and the bamia (okra and tomatoes) with oxtail. Don't leave with out a sip of the anise-flavored aperitif called "arak" and a bite of kanafeh, a sweet made of shredded phyllo, house made sweet cheese, rose- and orange-water syrup and pistachios.
Appetizers and sides: $2-$7
Entrées: $12-$20
babyloncafeatl.com
CAFÉ AT PHARR
New Orleans owns the po'boy. Philadelphia has its cheese steaks. Maine gave us the lobster roll. So … what about Buckhead? I'd have to say that the neighborhood's defining dish is chicken salad, the classic bird-and-mayo spread that can be crammed in your mouth between slices of bread or eaten daintily with a fork. Thanks to the entrepreneurial zeal of Johnny Liu—whose Taiwanese immigrant parents opened the original Café at Pharr in 1993—this comfort food has become a new fast food. You have to love the story of Café at Pharr. An enterprising family comes up with a formula that charms and beguiles the locals: Fresh food served in an accessible and unfussy environment that never loses its friendly neighborhood feel.
Entrée sandwiches and salads:
$7.50-$9.50
cafeatpharr.com
CO'M VIETNAMESE GRILL
In a Buford Highway strip mall on the edge of Brookhaven, Co'm has for some time now been my favorite place for the vibrant, aromatic flavors of the Southeast Asian nation that ownerbrothers Duc and Henry Tran once called home. While Atlanta has pho shops aplenty, the stars here are the rice and noodle dishes, which can be ordered with heavenly grilled meats, chicken or fish. The pièce de résistance, though, is the grilled grape-leaf rolls, stuffed with bits of beef, lamb, salmon, duck or tofu; doused in a pool of sweet-fishy vinaigrette and sprinkled with crushed peanuts and crispy fried scallions. Heaven!
Entrée sandwiches and salads:
$7.50-$9.50
cafeatpharr.com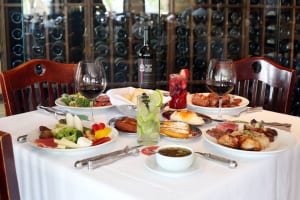 FOGO DE CHÃO
You don't have to brave the pampas of South America or the wilds of Africa to witness the most primitive form of cooking—and eating—on the planet. Every day of the week, deep in the heart of Buckhead, hunks of meat sizzle over an open fire, and grown men smack their lips and engage in gluttony as a kind of participatory sport. At this Brazilian churrascaria, you can sip caipirinhas and nibble cheese bread; graze from a beautiful, bottomless salad bar; then indulge in an endless parade of meats, carved straight onto your plate by servers in gaucho drag. It's all quite delicious, though the place can get Vegas crazy at times, so just be prepared for a mob.
The full experience: $51.50 (dinner); $32.50 (lunch)
Salad bar only: $24.50 (dinner); $22.50 (lunch)
fogodechao.com
GRINDHOUSE KILLER BURGERS
The Piedmont Avenue location of burger-preneur Alex Brounstein's success story is where you go for a superbly flavorful, juice-dripping, napkin-soaking beef patty with all the trimmings. Though you can customize your sandwich, consider the signature "Cowboy" treatment: cheddar, bacon, barbecue sauce and a beer-battered onion ring—for a slim $7.99. To gild the lily, add an order of Frings (that's fries and rings), and ask for a side of the chipotle ranch dipping sauce. Here you can quaff a draft brew, slurp down a boozy shake, like the banana-flavored Puddin' Out, or sip a "Snooty" cocktail such as the mezcal-based El Guapo.
Burgers: $4.50-$7.99
Starters and sides: $2.50-$5.50
grindhouseburgers.com
JALISCO
After nearly three decades, Jalisco remains a giddy, guilty pleasure trip through a tunnel of cheese. This Tex-Mex institution at Peachtree Battle is better than an El Paso taco kit, but not exactly a showcase of the sophisticated techniques and ingredients of the Mexican larder. Without apology, Jalisco is what it is, a place with consistently good, standard- issue burritos, enchiladas, fajitas and even a "Hamburguesa Mexicana." (It's topped with nacho cheese.) This is not a place where the kitchen thrives on change and creativity. For the most part, the menu is the same as it has been since Jalisco opened in 1978.
Lunch specials: $5-$9
Entrées: $9-$13
404.233.9244
PANAHAR BANGLADESHI CUISINE
Anyone who has a passing familiarity with Indian food will feel right at home at this exotic-yet-homespun Buford Highway hole-in-the-wall. The $9.99 lunch buffet is a delicious way to sample the flavorful, aromatic cuisine of Bangladesh, which often uses less spice and more coconut milk than its sister region in Northern India. At dinner, you may take advantage of the BYOB policy, bringing wine or beer to wash down the highly appealing biryanis, kormas, tandooris and other delights of the Bengali table, including many here with beef.
Appetizers: $4-$6.
Mains: $11-$15.
panaharbangladeshi.com
PASTA VINO
You can surely find trendier pizza parlors or posher places to eat Italian in Atlanta. But if you are looking for old-fashioned linguini with clam sauce or chicken Florentine in a relaxed and inviting atmosphere with a loyal following, this Buckhead favorite has got you covered. The restaurant is beloved by many for its home-style cooking, casual ambiance, reasonable prices and a staff of servers who have acquired faithful customers of their own. Owner Nancy Powell treasures her crew, most of whom have been on the job for more than 10 years. Given the refined state of Italian dining in America today, Pasta Vino is not likely to win any awards for innovation or inspiration. But it remains a perfectly fine, frequently delicious, middle-of-the-road trattoria.
Starters and salads: $2-$10
Entrées: $10-$22
pastavinoatlanta.com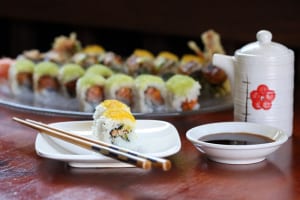 TAKA SUSHI AND PASSION
Chef Taka Moriuchi learned from perhaps the most famously finicky and cult-inspiring Japanese chef Atlanta has ever known: Sotohiro Kosugi, owner of Buckhead's legendary (but now shuttered) Soto Japanese Restaurant. Today, Moriuchi holds court at his own Pharr Road sushi bar, where his impeccably fresh fish and hot and cold appetizers compare to the best Japanese food in town. The only difference: His prices won't shipwreck your budget. Among our faves, the UPS roll is a delicious nod to the Atlanta-based Big Brown fleet, and the black cod and okra tempura are packages you'll be happy to see arrive at your table.
Appetizers: $6-$20
Nigiri: $2.50-$11
Sushi rolls: $4.50-$19.50
takasushiatlanta.com
TED'S MONTANA GRILL
We love everything about the housemade dill pickles; the fat onion rings with horseradish dipping sauce; the Arnold Palmers; and the all-American, stick-a-flag-in-it, "where the buffalo roam" burgers. Yep, we're talking bison, baby. It's leaner than beef, yet richer and moister, somehow. The Ted's burger that really rocks our world is the Blue Creek: Inspired by owner Ted Turner's Blue Creek Ranch in Nebraska, it comes with bacon crumbles and blue cheese. And that's all it needs. Just ask for a side of rings and a little ramekin of that horsey sauce.
Appetizers: $5-$14
Burgers: $12-$19
tedsmontanagrill.com
BY: Wendell Brock
PHOTOS: Sara Hanna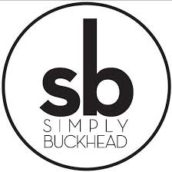 SimplyBuckhead
Simply Buckhead is an upscale lifestyle magazine focused on the best and brightest individuals, businesses and events in Buckhead, Brookhaven, Sandy Springs, Dunwoody and Chamblee. With a commitment to journalistic excellence, the magazine serves as the authority on who to know, what to do and where to go in the community, and its surroundings.