A sampling of great eats in and around Buckhead.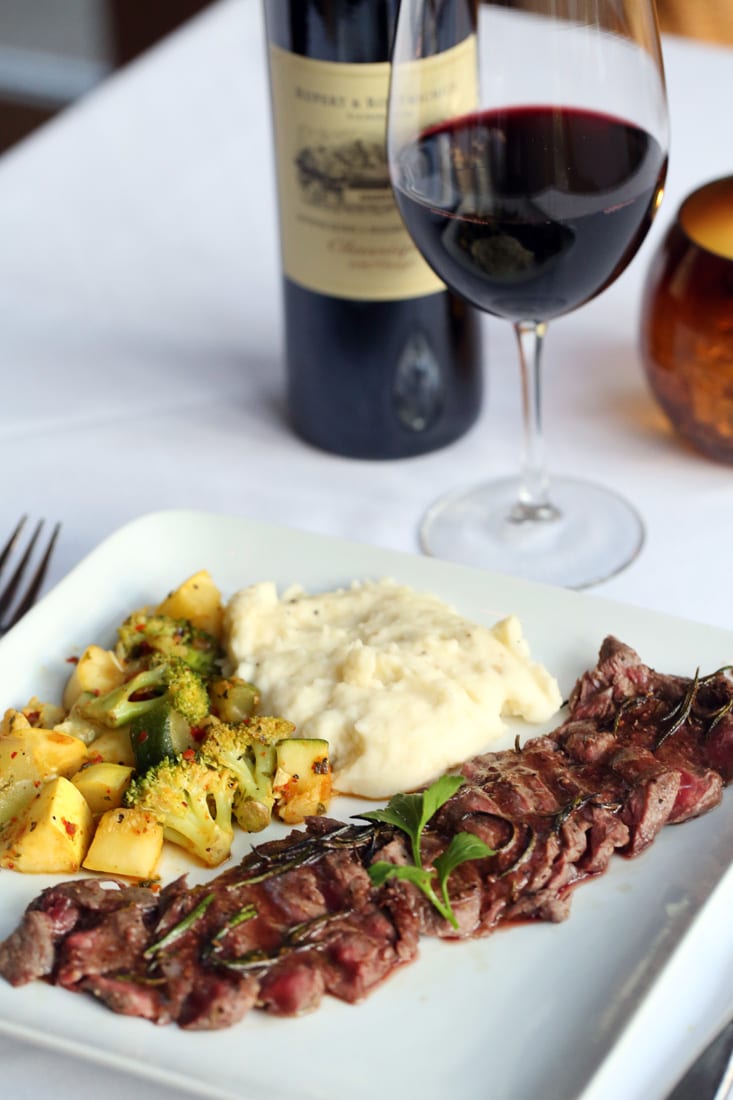 10 DEGREES SOUTH
After 15 years on the scene, this Roswell Road establishment is a highly original destination where food and wine from the tip of the Southern Hemisphere are celebrated with flair. Before we could pose the server with a query on the peri-peri, we got the hard sell on South African reds—particularly the Rupert & Rothschild 2009 "Classique." The big, full-bodied R&R was the perfect match for the luscious, spicy food that followed. We wager that nobody makes bobotie (the South African national dish) like 10 Degrees South. The dish consists of tantalizingly sweet curried ground beef topped with a custardy crust. It's time to get your head out of the sand and indulge in the kind of stuff our parents enjoyed when "Continental" cuisine was in vogue.
Appetizers: $10-$16
Entrées: $21-$38
10degreessouth.com
BABYLON CAFÉ
When Iraqi native Saad Marwad and his wife, Kelly Rafia, opened Babylon Café in 2014, the city's foodie community started to buzz about the couple's fresh, flavorful repertoire of Middle Eastern classics, from falafel and hummus to kebabs and baklava. While the starters are quite good—try the fattoush salad, the lentil soup and the eggplant badenjan— the earthy, long-simmered stews are unlike anything else in town. We like the herb-based qurma sabzi with super-tender lamb shank and the bamia (okra and tomatoes) with oxtail. Don't leave without a sip of the anise-flavored aperitif called arak and a bite of kanafeh, a sweet made of shredded phyllo, housemade sweet cheese, rose- and orange-water syrup and pistachios.
Appetizers and sides: $2-$7
Entrées: $12-$20
babyloncafeatl.com
BANGKOK STATION
Of all the restaurant staffs in Buckhead, these folks may be our favorite. Polite and accommodating to a fault, they make it nearly impossible not to enjoy its exotic comfort food. Whether you eat in the cavernous dining room or out on the sexy, music-infused patio, starters such as peek gai tod, thoong-thong and Crying Tiger will crush any doubt you may have about whether there's good Thai food down South. For more substantial but no less authentic fare, dig in to the massaman and panang curries, Drunken Man noodles or our favorite Thai chicken dish, gai yang som tum. Save room for homemade coconut cake; it's as sweet and genuine as the staff's warm invitation to return again soon.
Starters, soups and salads: $7-$23
Curries, sautés and noodle and rice dishes: $14-$23
Main entrées: $19-$32
Desserts: $5-$9
bangkokstationthaifood.com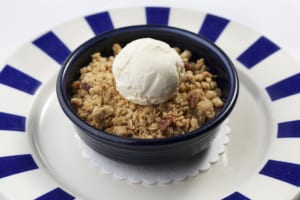 BLUE RIDGE GRILL
For more than 20 years, Blue Ridge Grill (BRG) has been a mecca for Buckhead power lunchers and chill evening diners alike. Whether for business or romance, BRG is a paragon of hospitality, and each guest is embraced like a VIP. Standard crowd-pleasers on the Euro-American menu include grilled Georgia trout, French-boned chicken with wild mushrooms and filet mignon with Vidalia onions. Small plates and sides of iron skillet mussels, Caesar salad with crisp Beeler bacon, custard like corn soufflé and (off-menu item) fried pickles with buttermilk dipping sauce are absolute must-tries. If cost is an issue, call ahead, as menu prices are not advertised online.
Lunch: $9-$42
Dinner: $13-$62
blueridgegrill.com
DAVIO'S NORTHERN ITALIAN STEAKHOUSE
With its handmade pasta, terrific steaks and foundation of classic Italian dishes, the Atlanta outpost of Massachusetts based chef-preneur Steve DiFillippo sets a higher-than-usual standard for a mall restaurant. Fine-food lovers flock to Phipps Plaza for Davio's delicious fried calamari, tagliatelle Bolognese and warm spinach salad like ravenous shoppers on the hunt for Louis Vuitton bags, Tiffany silver and Dior gowns. And they can do no better than the buttery medallion of impeccably grilled top sirloin, slathered with Gorgonzola and paired with wilted spinach and sea-salt-and-truffle-oil fries. No wonder the Davio's menu is as tantalizing as the shoe department at Nordstrom.
Appetizers and salads: $9-$16
Pastas, entrées and steaks: $18-$48
davios.com/atl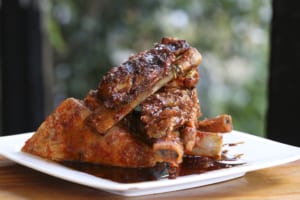 ECLIPSE DI LUNA
At the tail end of Miami Circle is one of the most convivial joints in town. Head over for happy hour Monday through Thursday when most drinks and tapas are half price, and there's live music. Yummy small plates of habanero spiced ahi tuna ceviche, smoky sun dried tomato mac and cheese (made with three different cheeses) and refreshing Granny Smith apple salad are some of our favorites. Still hungry? It's hard to pass up the succulent balsamic-y spare ribs and flavorful, crunchy calamari. If you're with family (or a family of friends), consider the exquisite saffron-infused paella, made with authentic Calasparra rice.
Tapas: $2.95-$14.95 (most in the $5-$8 range)
Large plates (for two or more): $20-$24
eclipsediluna.com
KYMA
The name means "wave," and making waves is exactly what executive chef Pano I. Karatassos has been doing at his family's stellar Greek seafood restaurant since 2002. From marides (tiny, "French fry"-size white fish) to Greek specimens grilled whole (try the barbounia or bronzino), Kyma excels at delivering the kind of simple, unadorned flavors you'll encounter on a patio by the Aegean. Order a glass of Greek wine (there are many options) and a few classic meze for sharing (we like the dolmades, spanakopita, cuttlefish stuffed with lamb stew and the feta-zucchini fritters), and your meal will go just swimmingly.
Meze: $8-$14
Mains: $26-$46 (whole fish $30 or $36 per pound)
buckheadrestaurants.com/kyma
PASTA VINO
You can surely find trendier pizza parlors or posher places to eat Italian in Atlanta. But if you're looking for old-fashioned linguini with clam sauce or chicken Florentine in a relaxed and inviting atmosphere with a loyal following, this Buckhead favorite has got you covered. The restaurant is beloved by many for its home-style cooking, casual ambience, reasonable prices and a staff of servers who have acquired faithful customers of their own. Owner Nancy Powell treasures her crew, most of whom have been on the job for more than a decade. Given the refined state of Italian dining in America today, Pasta Vino is not likely to win any awards for innovation or inspiration, but it remains a perfectly fine, frequently delicious trattoria.
Starters and salads: $2-$10
Entrées: $10-$22
pastavinoatlanta.com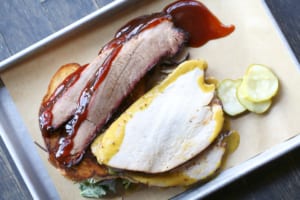 SMOKEBELLY
Smokebelly offers a traditional Southern-inspired barbecue experience within Buckhead's posh surroundings. The rustic yet upscale interior is a comfortable place to kick back with a local beer or craft cocktail. The hearty barbecue platters offer generous portions of smoked meats and sides that harken to roadside dives. In addition, salads and healthful sides are tasty alternatives. At lunch, choose from a dozen sandwiches or from the long list of small plates. We recommend the quinoa super-food salad, tangy and bright with colorful veggies and fresh greens, or the smoked brisket and sofrito empanadas with tender and richly flavored meat wrapped in a flaky crust.
Tapas: $4.50-$11.50
Sandwiches and salads: $6.50-$13
BBQ plates: $14-$27
smokebellybbq.com
STARFISH
Starfish—which can look just a little lost on the block that houses Restaurant Eugene and Holeman and Finch— is exactly the kind of sushi joint we have been trolling for. In a city where Japanese cuisine can be hit-or-miss and sometimes not the freshest, chef owner Seung K. "Sam" Park's reticent little pearl is a superior catch—cute and compact as a bento box but with just a hint of luxury. At dinner, we were delighted to see how the kitchen plays around with untraditional ingredients like truffle oil and balsamic vinegar, slicing fish as thin as carpaccio and arranging it in dazzling presentations. When our flounder sashimi arrived, the server told us to place a dab of the ponzu jelly spiked with cilantro, jalapeño and lime on a strip of the fish and roll it up. Exquisite. Starfish isn't the kind of place that announces itself with screaming klieg lights or red carpets. But in this culture of excess, sometimes being a little bit under the radar can be very seductive.
Lunch entrées: $7-$16
Dinner entrées: $12-$30
starfishatlanta.com
WHITE HOUSE RESTAURANT
At this venerated breakfast nook, you'll find Atlanta movers and shakers in ties and starched shirts huddled over omelets and pancakes. But regardless of a guest's status, owner Demos Galaktiadis, who came to America from Greece in 1966, treats everyone the same. He has run this Peachtree Road institution for 45 of its 68 years, and over time, the food has evolved into a unique combination of home-style Southern and Greek standards. At lunch, you might have moussaka and collards or fried grouper and a Greek salad, finished off with a dish of banana pudding. But breakfast is king here. We recommend the Olympic omelet, stuffed with spinach, tomatoes, onions, mushrooms and peppers and served with a side of tzatziki, or a breakfast sandwich laden with sausage, cheese and egg.
Breakfast: $6.40-$15.30
Lunch: $6-$16.70
whitehousediner.com
BY: Wendell Brock, Rebecca Cha and Angela Hansberger
PHOTOS: Sara Hanna
Angela Hansberger
Drinks columnist at Simply Buckhead. Food, spirits, and culture writer.