The Bucket Shop Café is a prime spot for the college-football crowd.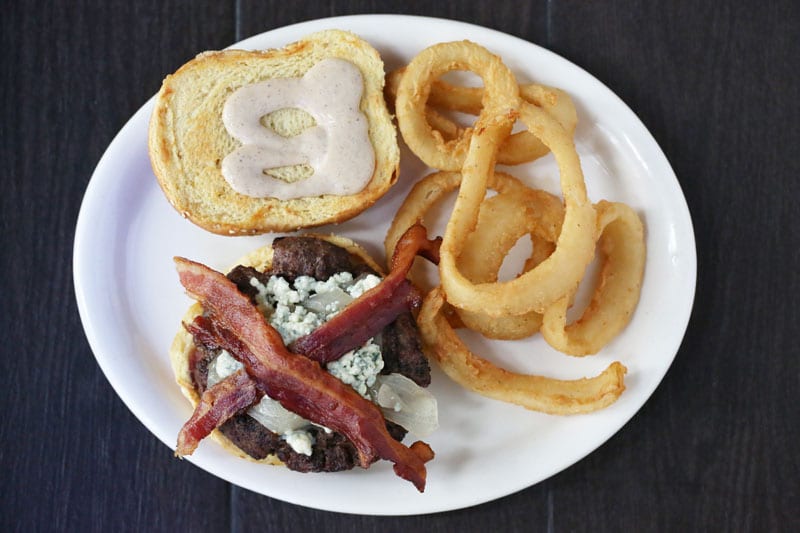 The starting lineup looks big and bad. At the center are juicy, quarter back size burgers. At either end sit jumbo wings, wearing the colors of Cajun spice, Jack Daniels barbecue sauce, bright Buffalo orange. Wait a minute! Time out! There's a pile-up of nachos at center field. Someone's going to get hurt if he finishes off this messy stack of chips and salsa, beef and cheese.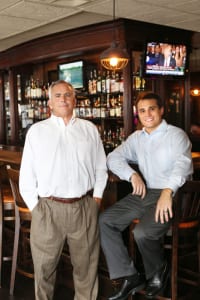 If you think dining out should be fueled by booze and the euphoric highs and lows of cheers and boos, you'll want to add The Bucket Shop Café to your list of places to tackle this college football season. A Buckhead game-day institution for some years now, The Bucket Shop opened in 1969 and has been at its current location, on Lenox Road across from Lenox Square, since 1982. In this sunny room on the ground level of a Financial District mid-rise, you'll discover Atlanta's answer to "Cheers," a casual, family-owned, late-night spot that's home to fetching servers in cheerleader-length short shorts; a newly renovated, street-side patio; lots of polished wood; and banks of TV sets for the sports-frenzied flock. Owner Ward Gober purchased the place from its original owners in 1992; today, Gober and his son Brandon Evans have created a foolproof formula of rib-sticking pub grub that appeals to the business crowd; walk-in customers from nearby malls; even MBA candidates who are studying at the satellite branch of the University of Georgia's Terry College of Business.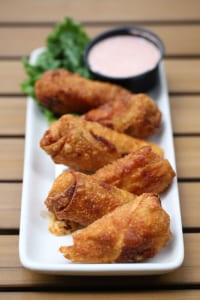 All right, then! How about them Dawgs? And since Georgia Tech is right down the street: Go Yellow Jackets!
Um, not so fast there. While Evans assures that all colors are welcome at The Bucket Shop, here Orange and Blue is the new Red and Black. Yep, Evans is a third-generation Auburn alumnus, and if you happen to arrive here, say, this Nov. 14, when Auburn hosts Georgia, you can expect a well lubricated congregation of Tiger fans hovering over every inch of The Bucket Shop.
As long as no "War Eagle!"-screaming so and- so swoops up this Bulldog's burger or tips over his Terrapin Hopsecutioner (made in Athens, Georgia, natch), no penalties will be handed down at The Bucket Shop this fall. During a recent lunch and a follow-up visit around quittin' time on a Friday, I've been keeping score, and this highly likable sports bar gets extra points for its spirited and efficient service, sportsmanlike attitude and college-friendly price point.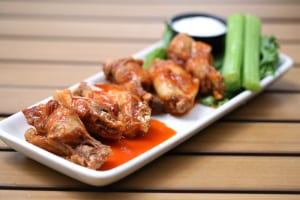 The hot wings are a menu mainstay. To be sure, there's a busload of flavors (Thai chili, lemon pepper, honey barbecue and three levels of Buffalo heat, among others). I like my wings wet and messy, three-napkin style, if you will. Alas, the version I had—medium Buffalo—seemed just a tad dry, perhaps from being too long in the fryer. (Happily, there were moist towelettes for cleaning up orange fingers.)
We had better luck with the crispy fried calamari—lots of frilly, tender tentacles for dunking in the sweet Thai chili dipping sauce (which we preferred over the marinara)— and the chicken rolls. I admit rolling my eyes when I heard about the latter, which sounds like a fusion experiment run amok. And yet, these crispy eggroll wrappers stuffed with a Mexican mélange of pollo, cheese, sour cream, chives and Tex-Mex sauce (salsa mixed with ranch) are a divine guilty pleasure.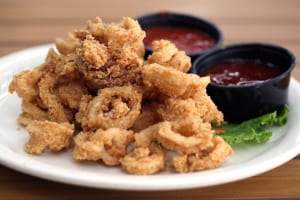 No wonder they are the restaurant's No. 1 seller. There are also a good many starters we'd like to try in future: fried pickle chips, spinach and artichoke dip, maybe those Nachos Grande, all so perfect with beer.
Speaking of which, The Bucket Shop stocks an impressive sampling of local brews, on tap, bottled or canned. We were delighted to see selections from Red Hare, Orpheus, Pontoon Brewing and many others. There's also a fairly simple wine list—six whites, seven reds, two sparklings, mostly from the West Coast—and some sweet, girly sounding cocktails made with fruity liqueurs, flavored vodkas and rums.
And then there are the burgers. You can build your own, choosing turkey, veggie, salmon, chicken, bison, even Kobe beef; a spice rub if you please; plus cheese, toppings and sauces. I went with one of the predesigned burgers: the Black 'N' Bleu, a blackened ground-chuck patty with blue cheese and bacon. It came grilled to specifications ("pink and juicy"), and with a side of onion rings, it was as welcome as a touchdown.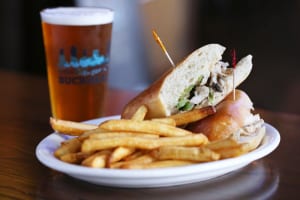 Though you may order tacos, salads, steak or fried chicken here, we think the sandwiches—from the greasy-in-a-good-way Philly cheesesteak to a salmon BLT with basil mayo—rule. To go with, we liked the sweet potato fries and the jalapeño slaw. Dessert seems like an afterthought at The Bucket Shop. There are only three: brownie sundae, Key lime pie and chocolate-peanut butter pie. The Key lime confection was still icy from the freezer, and the flavor had a slightly artificial zing. But the peanut butter pie was wonderful. Extra point!
So what's in the name, Bucket Shop? It's a term that dates back to the early 1800s and refers to a type of stock-market betting that the U.S. Supreme Court long ago declared illegal. Evans says the original owners catered to a financial clientele, so their so-called "investment saloon" was a tongue-in-cheek reference to shady deals of days gone by.
Funny, I always thought Bucket Shop was a drinking reference—like a bottle shop, only fancier. (Think: buckets of ice, champagne, beer!) I'm betting that when your team is on the field and the drinks are flowing, none of this really matters. Hey, waiter. My boys are having a bad day. Could you bring me a double?
THE BUCKET SHOP CAFÉ
3475 Lenox Road N.E.,
Atlanta 30326
404.261.9244
bucketshopcafe.com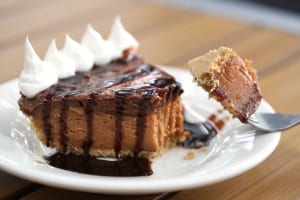 Prices: Starters, $6.25-$12.95. Sandwiches and burgers, $8.75- $12.95. Entrées, $11.95-$17.95
Recommended: Chicken rolls, calamari, Philly cheesesteak, salmon BLT, Black 'N' Bleu burger, peanut butter pie and local beers.
Bottom line: Classic game-day watering hole with good food.
STORY: Wendell Brock
PHOTOS: Sara Hanna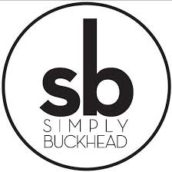 SimplyBuckhead
Simply Buckhead is an upscale lifestyle magazine focused on the best and brightest individuals, businesses and events in Buckhead, Brookhaven, Sandy Springs, Dunwoody and Chamblee. With a commitment to journalistic excellence, the magazine serves as the authority on who to know, what to do and where to go in the community, and its surroundings.