A sampling of great eats in and around Buckhead.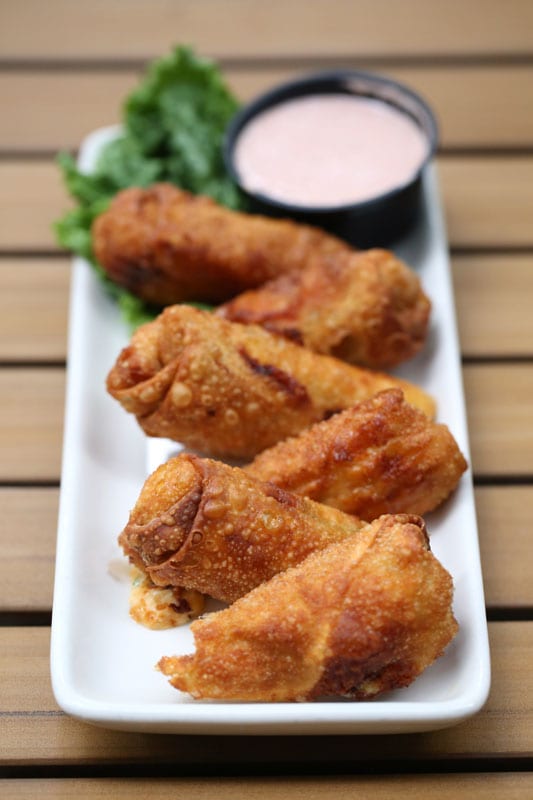 BY: Wendell Brock
PHOTOS: Sara Hanna
THE BUCKET SHOP CAFÉ
Atlanta's answer to TV's "Cheers," this casual, family-owned spot across from Lenox Square is a game-day institution with seriously good pub grub, friendly prices and spirited, efficient service. Burgers, wings and sandwiches of all kinds dominate the menu. But one dish on the starting lineup deserves a special trophy: the chicken rolls. Perhaps they sound like a fusion experiment, but in fact, these crispy, deep-fried egg roll wrappers stuffed with chicken, cheese, sour cream, chives and Tex-Mex sauce (salsa mixed with ranch) are downright addictive. The Bucket Shop team gets extra points for its solid, ever-changing list of local craft brews.
Starters: $6-$13
Sandwiches and burgers: $9- $13
Entrées: $12-$18
bucketshopcafe.com
---
DAVIO'S NORTHERN ITALIAN STEAKHOUSE
With its handmade pasta, terrific steaks and foundation of classic Italian dishes, the Atlanta outpost of Massachusetts- based chef-preneur Steve DiFillippo sets a higher-than-usual standard for a mall restaurant. Finefood lovers flock to Phipps Plaza for Davio's delicious fried calamari, tagliatelle Bolognese, and warm spinach salad like ravenous shoppers on the hunt for Louis Vuitton bags, Tiffany silver and Dior gowns. And they can do no better than the buttery medallion of impeccably grilled top sirloin, slathered with Gorgonzola and paired with wilted spinach and sea-saltand- truffle-oil fries. No wonder the Davio's menu is as tantalizing as the shoe department at Nordstrom.
Appetizers and salads: $9-$16
Pastas, entrées and steaks: $18-$48
davios.com/atl
---
DEL FRISCO'S GRILLE
While the Texas-based chain is known for superb steaks, fusion appetizers and flatbreads, we think the burgers are sensational. In particular, the Pimento Cheese Burger, an uptown riff on the Big Mac, is a tower of juicy deliciousness: two patties with lettuce, tomato and pickle; plus housemade "sloppy sauce" (it's like a smooth Thousand Island); plus two generous smears of pimento cheese, which slides down the stack and seals in all that juicy goodness. Del Frisco's gets special points for packaging: The burger sits coyly in a partly open paper wrapper, while the fries are in a little paper cone on the side. A cold frothy draft beer is the clincher.
Appetizers: $7-$16.50
Sandwiches & flatbreads: $12.50-$18
Steaks: $29.50-$39.50
delfriscosgrille.com/atlanta
---
FOGO DE CHÃO
You don't have to brave the pampas of South America or the wilds of Africa to witness the most primitive form of cooking—and eating—on the planet. Every day of the week, deep in the heart of Buckhead, hunks of meat sizzle over an open fire, and grown men smack their lips and engage in gluttony as a kind of participatory sport. At this Brazilian churrascaria, you can sip caipirinhas and nibble cheese bread; graze from a beautiful, bottomless salad bar; then indulge in an endless parade of meats, carved straight onto your plate by servers in gaucho drag. It's all quite delicious, though the place can get Vegas crazy at times, so just be prepared for a mob.
The full experience: $51.50 (dinner); $32.50 (lunch)
Salad bar only: $24.50 (dinner); $22.50 (lunch)
fogodechao.com
---
HAL'S "THE STEAKHOUSE"
Looking on the outside like a high-end strip joint topped with a Bourbon Street balcony, Hal's has built its cachet around its loyal clientele, old-school style, impeccable service and terrific food. Owner Hal Nowak is a New Orleans native, and in his eponymous enterprise—with its shrimp rémoulade, oysters bordelaise and booze-soaked bread pudding— he has created Atlanta's answer to Galatoire's. This may be your grandparents' favorite restaurant, but in an age where everything old is new again, it also boasts a youthful clientele that appreciates its straightforward food, strong drinks and speakeasy atmosphere.
Appetizers and salads: $9-$24
Entrées and steaks: $24-$50
hals.net
---
KR STEAKBAR
Atlanta chef Kevin Rathbun's only Buckhead restaurant feels custom-tailored for the community. A contemporary nocturnal cubbyhole where small plates rule, wine flows and the air bristles with excitement, the fashionable "steakbar" concept finds Rathbun and chef de cuisine Jessica Gamble fusing two venerable concepts: meat and Italian. Here, nearly everything speaks with a perky Mediterranean lilt: amari-kissed cocktails; steak doused with espresso sauce; heavenly olive-oil cake with almond brittle and citrus cream. (Pastry chef Kylie Akiyama is terrific.) Hidden touches, like the speakeasy-style bar behind the kitchen and a patio that feels like a sunken garden, make us want to continue to explore this romantic spot.
Antipasti: $6-$19
Pasta: $12-$16
Entrées: $18-$68
krsteakbar.com
---
NEWK'S EATERY
This Mississippi-based chain has popped up in the Atlanta market, and though it looks like a fast-food joint, it tastes like homemade. Salads—from shrimp rémoulade salad to a delicious steak-and-blue-cheese version to old-fashioned chicken salad—are a standout. At this casual, family friendly, crowd-pleasing spot you can also get sandwiches, pizzas and mac and cheese but, refreshingly, no burgers! We are pretty crazy about the sausage and  pepperoni pie, with its thin crust and warm and gooey toppings. And who can resist a crispy rice treat with chocolate and peanut butter? Not us.
Salads, sandwiches and pizzas: $7-$11
newks.com
---
PASTA VINO
You can surely find trendier pizza parlors or posher places to eat Italian in Atlanta. But if you are looking for old-fashioned linguini with clam sauce or chicken Florentine in a relaxed and inviting atmosphere with a loyal following, this Buckhead favorite has got you covered. The restaurant is beloved by many for its home-style cooking, casual ambiance, reasonable prices and a staff of servers who have acquired faithful customers of their own. Owner Nancy Powell treasures her crew, most of whom have been on the job for more than 10 years. Given the refined state of Italian dining in America today, Pasta Vino is not likely to win any awards for innovation or inspiration. But it remains a perfectly fine, frequently delicious, middle-of-the-road trattoria.
Starters and salads: $2-$10
Entrées: $10-$22
pastavinoatlanta.com
---
SMASH KITCHEN & BAR
When it came to Smash, Tom Catherall— the Atlanta chef behind the Here To Serve restaurant empire—had little to prove. The British native designed the place himself, hanging portraits of Lennon and McCartney around a room of earthy brick, vinyl booths and shiny red kitchen tile. The menu plays like the chef's greatest hits: skillet-fried chicken, juicy steaks, shrimp and grits. Burgers are among the best in Buckhead. Try the one with pimento cheese and bacon or the simply dressed version with lettuce, tomato, pickles and American cheese. With a glass of Terrapin Hopsecutioner, a Smash burger is a terrific excuse to spend an hour or so at the bar.
Starters and salads: $4-$18
Entrées: $14-$34
h2sr.com/smash
---
TAKA SUSHI AND PASSION
Chef Taka Moriuchi learned from perhaps the most famously finicky and cult-inspiring Japanese chef Atlanta has ever known: Sotohiro Kosugi, owner of Buckhead's legendary (but now shuttered) Soto Japanese Restaurant. Today, Moriuchi holds court at his own Pharr Road sushi bar, where his impeccably fresh fish and hot and cold appetizers compare to the best Japanese food in town. The only difference: His prices won't shipwreck your budget. Among our faves, the UPS roll is a delicious nod to the Atlanta-based Big Brown fleet, and the black cod and okra tempura are packages you'll be happy to see arrive at your table.
Appetizers: $6-$20
Nigiri: $2.50-$11
Sushi rolls: $4.50-$19.50
takasushiatlanta.com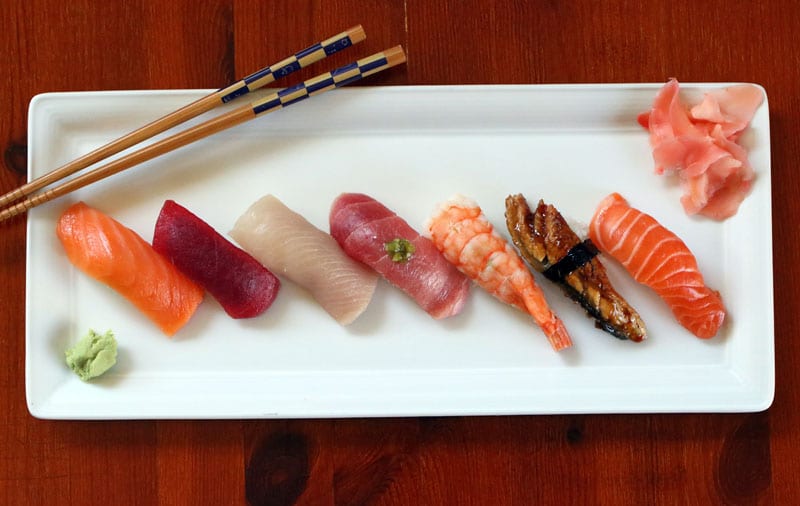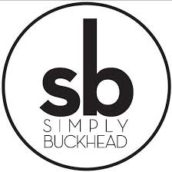 SimplyBuckhead
Simply Buckhead is an upscale lifestyle magazine focused on the best and brightest individuals, businesses and events in Buckhead, Brookhaven, Sandy Springs, Dunwoody and Chamblee. With a commitment to journalistic excellence, the magazine serves as the authority on who to know, what to do and where to go in the community, and its surroundings.