Relief for eczema and when to seek pro help.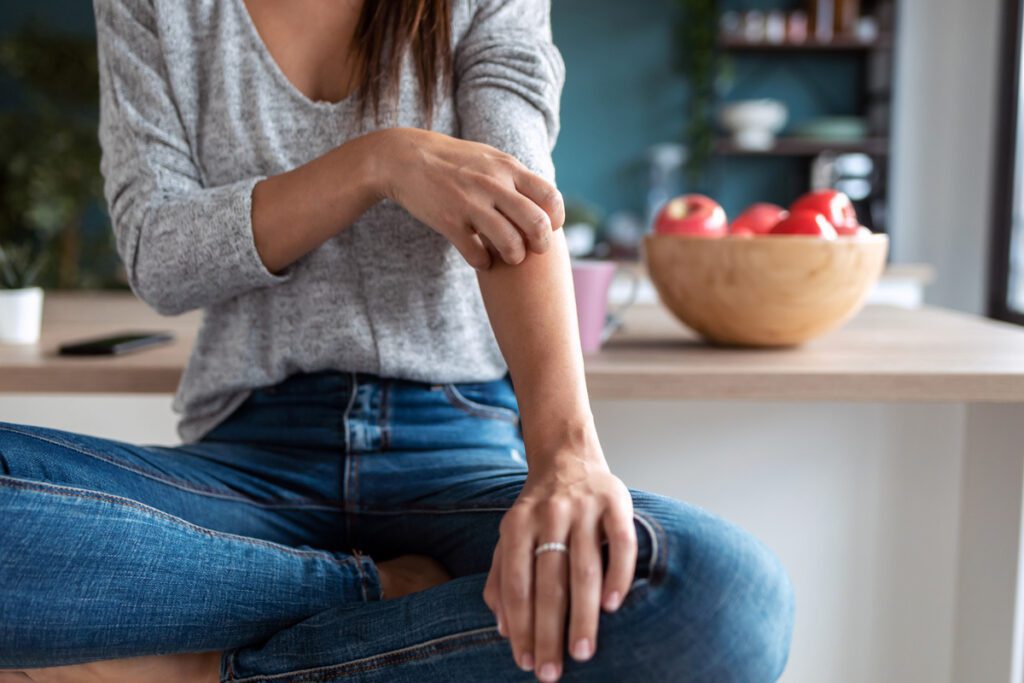 Tis the season for sitting by the fire and cranking up the heater. While those activities sound cozy, they can trigger dry, itchy skin. But how should you know if you're experiencing seasonal dryness or something more serious such as eczema? We tapped Dr. Matthew Reschly, a Sandy Springs-based dermatologist who sees patients at Medical Dermatology Specialists, Inc., to understand what eczema is, when to engage a professional and what to do to soothe your skin.
What is eczema?
"To keep it simple, eczema is an inflammatory condition of the skin that causes itching and subsequent rashes," Reschly says. It's also more common than you might think. According to the National Eczema Association, 31.6 million people in the U.S. have some form of eczema, and it's estimated that one in 10 individuals will develop the condition at some point during their lifetime.
Prime spots for the itchy, red, bumpy skin include the folds of the arms and legs, back of the neck and the face. If you start to have itchy skin or rashes on those locations or if you have had a history of childhood eczema (which can reoccur in adolescence and into adulthood), it could be a sign of the condition.
Avoid triggers and nourish skin.
"Certain things can set it off dry skin, such as change of weather, harsh soaps and even stress," says Reschly, who suggests choosing fragrance-free and hypoallergenic lotions, body washes, detergent and fabric softener to minimize irritation. Since extreme temperatures can be a trigger for those with sensitive skin, opt for lukewarm showers and baths rather than super-hot ones.
If you're hoping to treat eczema at home, Reschly advises amping up your moisturizing routine. Look for words such as emollient, hyaluronic acid and ceramides on the label of over-the-counter products, all of which can help boost moisture in the skin.
"Aveeno, Cetaphil and CeraVe are three of the main ones that dermatologists like recommending," Reschly says. "They all have their version of eczema care." For generally itchy skin, non-sedating antihistamines such as Benadryl or Claritin may also offer some relief.
Engage a dermatologist.
If at-home care isn't doing the trick, it's likely time to see a doctor. "If you see rashes that are staying there day after day, or if the skin gets rough, discolored or thickened, that generally falls into the eczema category," Reschly says, noting that parents should watch out for these in children and make an appointment with a trusted pediatrician who can determine if a dermatologist visit is needed.
Additionally, some people have food intolerances and allergies that can impact their skin. A dermatologist or pediatrician can determine if it's time to see an allergist to rule out food-related triggers.
Doctors have more tools at their disposal, beyond what's available at the local drugstore or beauty shop, including prescription topical medications and non-steroidal creams. For more severe cases, new breakthroughs in oral medications are gamechangers, offering more dramatic results.
If you have eczema, take heart. Thanks to advances in medicine and soothing products, relief is possible.
MEDICAL DERMATOLOGY SPECIALISTS
404.939.9220
atlantamedicaldermatology.com
SOOTHE OPERATOR
Over-the-counter products designed to treat eczema can offer relief.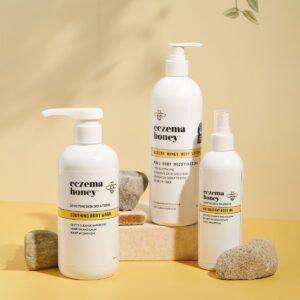 Eczema Honey Soothing Body Wash ($13.95), Oatmeal Body Lotion ($23.95), Antioxidant Body Oil ($18.95)
Food-grade ingredients such as colloidal oatmeal and honey gently clean, moisturize and nourish without irritation.
Ulta Beauty
ulta.com
@ultabeauty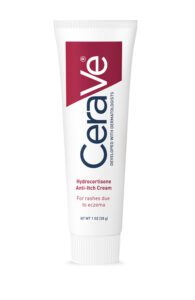 CeraVe Hydrocortisone Anti-Itch Cream, Dry Skin & Eczema ($9.29)
A fragrance-free cream with 1% hydrocortisone (the max available without a prescription), three essential ceramides for hydration and niacinamide to calm itches.
CVS
cvs.com
@cvspharmacy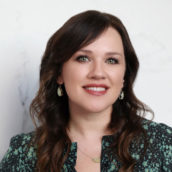 Jennifer Bradley Franklin
Senior Contributing Editor and Beauty Columnist at Simply Buckhead. Travel, Food and Design Writer and Author.