LITTLE ALLEY STEAK ALLURES AT EVERY TURN!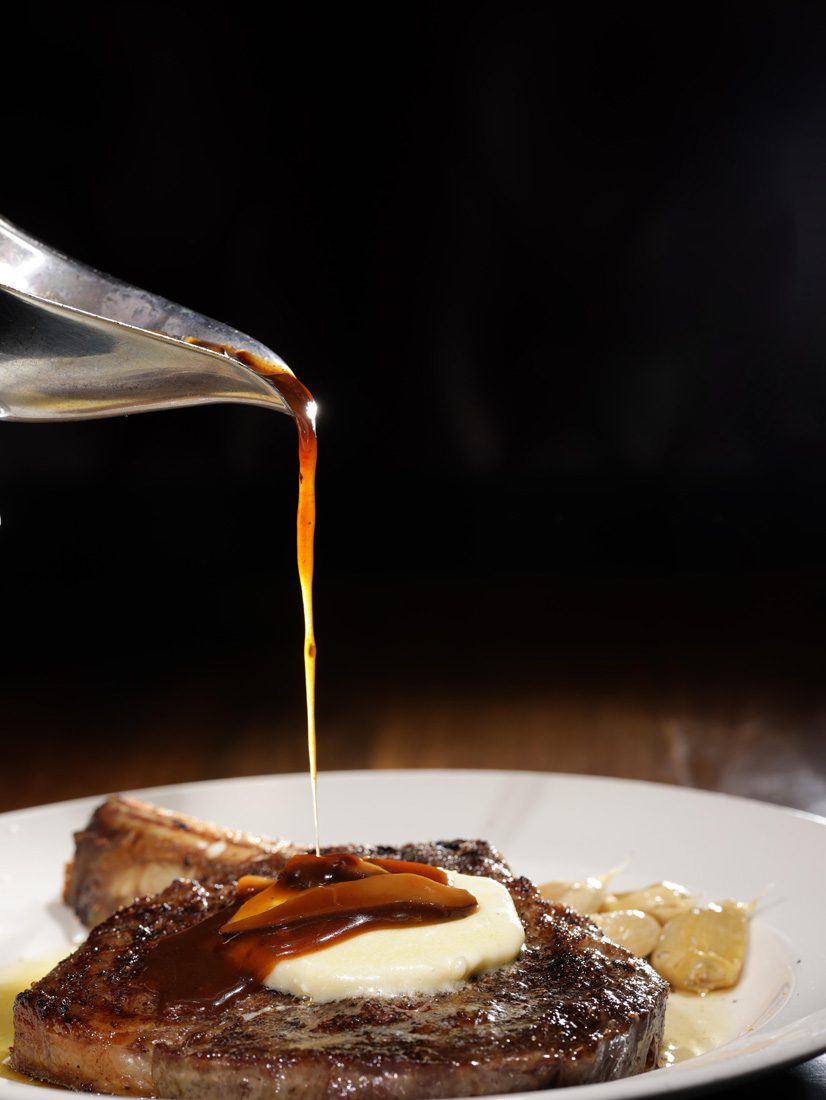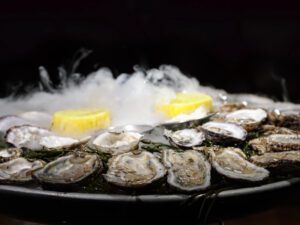 Fortune favors the brave" is one of my favorite sayings. It kept coming to mind as I sat cozily tucked into a leather- clad booth in Little Alley Steak in Buckhead on a recent weeknight. The adage came up not because of the bold flavors presented on the menu, the over-the-top environs or the expert service, though all of that was in play, but rather that this big, daring, somewhat over-the-top restaurant exists at all.
When Hicham Azhari and Fikret Kovac, who own an eatery by the same name in downtown Roswell, were approached about taking on the massive restaurant space, they were dubious for good reason. At a whopping 12,000 square feet, it was significantly larger than they thought would be ideal; Buckhead already had several worthy steakhouses; and other skilled restaurateurs, including celebrity chef Emeril Lagasse, had tried and failed to operate successfully in the venue. Instead of shrinking from the challenge, they went for it, opening in 2018. It was a bold, brave move, and one that's paid dividends since, with Little Alley's Buckhead outpost drawing a loyal clientele since.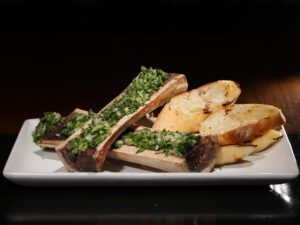 Far from utilitarian, a meal at Little Alley is an escape, an immersive experience no matter where you find yourself seated—tucked into the one of the windowless dining rooms adorned with rounded oxblood leather banquettes and light fixtures made from meat hooks, the outdoor bar or in the indoor lounge with soaring ceilings. The understated opulence makes a meal here feel like an event, and my husband and I decided to embrace the luxury of having a special meal "just because."
We started with a trio of ultrafresh raw oysters: mild James Rivers; big, briny Johns Rivers; and plump, sweet Shigokus. The presentation gets a theatrical upgrade with dry ice "smoke" swirling around the tangy house-made mignonette, horseradish and cocktail sauces.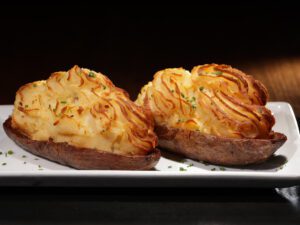 Unable to choose between one other appetizer, we indulged in two. Roasted bone marrow comes topped with smoked sea salt and parsley, served simply with rustic bread to mop up the brûléed marrow that's so rich it could double as butter. It's pure indulgence. Different, but no less tasty, is the garlic, tomato and harissa-spiced shrimp. served with saffron flatbread. It's inspired by Azhari's homeland of Morocco.
While every morsel from our meal was worth writing about, the main event at Little Alley is steak. Prime beef is sourced from Meats by Linz, a Chicago butcher that's been at the top of the industry for more than half a century. The menu features 100% black Angus cuts both wet- and dry-aged from 28 to 60 days, so guests can choose their steak's flavor intensity, cut and tenderness. Our massive 18-ounce, bone-in ribeye arrived perfectly medium rare and still sizzling. Aged for 38 days, it had just the right blend of earthiness and minerality with a melt-in-your-mouth texture. Though sauces were unnecessary— this steak needed nothing to be the meal's pièce de résistance—Point Reyes blue cheese butter and a sauce of mushrooms, shallots and brandy added nice variety.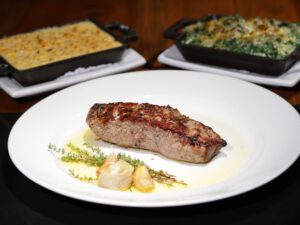 If you're really going for broke, follow our lead and make it a surf-and-turf with the addition of a flash-fried Maine lobster tail with drawn butter. Far from being an afterthought, the sharable side dishes shine: Creamed corn is studded with shallots and Parmigiano Reggiano; the "loaded" twice-baked potato is decadent with Vermont cheddar, bacon and creme fraiche; and creamed spinach with Gruyere makes it an indulgence to fit in a serving of greens. It's hard to miss the floor-to-ceiling wine cellar clad in glass walls, reminding you that there are hundreds of bottles and dozens of glasses available. Lean on the knowledgeable staff and sommelier team to choose something tailored to your tastes.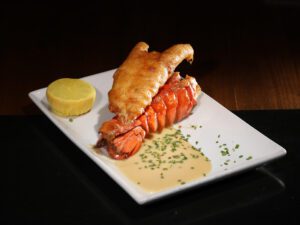 While a steakhouse isn't typically at the top of the list for vegetarians, those looking for a more veggie- centric dining experience will find plenty to enjoy. Aside from the rather decadent array of sides from which you could build-your-own vegetable plate (mushroom confit with roasted shallots and herbs, French green beans with brown butter and toasted almonds, and triple cream mac and cheese with black truffle oil, to name just a few), the Sichuan-spiced tofu steak comes with cauliflower puree, crispy Brussels sprouts and a tangy-sweet hoisin glaze. It's not the "steak" your meat-eating companions will be sinking their teeth into, but it's satisfying, nonetheless.
When we stepped out into the balmy Atlanta night, surrounded by the bright lights of Buckhead's skyscrapers, I thought again how fortunate for our neighborhood that visionaries and business owners take chances to build something special, such as this thriving restaurant. Cheers to that!
Little Alley Steak
404.254.1899
littlealleysteak.com
@littlealleysteakatl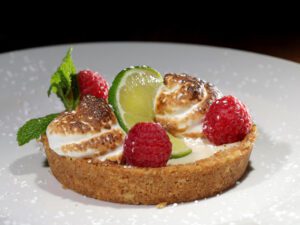 Prices: starters: $16.95-$27.95; steaks: $51.95-$139.95; sides: $11-12; desserts: $12-14.
Recommended: Raw oysters, roasted bone marrow, bone-in ribeye, fried lobster tail, creamed spinach brûlée, creamed corn, twice baked "loaded" potato, white chocolate Key lime tart.
Bottom line: This go-to spot for serious steak lovers is a carnivore's paradise, with aged prime beef, ultra-fresh seafood and hearty sides served with gracious, professional service in a luxe atmosphere.
PHOTOS: Sara Hanna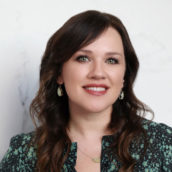 Jennifer Bradley Franklin
Senior Contributing Editor and Beauty Columnist at Simply Buckhead. Travel, Food and Design Writer and Author.