WE TEST DRIVE EIGHT VEHICLES FOR EVERYONE FROM SOCCER MOMS TO SPEED DEMONS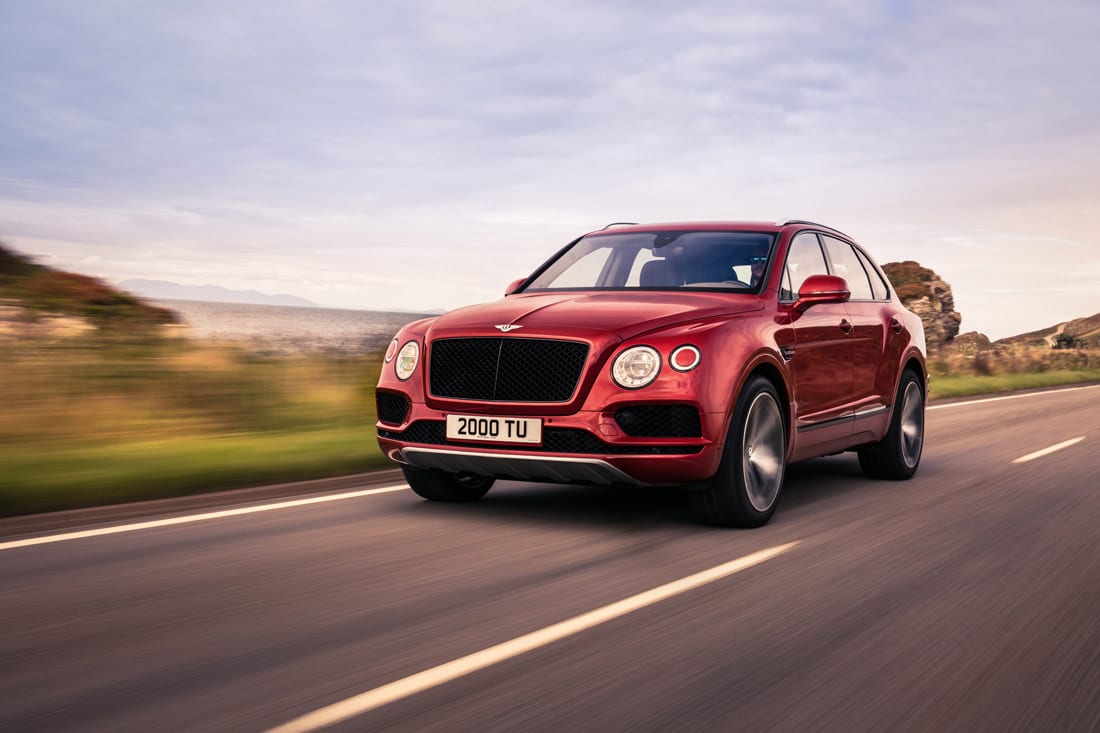 STORY: Mary Welch
A car rarely is about just getting you from point A to point B. Rather, a car is a calling card of sorts, a conveyance of your station in life, whether it screams "midlife crisis" or "I've got three kids and two dogs." It's a way to impress clients or congratulate yourself on a job well done. It can be practical or playful. To help you find the perfect vehicle for you and your lifestyle, we took eight cars out on the roads of Buckhead to see how they performed.
The Humble Brag: Bentley Bentayga V8
Let's face it: If you're driving a Bentley, chances are you've done well for yourself. But Bentley owners don't typically flaunt their good fortune with flashy accessories. One could buy Bentley sunglasses, wear a Bentley shirt or spray on Bentley cologne, but it's all subtle. There is a logo, but you have to look to find it, which is the whole point. "Bentley owners want you to know they drive a Bentley, but they don't really want to tell you they do," says Sidney Barron, the general manager of Bentley Atlanta, and somehow that makes sense. A case in point is the Bentley Bentayga V8, a model of performance and precision that, as it passes you on Ga. 400 could look like any other SUV, but au contraire. The Bentayga exudes class and top-of-the-line luxury. Totally handmade, it provides a smooth ride but doesn't isolate you from the outside elements. It allows you to command the road and provides all of the safety features, such as active braking, to make it perfect for driving with the kiddos in tow. The Bentayga doesn't impose its driving preference. Again, it's all about you. With the Drive Dynamics Mode selections, you can operate it according to the road conditions or your mood. The All Terrain Specifications add four responsive off-road settings: sand, snow and grass, dirt and gravel, and mud and trail. So there's never a driving misstep. This is not a prissy car, and it's ready and more than able to tackle dirt roads or tow your boat to Lake Lanier. In fact, it has 20 features designed to make it an ideal outdoor vehicle, including tailored storage areas for skiing, fishing, diving and other active pursuits. Perhaps the best reason the Bentley Bentayga V8 is a humble brag is that, as in all Bentleys, you can have a custom design put on the dashboard. So if you want to display your company's logo, family crest or some other image that's important to you, Bentley will create it and incorporate it into the car's design.
MSRP: $230,000
Get Yours At: Bentley Atlanta
10995 Westside Pkwy.
Alpharetta 30009
888.212.6694
bentleyatlanta.com
---
The Top Choice for Tailgating: Honda Ridgeline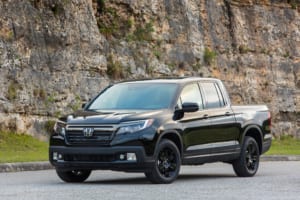 The Honda Ridgeline is a fun truck to drive. If you're looking for a brute of a machine that's overloaded with testosterone, there might be better options, but if you want a truck that can easily go from Buckhead to the backcountry, or simply to Mercedes- Benz Stadium for the ultimate tailgate party, then the Ridgeline is for you.
It's important to note that the Ridgeline is a front-wheel-drive truck instead of rear-wheel like its competitors and that it offers all-wheel instead of four-wheel drive. Plus, the Ridgeline is the only unibody pickup in the industry. Why does that matter? Because it makes it stronger and more rigid, nimble and versatile.
It's a midsize truck, but because of the way it's built, it's cavernous inside, especially compared to other trucks on the road. And going around curves on Powers Ferry is no problem; you don't feel like you have to slow down or that it's going to tip over. It feels like a car, drives like a car and can still go off-road or up country lanes. It's surprisingly easy to maneuver and passed the toughest test of all—parking. You can enter a normal parking spot and back out with ease, even at the busy lot at Trader Joe's.
Back to tailgating. It seats five comfortably, has built-in LATCH anchors for child seats and has a giant lockable trunk in the bed that's great for locking your stuff away. It has a watertight storage area that's perfect for loading up on ice, adult beverages and cold foods. When the party's over, just pull the plug, and the water drains out the bottom. A power-sliding rear window allows drinks and eats to be easily passed from the truck bed to the cabin. Standard features include a moonroof, tri-zone automatic climate control, satellite radio, Apple CarPlay and a seven-speaker audio system (including truck-bed audio). The seats are comfy, and the tailgate opens two ways for loading and getting in. There's much to love about the Honda Ridgeline. Now, where's the party?
MSRP: $29,990
Get Yours At: Shottenkirk Honda
539 E. Main St.
Cartersville 30121
678.535.3644
hondaofcartersville.com
---
The Big Ole Truck: GMC Sierra 3500HD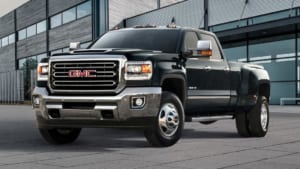 Today's trucks can be found in car pools as well as out in the fields hauling large loads. Some can do both with finesse, but sometimes you need a good old-fashioned muscular, powerful truck that makes no pretense at being anything else. Meet the GMC Sierra 3500HD. It has a maximum horsepower of 445, can tow up to 23,100 pounds and can handle a payload of up to 6,112 pounds. It is meant to work, and, boy, does it deliver, especially when you take into consideration it boasts the world's first six-function tailgate. By raising and lowering the two tailgate panels, you can step into or load the truck bed in a multitude of ways.
Surprisingly, the GMC Sierra delivers an agile ride that takes turns with ease and can bob and weave in traffic with the best of them. It reminds you of an offensive tackle who can plow through the defensive line and rush the quarterback.
Adding to the experience is a comfortable interior that allows for plenty of room even in the back. Headroom, legroom and shoulder room are all beyond generous, and the optional power-adjustable pedals, tilt and telescoping steering wheel and highly adjustable driver's seat mean that even though the truck is big, you don't have to be in order to drive it. Admittedly, all but a Shaq-size man will have to climb up to get into the Sierra, but that's pretty standard for trucks its size.
The Sierra is a great vehicle whose talents, frankly, will be underused around Buckhead unless you're renovating your house, hauling bales of pine straw, moving furniture or doing other heavy lifting. But when its talents are being fully utilized, it's a maestro of form, function and tenacity
MSRP: $36,800
Get Yours At: Jim Ellis Buick GMC
5862 Peachtree Blvd.
Atlanta 30341
678.381.1336
jimellisbpg.net
---
The Car That Says You've Made It: Mercedes-AMG GT Roadster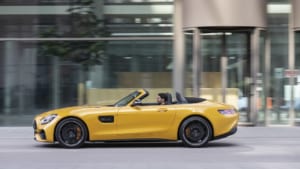 Mercedes' AMG GT Roadster is the perfect midlife crisis car—and we mean that in a good way. The sexy two-seat sports car says you've made it and are not going into middle age quietly. Yet, it's not going to invoke snickers from your friends at the golf club.
The fun starts the second you take the wheel and look out over the long, curvaceous hood and feel the sportiness, attitude and power. Then, as you start the car and the handcrafted V8 engine lets out a roar, you'll immediately know the Roadster was worth living half a century for.
Back the car out of the driveway slowly, because there'll be plenty of time for this sportster to show its power and speed. Feel the road and know that while you're in control, it's a partnership with a vehicle that has an ample reserve of power and was born to perform and exceed expectations—just like you. With its 469-horsepower engine, this beauty can go from zero to 60 mph in 3.9 seconds, with a top speed of 196 mph. So find some roads where you can let the AMG show you why it's at the top of its game.
The car clings to the pavement and hugs the curves thanks to its AMG sport suspension and rear-axle, limited-slip differential. Configurable drive modes let you dial in the throttle, shifting, chassis and exhaust to find a custom driving experience. This is a muscle car with a delicate, stylish body. Just let it rip and feel the intersection of brains, power, style and technology, and then try to wipe the smile off your face.
MSRP: $127,900
Get Yours At: Mercedes-Benz of Buckhead
2799 Piedmont Rd. N.E.
Atlanta 30305
800.713.5938
mercedesofbuckhead.com
---
The Soccer Mom With Style: Land Rover Discovery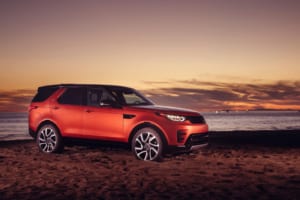 Driving the streets of Buckhead in a Land Rover Discovery gives one a sense of superiority and being in control. The seat is set high, offering a panoramic view. You feel as if you're the queen looking out over your kingdom. And that's a good thing, because with the third-row seating upgrade, you could potentially have six kids in the car and a teenager up front. If ever there was a need to feel in control, this is it. The Discovery can accommodate seven adults comfortably as well, even in the third row, which few cars can claim.
In addition to humans, the Discovery is the perfect vehicle to load up with dogs, groceries and sports equipment. Depending on how the seats are configured, the Discovery offers up to 43.5 cubic feet of cargo space behind the second row seats and 88.3 cubic feet when they're folded down. Even better, using the optional Intelligent Seat Fold feature, you can raise and lower the second- and third-row seats remotely via your smartphone. Everything about the Discovery screams "soccer mom," but you also feel like you're treating yourself, given the premium Windsor leather and stylish wood veneers and features such as the plentiful USB charging points.
In terms of safety, Discovery is at the top of the list and features two complete sets of LATCH connections for securing child car seats on the second and third rows. The entertainment package is top-notch, and all of the controls are easy to access on the 10-inch screen while driving. It has lots of zoom and holds its own on the road even in the heart of Buckhead.
MSRP: $52,900
Get Yours At: Hennessy Land Rover Buckhead
3040 Piedmont Rd. N.E.
Atlanta 30305
833.632.1051
landroverbuckhead.net
---
The Green Machine: Nissan LEAF S Plus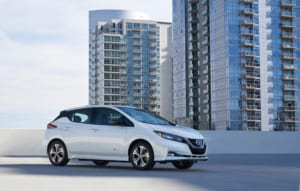 There are a number of excellent all electric cars—the Tesla, Chevy Bolt, Kia Soul EV, Volkswagen e-Golf and Hyundai Ioniq EV, to name a few—but we went with the Nissan LEAF for a couple of reasons. First, it's a great car with terrific handling. Next, Nissan should get two gold stars for increasing the battery and subsequent driving range. Finally, it's worth noting that Atlanta is the LEAF's biggest market in the country outside of California.
The most important news about the LEAF is its increased range (now up to 226 miles before needing a charge), and that the charging process is faster and easier than ever. In the LEAF S Plus, for instance, you can get from Buckhead to Gatlinburg, Tennessee, with energy to spare. That increased range, coupled with an overall comfortable ride, has resulted in the LEAF winning several "Best Of" competitions, including being named best green car at the Atlanta International Auto Show in March.
The LEAF isn't a big car in comparison to the Tesla or Jaguar's I-Pace, but it doesn't feel small thanks to the rounded design and big windows. It's light and airy, and because the battery is underneath the cabin, passengers sit high, and there's ample room for all.
The LEAF S Plus brings 214 horsepower to the table, and every time you put the pedal to the metal, you get an instant acceleration that's perfect for maneuvering around town. The floor-mounted battery pack creates a low center of gravity that allows the car to hug the road and make quick turns with minimal body roll. And, if you're going up Ga. 400, you'll be able to get up to 60 mph in 3.2 seconds. And have a great time in the process.
MSRP: $36,550
(even less with tax credits!)
Get Yours At: Nalley Nissan of Atlanta
2551 The Nalley Way
Atlanta 30360
855.416.9828
nalleynissanofatlanta.com
---
The Corporate But Cool: Lexus LS 500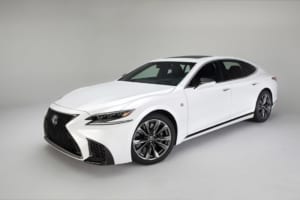 Choosing the right corporate car can be tricky. Too much flash and clients may worry they're being overcharged to support your need for bling, while too little pizazz may bring up concerns of fiscal insecurity and immaturity (what, no satellite radio?). Don't worry. The Lexus LS 500 has you covered. This long, lean sedan has enough of a sports car vibe to show that you're hip, in control, take risks and appreciate success. And, yes, it will get front-row parking attention at Bone's. Just look at the imposing grill and cool LED headlights shaped like arrows. The Lexus LS 500 is a high-performance marvel—just like your business.
Of course, a true company car needs to be comfortable and treat its passengers like treasured associates. And again, the Lexus LS delivers. Those sitting in the back won't feel inferior thanks to the generous legroom, rear-seat butterfly headrests and seven massage settings. There's even an option for reclining seats and extended ottoman. The pockets behind the front seats are ample enough to fit a laptop, another nice bonus.
The 28-way power front seats offer a bit of pampering with a shiatsu type massage function that offers the Zen needed when dealing with difficult clients. An available climate concierge monitors the temperature of four different zones and adjusts everything, including the rear ducts, from the ventilation system. Not only will your clients feel at ease in the car, they'll also enjoy the trip.
The Lexus LS 500 is built on the LC coupe platform, boasts Lexus' first twin-turbocharged engine, has a suspension system that allows you to stiffen or soften the ride, and takes the curves like a race car. Like you, its capabilities are far ahead of the competition
MSRP: $74,450
Get Yours At: Hennessy Lexus
5955 Peachtree Industrial Blvd.
Atlanta 30341
770.457.6800
lexusatlanta.com
---
The Wind in Your Hair: Mazda Miata MX-5 Legacy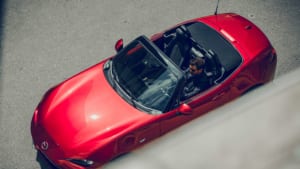 The Mazda Miata MX-5 Legacy is the next generation of a car that 30 years ago brought the convertible back front and center and into the garages of millions of Americans. It's simple: The Miata gives you all the fun of an expensive sports car without the price tag. It's sleek, exciting to drive and has the power and looks to captivate the hearts of women and men alike. With the 2019 models, the MX-5 received a significant boost of horsepower—from 155 to 181. It's more powerful than ever now, but its nimble and responsive handling is up to the challenge.
The inside is as wonderful as the outside. Its two seats are comfortable and snug but not cramped. There are some bells and whistles, but basically the Miata understands its role as a pure, solid, enjoyable sports car that's hard to beat price-wise.
Taking the Miata out on the road is an exercise in sportier driving. If you're in stop-and-go traffic (this is Buckhead, after all), the car easily changes lanes and offers a smooth transition from brake to gas pedal. Take it out on the highway and you'll feel its power and purpose, especially with the top down and the breeze blowing in your hair. It's great on the straightaways and confident around the curves, and features quick steering to help avoid things in the middle of the road. And if you do hit a pothole, you won't feel as if you're in a plane that's hit unexpected turbulence.
Some automobiles deserve iconic status, and the Mazda Miata is approaching this honor. It's a sports car that stays true to its origins, has improved over time and, without costing an arm and a leg, provides a sporty convertible hat that will make you volunteer to go to Whole Foods every time.
MSRP: $27,080
Get Yours At: Jim Ellis Mazda
5855 Peachtree Industrial Blvd.
Atlanta 30341
888.814.7086
jimellismazdaatlanta.com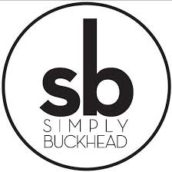 SimplyBuckhead
Simply Buckhead is an upscale lifestyle magazine focused on the best and brightest individuals, businesses and events in Buckhead, Brookhaven, Sandy Springs, Dunwoody and Chamblee. With a commitment to journalistic excellence, the magazine serves as the authority on who to know, what to do and where to go in the community, and its surroundings.