Meet Buckhead's hottest mixologists. This quintet is known for their creativity, vision, flair and, of course, killer cocktails. We talked to them about the latest cocktail trends, their go-to, off-the-clock neighborhood spots and favorite drinks for fall.
STORY: Laura Scholz
---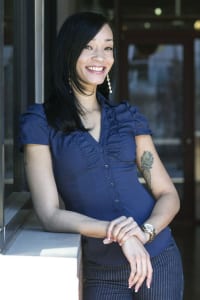 TOKIWA SEARS
Assistant bar lead, Holeman and Finch Public House
From the bustle of One Flew South at Hartsfield- Jackson to the glamour of Bourbon Bar at the InterContinental Buckhead, bartender Tokiwa Sears has worked at some of the best and busiest bars in town. She recently added the storied Holeman and Finch Public House to her resume, where the veteran cocktail competitor has been the assistant bar lead since March. Buckhead's Holeman and Finch was the birthplace of Atlanta's cocktail revival, and Sears' cocktails are right in line with that lineage. Creativity, quality and fresh ingredients are key, like the apple-infused bourbon and apple liqueur found in her fall cocktail, aptly titled After Apple Picking. She takes pride in her balanced, approachable cocktails, and says, "Connecting the cocktail to the guest is more important to me than making a cocktail only another bartender would appreciate." A fan of gin, mezcal and whiskey, she can be found during off hours smoking a cigar and sipping a cocktail at Prohibition, the East Andrews club. "It makes me feel like I'm in stepping back in time. I don't even feel like I'm in Atlanta any more," she says. "All the bartenders there are amazing, and they know how to set the ambiance."
TOKIWA'S COCKTAIL: AFTER APPLE PICKING
1 1/2 ounces apple-infused Four Roses Single Barrel
3\4 ounces lemon juice
3\4 ounces dark muscavado syrup
3\4 ounces Berentzen apple liqueur
1\2 ounces cynar
Shake and serve over one large ice cube.
---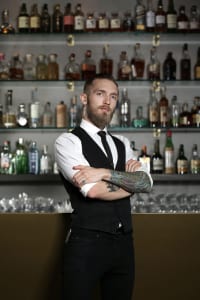 GABE BOWEN
Head bartender, Umi
Gabe Bowen is no stranger to the Buckhead scene, having managed the bars at Restaurant Eugene and Holeman and Finch Public House before moving to Umi, where he's the head bartender. The switch from pairing cocktails with those restaurants' rich Southern fare to Umi's clean, modern Japanese has been a fun challenge for Bowen. "Obviously, with sushi and the types of food on our menu, we want the flavor profiles [in the cocktails] to not be crazy aggressive," he says. As expected, ginger has a large presence on the menu, and Bowen and his team of bartenders use it to make their own syrups and sodas daily. Fresh ginger syrup features prominently in his fall cocktail pick named A Tight Spot—a nod to the Cohen Brothers movie Oh Brother, Where Art Thou?. When it comes to cocktails, Bowen believes simplicity and speed are key. "I really think we're moving away from some of those crazy concoctions and pushing back toward making tasty drinks efficiently, and getting them to the guest as quickly as possible without sacrificing the quality of the drink." A local watering hole that lives up to his standards? Establishment. Bowen calls the bartenders there "great hosts who aren't focused on being cocktail nerds. They keep it balanced and unpretentious." He's also a regular at Lusca, from the team behind Octopus Bar. "I've been a fan of Octopus Bar since it opened, so it's nice to see them have a place in this side of town."
GABE'S COCKTAIL: A TIGHT SPOT
1 1/2 ounce Bulleit bourbon
3/4 ounce fresh lime juice
1/2 ounce ginger syrup
1/4 ounce Hum liqueur
2 dashes Angostura bitters
Topper: Moscato D'Asti
Shake and strain into a rocks glass, and top with a splash of high quality Moscato D'Asti.
---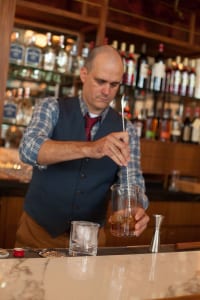 WAYNE BLUM
Bartender, Dolce Italian
A veteran of some of Atlanta's big restaurant groups, including Here to Serve and Buckhead Life Restaurant Group, Wayne Blum has found a new home at Dolce Italian, the sleek, upscale restaurant located at Buckhead Atlanta. Dolce's glitzy bar dazzles from all directions and is lined with rows of bourbons, whiskeys, Italian aperitifs and more. The vibe is Art Deco meets mid-century, and the drinks are heavy on Italian spirits with an edge—the Margarita Italiana mixes Aperol with the traditional tequila and agave syrup  for a fun twist on the classic drink. Dolce's margarita also includes a grapefruit liqueur, another popular trend in the beverage industry. "I find everyone is really moving away from the artificial flavors, liqueurs and mixers that were omnipresent in the '80s and '90s," Blum says. Instead, hand peels, fresh juices, homemade syrups and other quality, housemade ingredients are taking center stage. "I'm seeing a lot of focus on the ice," he says. "That really makes the cocktail." But Blum holds the ice when he's off hours. He prefers spirits—whiskey, bourbon and scotch, neat. He can also be found sipping a glass of wine at further-down-the-road Watershed on Peachtree, or hanging out at Fado or Gypsy Kitchen. "Honestly, I'll hang out anywhere we can walk after work that's still open!"
WAYNE'S COCKTAIL: APPLE BASIL SMASH
3 basil leaves
A bar spoon of diced green apples
1 1/2 ounces Absolut Elyx Vodka
1/2 ounce St. Germain
1/2 ounce simple syrup
3/4 ounce fresh lime juice
Basil leaf for garnish
Muddle apples and basil, add remaining ingredients and shake over ice. Double-strain into chilled martini glass, and garnish with a basil slap. (Translation: Slap the basil in the palm of your hand to release the oils.) Quickly float basil on top of drink.
---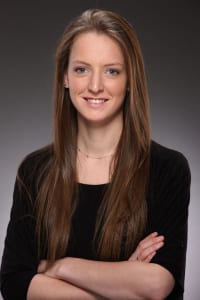 MADISON BURCH
Beverage Director, Tavernpointe, Grain and Seven Lamps
How did a personal banker find herself managing the bars at not one, not two, but three restaurants? If you're Madison Burch, it's two parts talent and one part being in the right place at the right time. After moving to Atlanta in 2013 with her personal banking job, her company was bought out. She quit and was working as a retail manager and waiting tables before deciding on her next move. "I had been serving at Veni Vidi Vici for a few weeks, and one day, a bartender quit. And they said 'Hey, you're our new bartender,'" Burch says. A few months later, she became the restaurant's beverage manager and wine director and eventually moved on to Ecco. She was still working there when then-Seven Lamps beverage manager and now Grain partner Kevin Bragg spotted her at a tequila cocktail competition and asked her to be his on-site manager at Seven Lamps while he opened Grain in Midtown late last year. Burch's restaurants rely on seasonal, fresh ingredients, and Seven Lamps, in particular, is known for its eclectic cocktail list. "You never know what to expect. We could have a cocktail on the menu for just a day, and then the next day it's completely different or gone," Burch says. This fall, you'll find everything from sweet potato to butternut squash to apple in the restaurant's cocktails, including The Clock Struck One, which highlights housemade baked apple bitters. When not managing the ins and outs of three beverage programs, Burch loves hanging out at Holeman and Finch but admits she's often the first one out the door. "I'm the bartender that goes out with other bartenders and is home in bed by 10 p.m.," she laughs.
MADISON'S COCKTAIL: CLOCK STRUCK ONE
1 ounce Cathead Pecan Vodka
1/2 ounce fresh lemon juice
1/2 ounce Hoodoo chicory liqueur
1/2 ounce tarragon syrup (see recipe below)
2 dashes barkeep baked apple bitters
3 ounces hot water
1 scuppernong (a type of muscadine grape) for garnish
Shake all ingredients in a cocktail shaker without ice, then pour into a preheated mug. Top with piping hot water, and stir. Garnish with toasted scuppernong on a stir stick.
FOR THE TARRAGON SYRUP: Combine 1 cup sugar with 1 cup water and bring to a simmer. Add 1/4 cup fresh tarragon, and remove from heat. Let sit covered for 15 minutes. Strain and cool.
---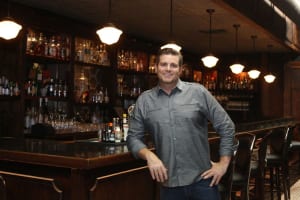 DAVID REED
Owner/partner of Supply and Demand
Advertising's loss is the Buckhead bar scene's gain. David Reed, owner and partner in Buckhead's Supply and Demand (and the forthcoming Establishment Midtown), spent many years moonlighting at bars across the country, from his hometown of Boston to Las Vegas to Chicago and in between, before landing in Atlanta in 2013 and "retiring" from his advertising career to open Establishment. "I really just got started in bartending because it looked fun, and it was a great way to meet people you wouldn't normally run into," he says. He's now a man of many hats at Supply and Demand, an intimate, upscale bar modeled after bars in his hometown. While he owns the 80-seat joint, he prefers being "in the trenches" behind the bar with his talented, creative team of bartenders. What sparks his creative juices? "Artisan sodas," he says. "In my opinion, they are the next cocktail modifier we should be exploring for really fun and delicious drink ideas. The flavors are relatable and familiar, but different." For example, the Can't Take it With You cocktail mixes gin with the expected (mint, lemon juice, agave nectar) and the unexpected (green tea and housemade elderflower soda). Supply and Demand is also known for its vessel cocktails—giant, ornate decanters with mixed drinks, served on ice and designed to share among four to eight people. "It's our nod to bottle service, plus, the presentation is just gorgeous," Reed says. Sharing is, of course, optional. When he's not at Supply and Demand, you can find him indulging in a Vieux Carre at Buckhead's The Blind Pig Parlour. "I love what Chris Haderman did with his design and atmosphere," he says. "I judge all bartenders on their Vieux Carre. The Blind Pig staff has never let me down."
DAVID'S COCKTAIL: CAN'T TAKE IT WITH YOU
2 ounces gin
3/4 ounce lemon juice
1/3 ounce agave nectar
Fresh mint leaves (about 8-10)
Topper: 1 or 2 ounces Sky Valley Organic
Honey Green Tea & Elderflower Soda
Put in a shaker with ice, and shake contents vigorously. Empty (with ice) into tall highball glass. Top with Sky Valley Organic Honey Green Tea & Elderflower Soda.
---
STOP FOR A SIP
Holeman and Finch
holeman-finch.com
Umi
umiatlanta.com
Dolce
dolceitalianrestaurant.com
Seven Lamps
sevenlampsatl.com
Supply and Demand
supplydemandatl.com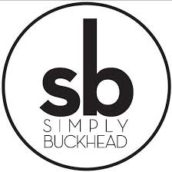 SimplyBuckhead
Simply Buckhead is an upscale lifestyle magazine focused on the best and brightest individuals, businesses and events in Buckhead, Brookhaven, Sandy Springs, Dunwoody and Chamblee. With a commitment to journalistic excellence, the magazine serves as the authority on who to know, what to do and where to go in the community, and its surroundings.