EXPERTS OFFER TOP TIPS FOR  OUTFITTING THE WEDDING PARTY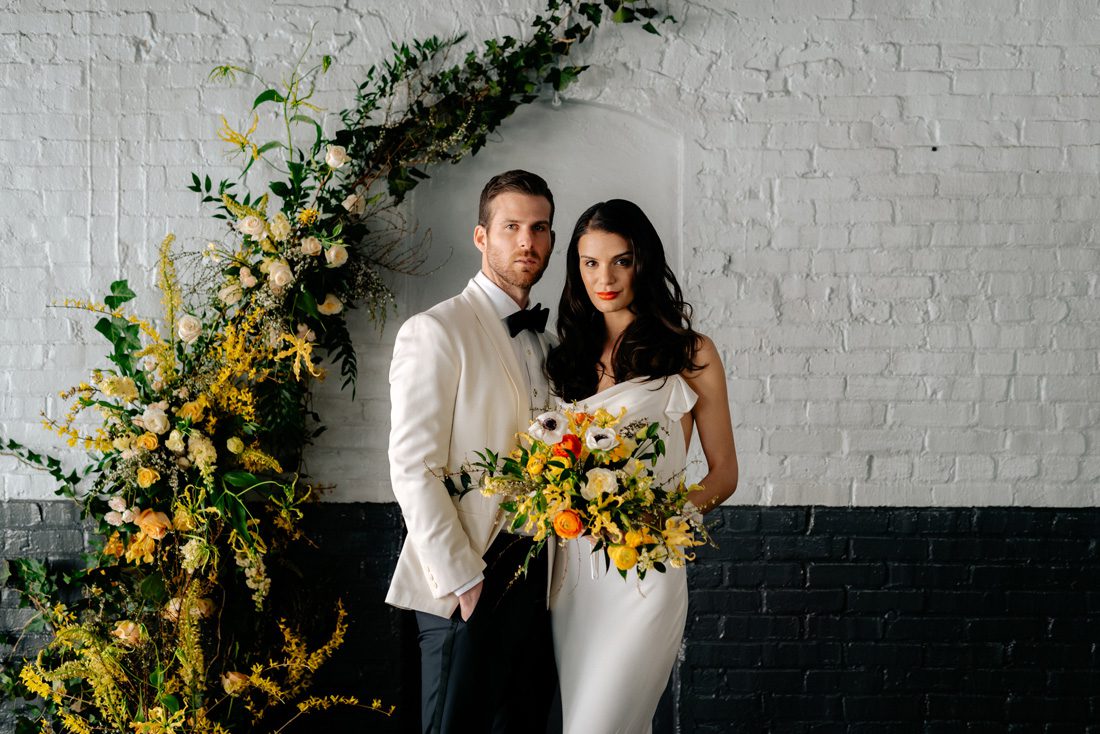 What color palette to choose? Will the bridesmaids wear the same dress? What color suit should the groomsmen wear? Does this even go together?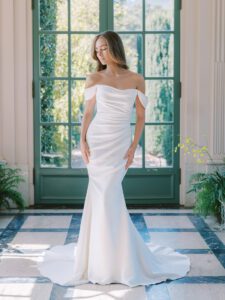 No shortage of questions race through the minds of newly engaged couples while planning a wedding—especially when it comes to the not-so-simple question of "What will everyone wear?" It can put a lot of pressure on the couple: Not only do they have to dress themselves, but they also have to plan for what the wedding party, parents and guests will wear, too.
On the bright side, the persistent questions are a reminder that you and your partner have the opportunity to turn your love for each other into a live mood board. Each piece of the puzzle comes together for a truly intimate visualization of your shared love story.
"I always tell my brides their wedding dress is the most self-expressive garment they will ever wear, so every part of that day needs to reflect the couple's style–who they are as individuals and as a couple. Do what represents you and what makes you happy," says Darla Daye, bridal stylist at Suite Bridal in Buckhead.
Of course, as the saying goes, it's easier said than done, which is why we tapped local experts to get their insider know-how for shopping for the entire wedding party. (You can thank us later!)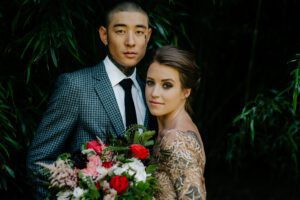 Get an early start.
Many couples are shocked when stylists or credible wedding resources tell them to allow enough time for shopping so that you're purchasing final choices six to eight months before the wedding.
Grooms, especially, tend to get a later start. Craig Arthur von Schroeder, founder and CEO of Buckhead's Commonwealth Proper, says, "A good custom suit takes time. Fabric can be coming from Italy or the U.K., several fittings are required, and the last thing anyone wants is added stress on an already stressful life event."
Depending on where they're ordering from, bridesmaids and groomsmen, as well as mothers and fathers of the couple, can get away with snagging their wedding-day look four to six months before the wedding. Just leave plenty of cushion in the timeline to accommodate for alterations and today's seemingly unavoidable shipping delays.
Have an idea of what you'd like to try on.
Good news: All those years of mindlessly saving wedding gowns to your Pinterest board will finally pay off. Before your first appointment, have a few photos of looks you love to show your stylist; this will help them more efficiently guide you through the shopping experience. (There is one caveat, but we're getting there!)
For two brides or two grooms tying the knot and concerned about coordinating outfits while keeping them a secret from each other, Daye says it helps to have the same stylist who can ensure you don't pick the same dress or suit, while von Schroeder advises discussing the level of formality beforehand so you can be sure to match in that area.
Erin Krut, director of retail operations at Atlanta-based Anne Barge Atelier, adds, "The bridal industry has everything you can dream of. One of the most beautiful ceremonies I've seen was where the two grooms wore colorful, tailored suits, and the bridal party, as well as guests, all wore white for the summer soiree."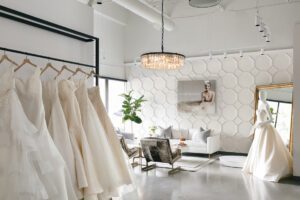 Determine your budget— including room for alterations.
Budget is another key factor that will drive the stylist's decision for what they pull for you to try. Your budget should include the price of your gown plus alterations, which could be anywhere from $100 to $1,000). Krut stresses, "When your dress arrives, it will need tailoring. This is not an off-the-rack dress that you purchase from a department store. Tailors will provide added support where needed as well as adjustments so your body carries the dress as designed."
Daye adds, "Don't try on anything outside of that budget unless you are willing to pay what the dress costs. The worst thing is falling in love with a dress you can't afford; it would be very hard to find a dress in your budget to replace it."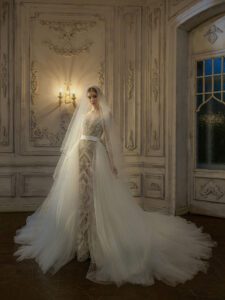 Remain open-minded.
While it's important to have some type of vision for your wedding-day look, it's equally important not to narrow your options too much too soon. "In my experience, 98% of the time a bride will walk out of the bridal salon with a dress she never imagined," says Krut. "I think this is because looking at photos of other brides or models in gowns is very different from when you actually try them on yourself. Trust your stylist; ask them to pull something unexpected for you."
Choose the wedding party's outfit after you've found yours.
Attendants can expect to get direction from the soon-to-be newlyweds on color, fabric, style and accessories.
For the bridal party, Krut says, "I absolutely love a mixed look for bridesmaids. As long as the palette is cohesive, textures and patterns mixed together make for fabulous photos. This is also a chance to bring in each party member's sense of style or personality. Think of adding a sparkle for the maid of honor, florals in various patterns. And there is always someone who would love to wear a jumpsuit or pants!"
It's proper etiquette to be respectful of a budget (again, including alterations) your wedding party would be comfortable with when determining their looks. "Remember, unless you're paying for all of the dresses, those standing up with you are shelling out money for your wedding," says Daye.
Meanwhile, mothers and fathers should expect some similar direction, so don't go rogue! The goal is to avoid color-palette conflicts. When a bride is overseeing the details, for example, Krut reminds parents: "Always ask the bride what she would like to see you in. She will have thoughts and help guide you to what works best with the entire group. You can even make a special shopping day!"
The bottom line: Have fun and communicate clearly to everyone involved, and you'll be well on your way to a stylish, unforgettable trip down the aisle.
SHOP TO IT
Everyone in the wedding party  will strike wedding-day attire  gold at these local clothiers
BRIDES,  ATTENDANTS  & MOTHERS
Anne Barge Atelier
404.873.8070
annebarge.com
@annebargebridalatelier
Bella Bridesmaids
404.846.8880
bellabridesmaids.com
@bellabridesmaids
Britt Wood Designs & Bridal Salon
404.914.7186
bwdesignsinc.net
@jhbrittwood
Elite Pour La Vie
678.490.2227
elitepourlavie.com
@elitepourlavie
Mandi Jackson Bridal
404.841.6202
mandijacksonbridal.com
@mandijacksonbridal
Suite Bridal
470.225.7500
suitebridal.com
@suitebridal
Susan Lee
404.365.0693
susanleeatlanta.com
GROOMS, ATTENDANTS & FATHERS
Alton Lane
470.348.2236
altonlane.com
@altonlane
BALANI Custom Clothiers
678.270.2640
balanicustom.com
@balanicustom
Connaisseur Paris
404.600.1076
connaisseurparis.com
@connaisseurparis
Commonwealth Proper
517.243.3277
commonwealthproper.com
@commonwealthproper
Guffey's of Atlanta
404.231.0044
guffeys.com
@guffeysatl
Hideoki Bespoke
678.825.3470
maisonhideoki.com
@hideokibespoke
Knot Standard
678.218.6448
knotstandard.com
@knotstandard
Miguel Wilson
404.330.8626
miguelwilson.com
@miguelwilsoncollection
STORY: Taylor Heard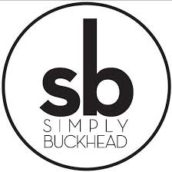 SimplyBuckhead
Simply Buckhead is an upscale lifestyle magazine focused on the best and brightest individuals, businesses and events in Buckhead, Brookhaven, Sandy Springs, Dunwoody and Chamblee. With a commitment to journalistic excellence, the magazine serves as the authority on who to know, what to do and where to go in the community, and its surroundings.