Skye Estroff hits the road for tales of tasty towns.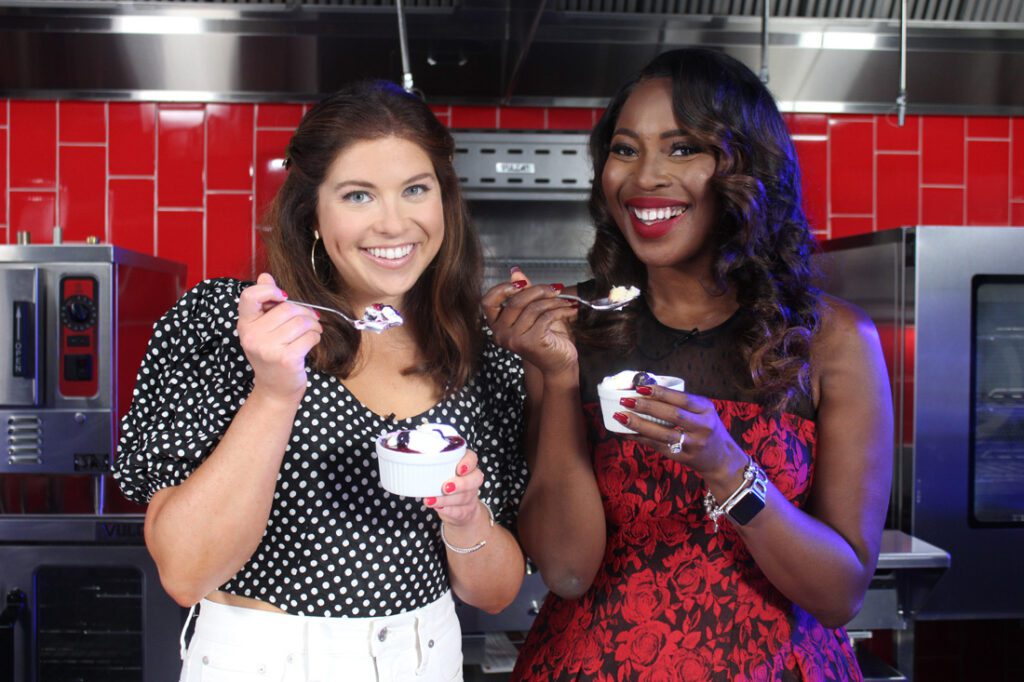 Skye Estroff's streaming show "Foodie Road Trip" emerged like many tasty dishes from Southern kitchens: no recipe and no measurements, just fresh, local ingredients seasoned with experience, submitted to experimentation and simmered for a long time under the watchful eye of a matriarch or two.
The show mixes restaurants, recipes and travelogues. Her coexecutive producer, Willie Giles, works behind the camera.
"It's not just about the food being incredible but the experience of the restaurant, the service, the organization and the chefs having their personality in it," Estroff says.
The Buckhead-area resident starts with restaurant profiles similar to those on "Atlanta Eats," where she worked after earning a degree in dietetics from the University of Georgia and before handling marketing for Taste of Atlanta.
Each half-hour episode focuses on restaurants in one city. Estroff talks to customers, chefs, staff and owners. She helps prepare a signature dish. And she eats.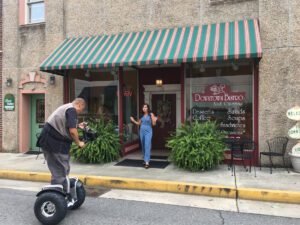 Her journey to "Foodie Road Trip" began in childhood. She remembers writing a fourth-grade play in which she locks up Emeril Lagasse and takes over his TV show, though she says her classmates, lacking her adventurous palate, didn't care for the French apple tart she made.
"Foodie Road Trip" mixes in Estroff's family history with Season 1's three cities: Vidalia, where her paternal grandparents live; Alpharetta, where she grew up; and Tybee Island, where her parents live.
Estroff brings insights to each episode. In an interview, she notes how places such as Truck & Tap and South Main Kitchen have altered Alpharetta from a city that once celebrated the arrival of Outback Steakhouse. She reflects on how the husband-and-wife owners of Tybee Island's Salt Island Fish & Beer transformed the former MacElwee's. She recognizes the pound cake at Vidalia's Downtown Bistro as the one her grandmother has passed off as her own.
"If we're going to talk about cornbread, we're going to the place that calls it 'conebread,' and we're going to eat a lot of it," Estroff says. "But we're also going to celebrate people that are taking over a space in downtown Vidalia that are black business owners trying to share their heritage."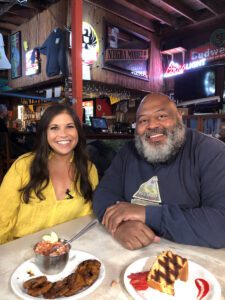 She also can offer Atlanta radio personality Mara Davis an on-air tutorial on pronouncing Georgia's sweet onion center: Vie-DAY-a. Davis is among the familiar faces who join Estroff for a cooking segment featuring simple but fun recipes such as lemonade sangria and baked turnip fries.
"Rest Stop Recipes" wasn't part of the plan when Estroff first hit Vidalia in fall 2018 to shoot scenes or when the show was ready to air in April 2020. But when COVID pushed the show to an Atlanta TV station's back burner, "Foodie Road Trip" kept cooking.
The result is a more balanced show menu and a more assured Estroff, who remains a social media marketer and regular guest on "Good Day Atlanta." The six-episode first season is streaming on Redbox, Crackle, Plex, Hungry and others. Estroff and Giles make money based on views and ad revenue.
Estroff is confident this season is just the appetizer, and she's refining the recipe for Season 2. She's looking outside Georgia, considering a different state each season and fewer restaurants per town.
"I'm trying to shed light on people that are doing pretty cool things that haven't really seen the limelight yet, or just could use a little something fun and extra to make them feel great about all the hard work," she says.
foodieroadtrip.com
@foodieroadtriptv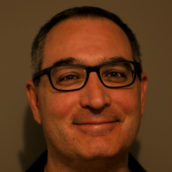 Michael Jacobs
Jack-of-all-trades writer covering almost anything but beauty and fashion at Simply Buckhead; fond of flamingos and sloths.