BHUTAN OFFERS A MYSTICAL COMBINATION OF NATURE, BUDDHISM AND ANCIENT SPLENDOR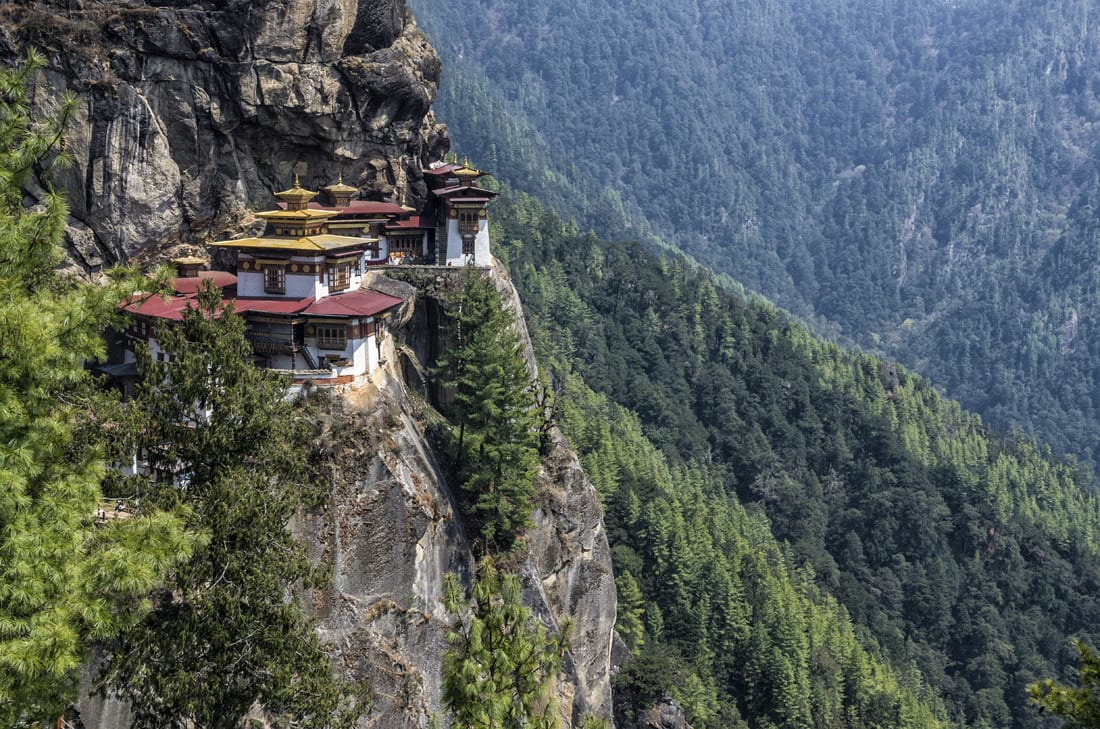 Nestled in the Himalayas between India and China, Bhutan is an isolated, landlocked monarchy that's home to soaring mountains, hidden monasteries and a handsome young king and queen. Change has been slow to come to this magical kingdom, where materialism seems like a foreign concept and success is measured as Gross National Happiness (not Product). International visitors were not even allowed in until 1974, and travel there can still be difficult: The government requires visitors to have a visa and a tour guide, and charges a daily fee to maintain the environment and infrastructure.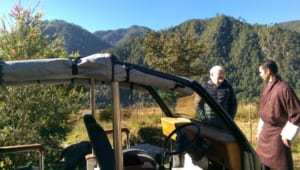 Until my best friend told me e dreamed of traveling to this exotic South Asian destination and invited me along, I wasn't even sure where to find Bhutan on a map. ("Isn't that some oil-rich place in the Middle East?" I asked myself ignorantly.) But I hastily agreed without fully understanding what a spiritually satisfying experience it would be. Ultimately, we were rewarded by the innate kindness of the Bhutanese people, the magnificence of the snow capped Himalayas and the world-class creature comforts of Amankora, a luxurious, all-inclusive property that offers an extraordinary experience from the second you arrive until you bid adieu.
Before we'd even reached our destination, though, we'd had an exhilarating adventure: over nighting in Delhi, flying over Mount Everest and surviving a jaunty, breathtaking landing at Paro Airport, which literally only a handful of pilots are qualified to make given the nerve-wracking descent.
Over the course of eight days, we journeyed from Paro to the capital of Thimphu to the secluded Punakha Valley and back again, reminted by those otherworldly Himalayas, the amazingly clean air and the starry nighttime skies. On the first night, as we arrived at our stucco lodge in Thimphu, we were told to hurry to the courtyard, where we were given blankets and Pimm's Cups and treated to a revue of traditional song and dance. While we had dinner, the staff built a fire in our room's woodburning heater, filled the bathtub with water to keep the air from drying out and left us welcome gifts. Before setting off for our next stop, we were blessed by a monk.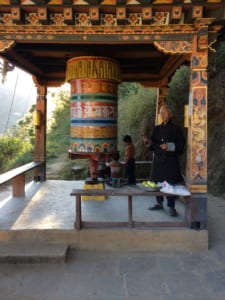 In Punakha, we walked across a narrow, swinging bridge and were ferried uphill by golf cart to our digs, an old farmhouse compound that sits in splendid isolation, the perfect spot for hiking to nearby temples through golden rice paddies or taking a lesson in dumpling-making with the hotel chef.
Before the end of our sojourn, we enjoyed blissful massages and peeked into temples where monks hummed mysterious chants and beat drums. We sat on the floor of a private farmhouse and had a delicious home-cooked meal served by a shy Bhutanese housewife, who offered us multiple shots of strong grain alcohol.
On our last full day, we trekked with our tour guide to Tiger's Nest, a Buddhist complex perched dramatically at the edge of a cliff 10,000 feet about sea level. It's a two-hour hike, and while you can take a donkey or horse part of the way, I was determined to go on my own two hooves. My guide told me to take my time, stop often and breathe deeply. True to the spirit of Bhutan, the climb had an almost hallucinogenic quality: verdant evergreens, gushing rivers and many, many prayer flags dancing in the breeze.
Before Bhutan, I never gave much thought to hiking the Himalayas. But given the chance to return, I'd gladly repeat every huff and puff.
IF YOU GO
Bhutan
tourism.gov.bt
Amankora
aman.com/resorts/amankora
STORY: Wendell Brock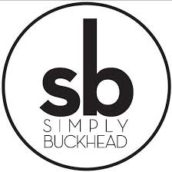 SimplyBuckhead
Simply Buckhead is an upscale lifestyle magazine focused on the best and brightest individuals, businesses and events in Buckhead, Brookhaven, Sandy Springs, Dunwoody and Chamblee. With a commitment to journalistic excellence, the magazine serves as the authority on who to know, what to do and where to go in the community, and its surroundings.