Simply Buckhead's publisher returns to perfecting her golf game.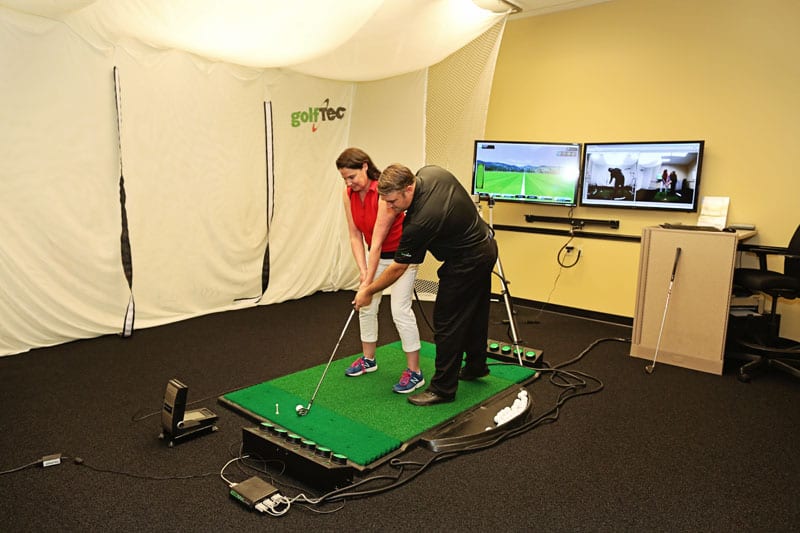 It's long been on my bucket list to get back into golf, a sport I fell in love with in my 30s. But with an über-busy schedule, devoting four to five hours for 18 holes hasn't been in my wheelhouse over the past few years.
I decided this would be the year to reacquaint myself, make sure I still have skills, and justify golf as part of my wellness routine.
Riding in a golf cart won't do it for me, though—it has to involve walking to feel like I'm really golfing. Walking 18 holes of golf helps burn well over 1,000 calories, whether you're pushing a baggage cart or carrying your bag. Playing 18 holes of golf and walking can burn up to 2,000 calories, and golfers exceed 10,000 steps in a typical round. Equal to a five-mile walk, Fitbit users are well aware that this meets the recommended guidelines for daily exercise. Who knew?
The scenery on the course definitely beats walking the treadmill. According to Golf 20/20, walking helps maintain bone health, lowers stress levels, and contributes to overall healthy weight maintenance. Golf is a great social outlet, contributing to positive mental health, too. I'm sold—on to the skills! Before hitting the links, I turned to two experts to check my swing.
Andy Brent, city manager of GolfTEC Atlanta, evaluated my swing using their patented, fact-based swing evaluation technology, which measures shoulder and hip sway, address, contact and finish. With a special backpack and hip belt attached, my swing was videotaped from two directions for stop-action and real-time analysis. First swing—not bad; needs improvement.
In the half-hour lesson, the simulation showed that, through a series of Andy's guided tweaks, I'd soon be hitting the ball with my eight iron 109 yards, instead of my paltry 75 yards when I started. I was sent away with homework, and the entire lesson's videos, assignments and analysis were viewable on GolfTEC's online member system.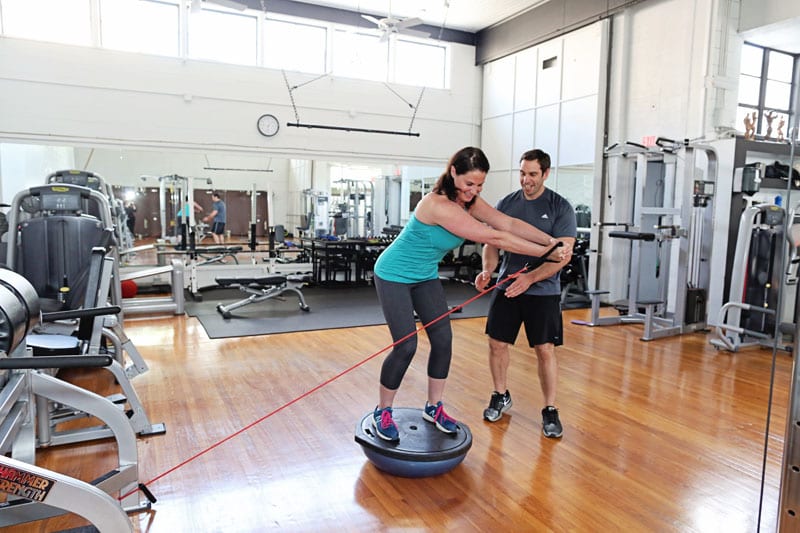 Before my second lesson, I headed over to Pinnacle Fitness twice, where owner and Titleist Performance Institute certified Jamie Bodner put me through the strength-training drills that apply specifically to the muscles used in the golf swing. I train here two to three times weekly, but these moves were so pinpointed, the burn was felt in places I wasn't used to.
Using the same equipment (TRX, Kinesis wall, rowing machine, free weights and kettlebells) that I use on a regular basis during my gym routine, I'm challenged in new ways. The second session was harder than the first, and it is clear that I need to continue this specialized training to improve my golf game.
I did my homework and practiced 100 table drills and 100 setups before golf lesson two. I managed to get rid of some bad habits, but I still need work on hip rotation.
Five days later, I visited the Sea Pines Resort and golfed at Harbour Town Golf Links (read more on page 22). It was pretty heady stuff to golf on the course where the pros play the annual RBC Heritage Tournament but I held my own. Golf is a humbling game. I'll continue to practice this summer, all the while burning those calories.
SWING BY:
GolfTEC
3145 Peachtree Road
Atlanta 30305
404.467.8884
golftec.com
Pinnacle Fitness
3215 Cains Hill Place N.W.
Atlanta 30305
404.228.3705
pinnaclefitnessgym.com
STORY: Joanne Hayes
PHOTOS: Sara Hanna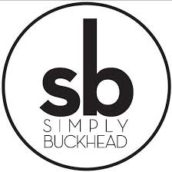 SimplyBuckhead
Simply Buckhead is an upscale lifestyle magazine focused on the best and brightest individuals, businesses and events in Buckhead, Brookhaven, Sandy Springs, Dunwoody and Chamblee. With a commitment to journalistic excellence, the magazine serves as the authority on who to know, what to do and where to go in the community, and its surroundings.