STORY: Mickey Goodman | PHOTOS: Sara Hanna
The six volunteers on the following pages—and the wide range of nonprofits they support—are a testament to the generosity of Buckhead residents who open their hands and their hearts to help others. Their stories chronicle decades of service.
One couple is so passionate about saving endangered species, they founded an organization to prevent poaching and provide education for the children of sanctuary workers in Africa. Another volunteer has dedicated her legal career to freeing prisoners who have been wrongly imprisoned—most after decades of incarceration for crimes they didn't commit. The other volunteers range from an artist to a music industry executive to a childhood cancer survivor.
What they all have in common is a selflessness that epitomizes the real reason for the season of giving.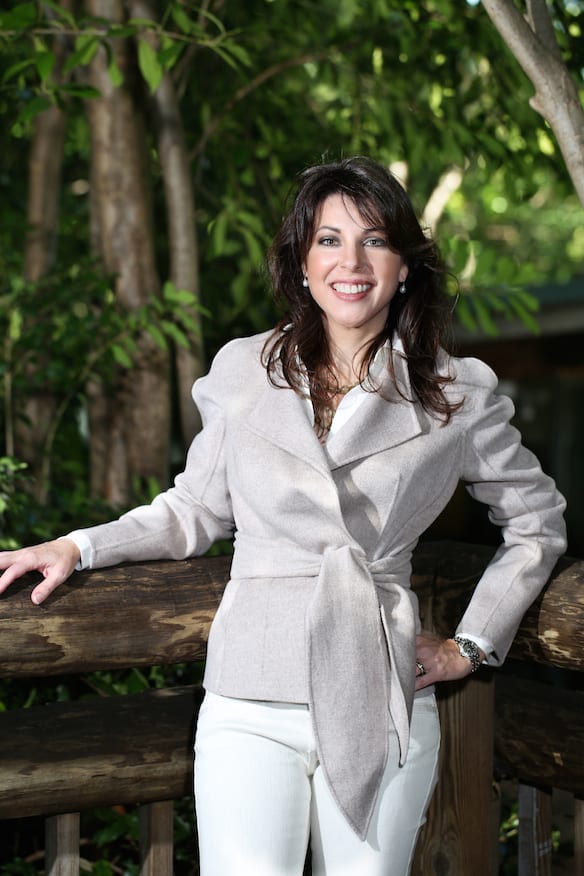 MICHELE STUMPE:
Children of Conservation
Michele Stumpe fell in love with endangered primates as a teen volunteering at the Gladys Porter Zoo in Brownsville, Texas. Her affection never abated, so in 1999, she and her husband, Kerry, attorneys at Taylor English Duma, volunteered at the Limbe Wildlife Centre in Cameroon, Africa. There the Buckhead resident saw firsthand the dire need to teach villagers that their continued poaching would permanently destroy tourism, a primary livelihood. "At the turn of the 20th century, there were 2 million wild chimpanzees in 25 African countries," Stumpe says. "Today, they are extinct in four countries, and only 200,000 chimps remain in the wild."
The reasons are complex, but poaching tops the list. Baby primates are coveted by individuals seeking pets, as well as by zoos and research facilities. Since the adults are protective of their young, poachers often kill entire families, further decimating endangered populations. In addition, bushmeat (particularly gorilla and chimp) is considered a delicacy, so primates are slaughtered for consumption or for their so-called medicinal qualities. "One of the most significant issues is a lack of education," Stumpe says. "Public schools end with the second grade in Africa and only 15 percent of the parents can afford private schools. Without education, we can never build community-wide appreciation and respect for conservation."
In 2009, the couple decided to pay for the education of 15 of the Limbe workers' most promising children. "Interested parents filled out an application form and kids were chosen on their prior grades, involvement in the Nature's Club, the number of years their parents had been working at the sanctuary and the recommendation of sanctuary directors," Stumpe says. "Once we commit to a child, we stay with him or her through graduation, contingent upon their grades, conservation involvement and parents' continued work at the sanctuary.
But since no single donor can make a significant impact, the couple founded Children of Conservation in 2009 to protect endangered species through habitat preservation, sanctuary support and education. The Stumpes selected three existing sanctuaries in Cameroon, Uganda and Kenya that care for endangered primates and elephants. Each was vetted for fiscal responsibility through the Pan African Sanctuary Alliance.
"Our first undertaking was to sponsor additional children from the Limbe Wildlife Centre so they could attend private schools. We now support 100 children from the three sanctuaries, and since the workers come from many areas, we partner with schools near their villages," Stumpe says To ensure that 100 percent of the donations go directly to the foundation, the Stumpes pay the administrative costs of running the organization.
Several fundraisers help support it. "Eats and Beats" at the Buckhead Theatre takes place every spring when Children of Conservation joins forces with The Giving Kitchen and Yacht Rock Revue for the evening of food and live entertainment. Another, "Dinner and A Cause Card" is a $40 dining card sold on the website that entitles holders to 20 percent off meals at more than 100 restau- rants, including many in Buckhead. In 2015, the Stumpes, who travel to Africa twice a year, will lead a fundraising and volunteerism trip to visit the sanctuaries and schools the organization supports.
Currently, Stumpe is drafting contracts between sanctuaries, governments and forestry administrators to set aside protected land and severely prosecute poachers.
Want to Volunteer?
Organization: Children of Conservation
Purpose: Conservation and protec- tion of endangered species in Third World countries through education, habitat preservation and wildlife sanctuary support.
Help needed: Make a donation or sponsor a child's schooling.
404.840.4139 | www.childrenofconservation.org
---
KIM CHESNEY
Art for a Cause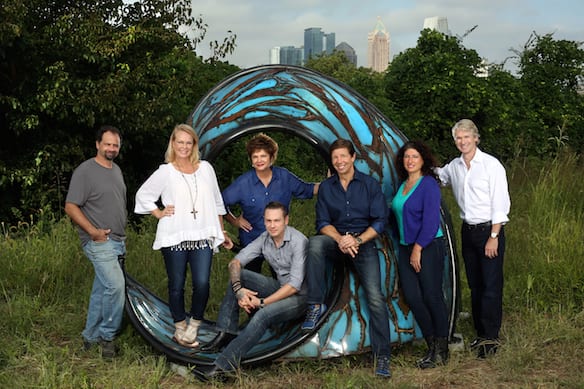 Kimm Chesney's maiden name, Painter, was a sign of things to come. The Buckhead resident and artist who specializes in encaustic painting an ancient hot wax technique invented before 100 A.D. uses her talents to help raise money for numerous nonprofits, most benefiting children.
Though she has studied oil, watercolor and graphite, she developed her own brand of encaustic painting that combines photographs, hot wax, resin and oil pastels to create unique pieces of three-dimensional art.
Her introduction to fundraising began in 1992 when her husband, Lamar—a board member—asked her if she would host a small affair benefiting a nonprofit then called Medically Fragile Children that provided daycare for critically ill children to give parents some respite.
"I was thinking of an intimate affair at the house, but as the list grew to 475, I realized I'd need to rent space," Chesney says. "You might say I didn't just dip my toe into fundraising. I jumped into the pool headfirst."
Chesney continues to raise money for worthy causes by connecting donors and artists. Her endeavors focus primarily on helping children in need. She developed a culinary arts program for children at the Viking Culinary Arts Center and CHRIS Kids Community Kitchen. She also supports Jerusalem House, Georgia Campaign for Adolescent Power and Potential (GCAPP), Sheltering Arms, The Children's Restoration Network, Visiting Nurse Hospice Atlanta and their Camp Stars program for bereaved kids and more. "Artisans Market," a three-day event she hosted at her home in October for Camp Stars, netted $80,000. It featured music performed by the Buckhead Youth Orchestra and honored a neighbor who had died of cancer.
In November, Chesney is doing what she loves most—hosting several events in Suite 403, a 9,000-square-foot showroom at the Atlanta Decorative Arts Center (ADAC). "It's a perfect venue to showcase art for a cause," she says. Named "Diversity Earth, Taming the Elements Through the Beauty of Art," the fundraiser kicks off with a cocktail reception the evening of Nov. 13 and features 24 award winning artists including painters, photographers, metal sculptors, a glass artist and more whose work will remain on view until Nov. 21. (For more details see page 19.)
Despite raising thousands for nonprofits, Chesney feels her biggest contribution was donating bone marrow to save the life of a man with leukemia and lung cancer.
"A neighbor distributed an email asking people to be swabbed for possible matches for another neighbor in need of platelets to fight leukemia," she says. "As a survivor of stage 3 lung cancer, I was thrilled to help someone else."
Chesney wasn't a match for her neighbor, but in 2007 she got a call saying that she was a match for a 48-year-old man dying from leukemia. Would she still be willing to help?
"I jumped at the chance," she says. "I donated platelets at Northside Hospital, an experience I found unbelievably satisfying. It's not every day that we have an opportunity to save a life."
Another of Chesney's great joys is featuring emerging artists who are "immensely talented" but have not yet attained the following to be exhibited in galleries. The November ADAC events showcase a number of them. "I'm especially touched by one artist who is showing her work for the first time since her recovery from stage 4 lung cancer," she says. "Ironically, the same type I had."
Want to Volunteer?
Organization: Art for a Cause Purpose: Raising funds for non-profits with a focus on children
Help needed: Attend the Nov. 13-21 events at ADAC; purchase original art to help emerging artists and contribute to a worthy cause.
678.773.5262 | www.adacatlanta.com/events
---
AIMEE MAXWELL
Georgia Innocence Project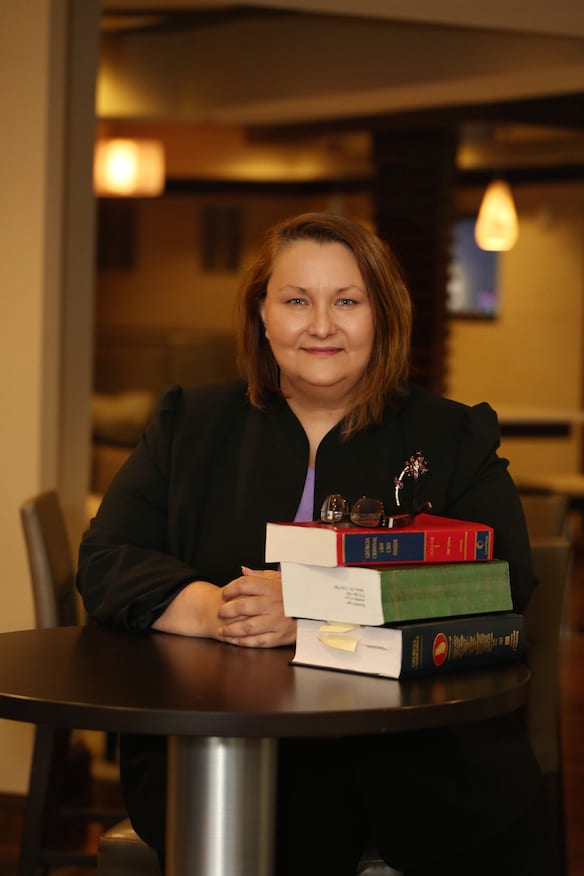 I was in the fourth grade when I realized that my goal was to help save the world," says Aimee Maxwell, executive director of the Georgia Innocence Project (GIP). "I decided early on to become a public defender."
True to her dream, the Buckhead resident graduated from the Georgia State University (GSU) College of Law in 1987 and was hired by the state funded Georgia Indigent Defense Council (currently the Public Defender Standards Council). She remained until 2002 when two GSU law students, Jill Polster and September Guy, asked her to start an Innocence Project in Georgia to free wrongfully convicted prisoners. The State Bar Association donated $25,000 and GIP had to raise another $75,000 to get started.
"My first class of interns came on board in 2003. Since then, we've exonerated five men who spent decades in prison for crimes they didn't commit. Another case will be heard by the Georgia Supreme Court in January," Maxwell says. "We aren't soft on crime or pro-or anti-death penalty. We just don't like to see innocent people in jail."
After an article about GIP appeared in The Atlan- ta Journal-Constitution in 2002, requests for help poured in from prisoners and their families. In the following 12 years, 6,000 cases have crossed Maxwell's desk. Sixty have been accepted, all involving stranger-on-stranger crimes like rape where new DNA methods can prove innocence or guilt.
"Even though we may feel strongly that an indi- vidual was wrongly convicted, we can't take their case unless the DNA evidence has been preserved," she says. "And that's where the problems arise."
Case files and evidence boxes are frequently missing from the county clerk's office where they are supposed to be retained. By sheer persistence, interns have located misplaced files in the attic of a retired court reporter, a district attorney's file drawer and at the Georgia Bureau of Investigation office.
The interns—some 300 since GIP's inception do the heavy lifting. They sort through the letters, help investigate the cases and search for transcripts, lab reports, police reports and evidence boxes. Maxwell—with help from Attorney Christina Cribbs, a former intern—takes the cases to hearings. Maxwell, Cribbs and Operations Manager Melissa Arends are GIP's only full-time employees.
About 200 cases remain open, including a few involving murders. "When evidence starts falling into place, the interns often remain with the case even after they return to law school. I tell them, 'This is the best thing you'll probably do in your entire lives—and you're not even out of school yet.'"
GIP depends on donations for court costs and currently, funds have reached rock bottom. To keep the doors open, Maxwell has offered to forgo her salary.
"How can we close when there is so much more work to be done?" Maxwell asks.
For former prisoners, exoneration is just the beginning. To help them transition into society, the Georgia Legislature awards up to $1.2 million to those with the longest prison times. But managing a sum of that magnitude is fraught with pitfalls. The Life After Exoneration program, an arm of GIP, helps with job searches, life skills and money management.
"Justice is what turns me on and has been my motivating factor all my life," Maxwell says. "This is my piece of the world where I can make a true impact."
Want to Volunteer?
Organization: Georgia Innocence Project
Purpose: To free the wrongfully convicted.
Help needed: Funds are urgently needed if GIF is to continue exonerating wrongfully convicted prisoners. Also seeking graphic designers and artists for an upcoming project.
404.373.4433 | www.georgiainnocenceproject.org
---
FOTEMAH MBA
Books For Africa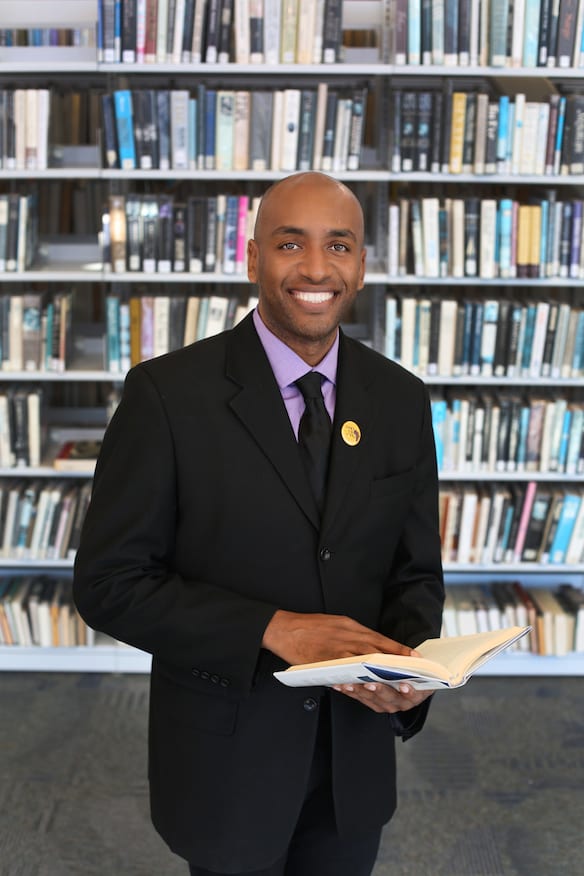 When Fotemah Mba planned a visit to his mother in their native Cameroon in January 2014 after living in America for 17 years, he asked her what he should bring for the children at the private school she founded.
"Bring pencils and pens," she said. "Lots of pencils and pens."
It wasn't until he saw the joy on the children's faces that he realized what a precious gift pencils are to kids in a country where millions have never set foot in a classroom. Of those who do attend school, many have never owned a book, and often 10 or 20 share a single text.
He vowed to find a way to help.
Once back in Atlanta, the Buckhead resident and vice president of artists and repertoire for record label Konvict Muzik connected with Books For Africa (BFA) through friends. Though the organization has been named a "4-Star Charity" by Charity Navigator for the seventh consecutive year and attracts 14,000 volunteers per year to its Atlanta warehouse, it flies under the radar. "I was stunned to learn that over the last 26 years, BFA has shipped 35 million books to 49 African countries," Mba says. "It was a perfect fit for my goal."
BFA was created in 1988 by Tom Warth in his Minnesota garage after a visit to Uganda where he found the shelves of a local library nearly empty. Back home, he met with members of the Minnesota Book Publishers' Roundtable and formed a nucleus to ship discarded texts and library books to Africa. Each book costs 50 cents to ship and will be read by at least 50 children. The organization quickly outgrew Warth's garage and he eventually moved the warehouse to Atlanta. Numerous publishing houses and booksellers, such as Better World Books, Follett and more, donate books.
Other corporations, including the Sir Emeka Offor Foundation, donate containers and funds.
Jim Munson, Chairman of Atlanta's South African-American Business Chamber, has worked to fill a void in marketing and fundraising for the organization. "My wife and I host intimate fundraisers at our home with generous help from Chef Kyle Reynolds and his staff from Le Cordon Bleu, who have become big supporters," he says.
Taking a cue from Munson, Mba also began holding small events to fund the $11,600 needed to ship his own container of 22,000 books to his mother's school in Cameroon. (Although all the books were donated through BFA, extra money was needed to transport his container seven additional hours into the grassland.)
Mba uses social media to enlist the help of thousands of fans and friends. "Now that one container is complete, I plan to ship 25 more containers during the next five years," he says.
Mba volunteers three or four days a week at BFA's 35,000-square-foot warehouse in Smyrna, which is filled with racks 24 feet high holding thousands of books. BFA counts on volunteers and referrals from Hands On Atlanta to sort books and fill the 40-foot containers that normally cost $10,300 each to ship.
"Education is the only way out of poverty in Africa," Mba says. "In Atlanta, I mentor kids to stay in school. In Africa, the children's hunger for education is as acute as their need for good nutrition."
Want to Volunteer?
Organization: Books For Africa
Purpose: To end the book famine in Africa by collecting, sorting, shipping and distributing books to schools, libraries and more.
Help needed: Volunteers, especially during the winter months, as well as engineering, math and science books; textbooks from schools and colleges.
404.603.8680 | www.booksforafrica.org
---
LAUREN GEARON
CURE Childhood Cancer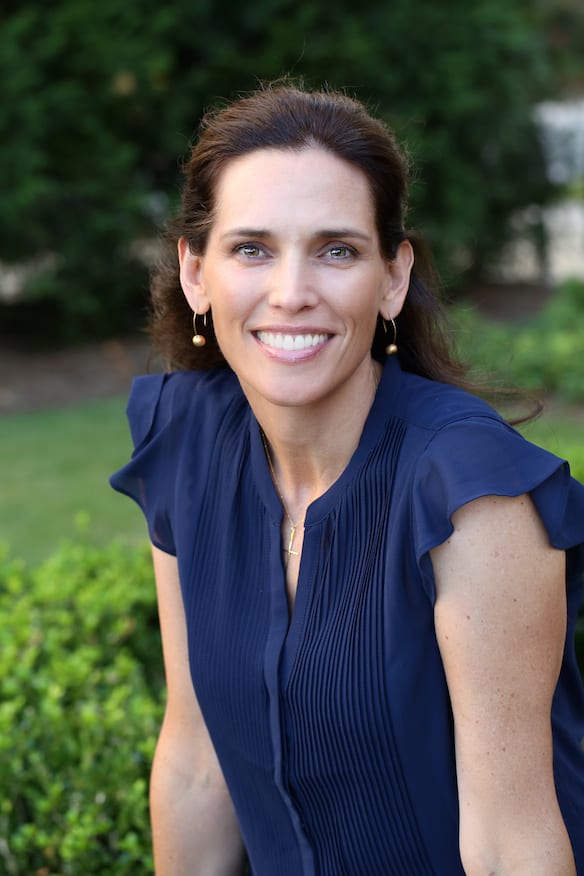 When Lauren Gearon was in the seventh grade, she experienced a litany of debilitating symptoms—nosebleeds, fatigue, bruising and pounding headaches. Her pediatrician suspected leukemia and sent her to Scottish Rite Hospital, where Dr. Abdel Ragab, Emory University's first pediatric oncologist, diagnosed aplastic anemia, a rare fatal disease that affects the bone marrow. With no known successful protocol, he put her on prednisone and blood transfusions.
Before long, she required daily transfusions and in 1981 she was accepted into a month-long National Institutes of Health experimental drug trial at UCLA Hospital testing anti-thymocyte globulin (ATG). It proved successful, but still nothing was normal. "I visited the hematology/oncology lab every morning, couldn't play sports and had to stay away from anyone who was sick." It wasn't until she was slowly weaned off prednisone that she could resume a more normal childhood.
"Twenty years later, the same treatment I received is still being used," Gearon says. "I'm thrilled to say I rode the wave of experimentation that became the first line of defense and continues to save lives."
Once normalcy returned to the household, Gearon's parents, Claudeen and Eric Lindberg, became involved with CURE Childhood Cancer, a local organization founded by Dr. Ragab in 1975 to fund targeted research and support patients and their families. Claudeen served on the executive board for 10 years and the couple chaired numerous fundraisers. One of CURE's first purchases was a pediatric diagnostic microscope; next came fund- ing to train Pediatric Hematology/Oncology fellows.
Gearon attended college in Massachusetts, then worked in New York and Washington before moving back to Atlanta and marrying her husband, Michael, in 1996. The couple has three children—17, 14, and 10—and CURE is a family affair. Michael, who builds cell tower networks in Indonesia and is co-owner of the Atlanta Hawks, is extremely supportive. Gearon's 17-year-old son served on CURE's Youth Council for two years and her 14-year-old daughter creates jewelry through Good Deed Beads that she sells on Etsy and donates 50 percent of the sales to CURE.
Gearon followed in her mother's footsteps by serving on the CURE board for 17 years and has been involved in nearly every capacity from the Board and Youth Council to fundraising. "Outside my marriage and family, this is the most important thing I've ever done," she says. "I love that we are making a difference in children's lives."
"Cancer is the number one killer of children and impacts more kids than asthma, diabetes, cystic fibrosis, congenital anomalies and pediatric AIDS combined," she says. "Yet only two to four percent of federal research dollars go to childhood vs. adult cancers. Not only do we need to find a cure, we need to find ways that are toxic only to the cancer cells, not to the children."
To call attention to the urgent need for a cure, in 2009, Governor Sonny Perdue proclaimed September "Childhood Cancer Awareness Month," a movement CURE members hope will spread nationwide. Gearon was among those honored at the presentation. CURE also successfully lobbied the Georgia legislature to support a bill that would mandate Georgia insurers to support experimental therapies for childhood cancer.
As one of the largest pediatric oncology programs in the country, CURE's work is making an impact. "Our partnerships with other leading organizations has led to a promising drug for acute lymphoblastic leukemia," Gearon says. "We hope our programs will continue to make headway in this battle, eventually leading to a cure."
Want to Volunteer?
Organization: CURE Childhood Cancer
Purpose: Dedicated to conquering childhood cancer through funding targeted research and supporting patients and their families.
Help needed: Send holiday cards benefiting CURE; donate funds; sponsor a "Caps for Cure" fundraiser; support sponsors.
770.986.0035 | www.curechildhoodcancer.org
---
DAN PRUCHA
Open Hand Atlanta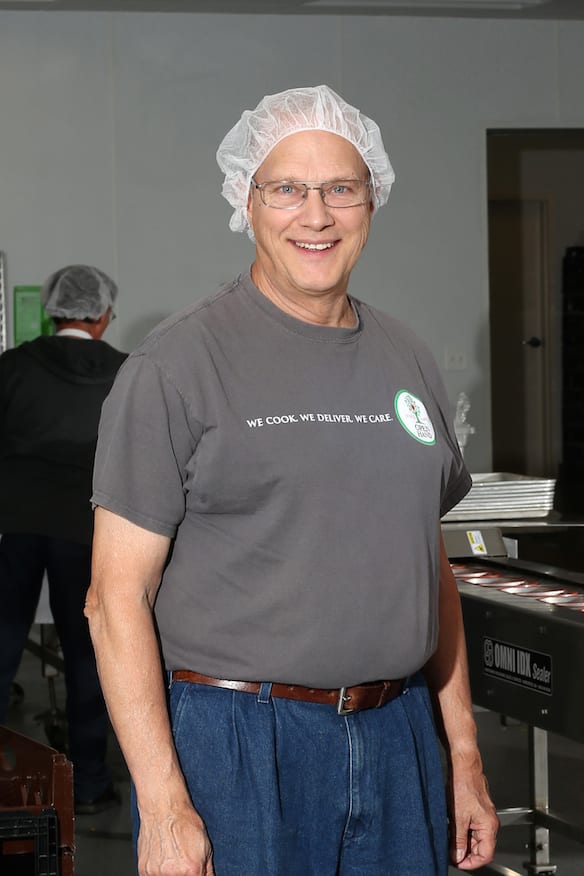 Dan Prucha can blame it all on his wife, Jackie.
For years, she'd urged her Sandy Springs family to volunteer at a soup kitchen on Thanksgiving Day. Prucha, a retired Army dentist, didn't relent until 2005, after the kids had gone to college. "I did some online research and discovered Open Hand," he says. "I knew I had found my niche." Not only did the couple volunteer that year, Prucha stuck with it and has delivered 12 to 25 Meals on Wheels, Open Hand's primary endeavor, every week for the last nine years.
He occasionally enlists others to join him, and Jackie also delivers, but on a less regular schedule.
One of his first stops sealed his commitment. "An elderly gentleman who had lost limbs and much of his eyesight to diabetes came to the door in a wheelchair. Yet he was able to stay in his home because of Open Hand," Prucha says. "It made me realize the enormous difference the organization makes to so many lives."
Open Hand began in California to serve the AIDS community, but broadened its services in Atlanta to serve the growing number of people disabled by chronic diseases. The Centers for Disease Control and Prevention (CDC) reports that chronic diseases affect 40 percent of the population; and the CDC forecasts the cost of healthcare will be $4.2 trillion by 2023.
This year marks Open Hand's 26th anniversary and by spring 2015, it will have delivered 25 million nutritious meals to senior citizens, Medicaid recipients, people suffering from HIV/AIDS and those who are critically or terminally ill, have chronic illnesses or are fee-for service clients. All meal recipients are referred by healthcare professionals and must meet certain criteria.
"A misconception is that obesity and diabetes are caused by gluttony or lack of discipline," says Shawan Allen, director of volunteer services. "But the real culprit is the lack of access to nutritious food. That's why we're so committed to delivering healthy meals every day of the year except Thanksgiving and Christmas."
To do the job, Open Hand uses over 10,000 unique volunteers per year (up to 100 each day) and has an annual budget of $9.8 million, which comes primarily through donations. Since 2004, Good Measure Meals, a company that prepares and delivers healthy meals to fee-paying clients, has donated 100 percent of the net proceeds to Open Hand.
The organization's annual Party in the Kitchen features cuisine prepared by chefs from Atlanta's finest restaurants. The 2014 event in September was the most successful ever, raising $435,000 compared to $258,000 in 2013, thanks to the talents of Chef Kevin Rathbun, owner and chef at KR SteakBar, and Chef Gerry Klaskala, owner and chef of Aria, as well as numerous other top Atlanta chefs.
One of the things that attracted Prucha to Open Hand was the professional way it was run. For Buckhead resident and Open Hand volunteer Suzanne Gaensbauer, it was a connection to her father. "My dad had a stroke and was unable to buy groceries or cook. If he had had access to Meals on Wheels, he might have been able to manage at home a while longer. Finally, he made the difficult decision to move into a retirement home. I volunteer so others can retain their independence," she says.
Each day, people like Gaensbauer gather at Open Hand's newly expanded facility on Armour Drive to help assemble, package and deliver 4,500 meals that exceed standards set by the American Dietetic Association. Other programs include a Pantry Program and the Emergency Nutrition Supplement Program for eligible Grady Hospital patients.
"Open Hand serves the community in so many ways," Prucha says. "I've been very blessed in my life and I'm happy I can be of service to others."
Want to Volunteer?
Organization: Open Hand Atlanta
Purpose: Helps people prevent or better manage chronic disease by combining home-delivered meals and nutrition education.
Help needed: Volunteer; sponsor a fundraiser; sign up for Amazon Smile (www.smile.amazon.com) and specify Open Hand Atlanta. (A portion of the purchase is given to the organization by Amazon without extra cost to the customer); donate your old car.
404.872.2707 | www.projectopenhand.org
Mickey Goodman
Award-winning Ghostwriter, Journalist, Content Creator.