OUR TEAM SHARES FIRST-HAND EXPERIENCES FOR MUST-TRY TREATMENTS!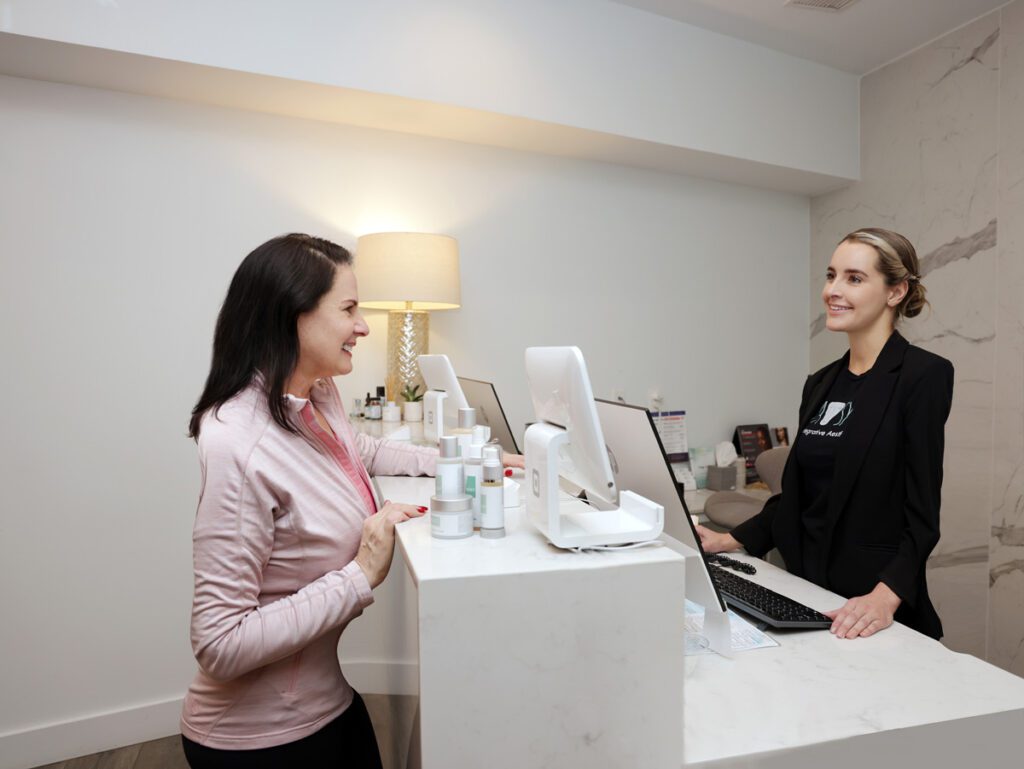 What: Dry Brushing
Where: Spa Sydell
STORY: Joanne Hayes
Skin is the largest organ in the body, responsible for eliminating most of the toxins, yet the skin on our bodies is less cared for by most of us who tend to pay more attention to our faces and necks. Simple techniques can help, including the little-known practice of dry brushing.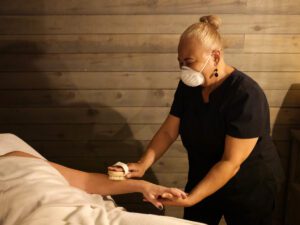 The process involves brushing the skin with a bristled brush for three to five minutes per area, in strokes toward the heart. This technique massages the skin while exfoliating it, improving circulation and cleansing the lymphatic system. The practice was made popular by Finnish doctor Paavo Airola who used it on his patients more than 30 years ago. It's now seen in spas, skin therapy clinics and cancer treatment centers in Europe.
I checked in at Spa Sydell's reception, changed into a comfortable robe and was brought to a dimly lit aesthetics room where soothing music and a heated table created the perfect ambiance to encourage relaxation. As I settled into the rhythmic procedure, I found it very meditative. My therapist, Carol Hawthorne, explained all the benefits of dry brushing during the treatment, and I was surprised when my stomach started gurgling as the process also stimulates digestive organs.
After the brushing, I luxuriated in a warm shower with spa bath gel to rinse off the dead skin and returned to the table where the treated areas were moisturized. I left feeling happy and lighter, and was given the brush to use in my daily skin care routine at home.
Besides eliminating dead skin, dry brushing can help reduce the appearance of cellulite. Massaging the subcutaneous adipose tissue breaks down the toxins that accumulate, eliminating them through the skin and other filtering organs. Regular exercise and healthy eating help speed the elimination process.
Other benefits include stress relief, nervous system rejuvenation, enhanced digestion and kidney functions, smoothing and tightening of the skin, and enhanced nutrition absorption (through topical products) by the skin.
Since skin brushing is done as a dry service, it's also a perfect pretreatment before airbrush tanning. Who doesn't need that extra glow during the winter months?
DETAILS:
$80 for Dry Brushing
404.255.7727
spasydell.com, @spasydellatl
---
What: Botox & Brightening HydraFacial
Where: Truffles Medispa in Buckhead
STORY: Karina Antenucci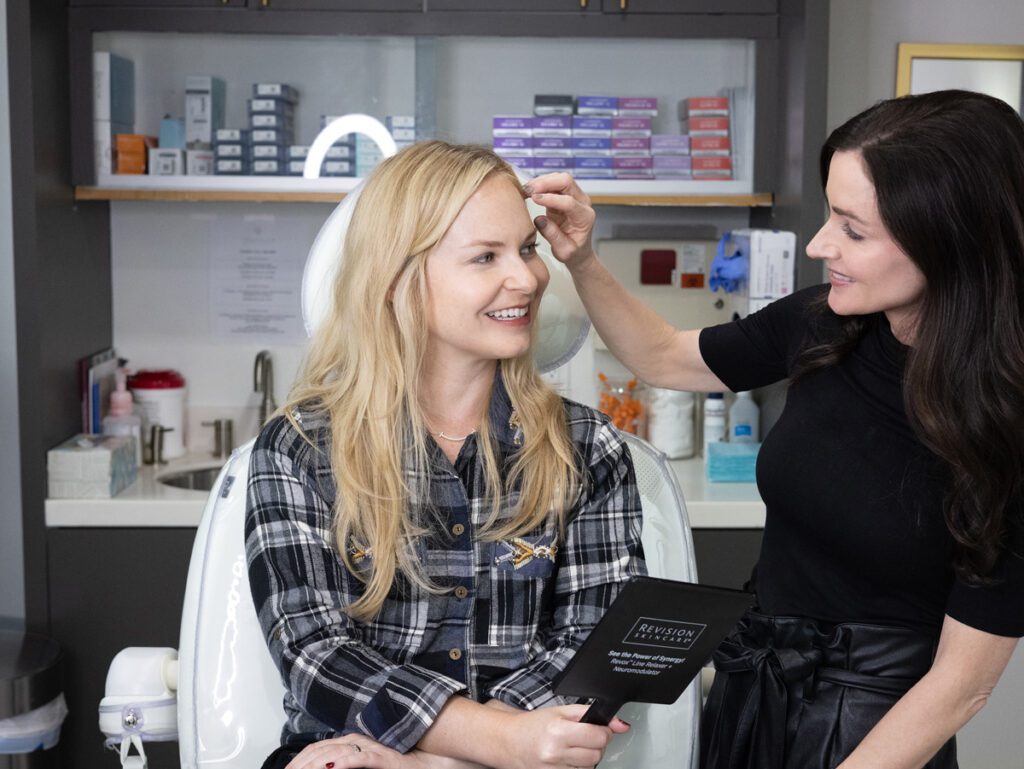 From my daily skin care products to my spa facials, my go-to beauty routine is almost 100% clean and natural. I never thought I'd do Botox, but then I had a kid and turned 40. Research has shown that having a baby can age you an additional two years on a cellular level. That might not sound like a lot, but I suspect it might explain my newfound forehead wrinkles. So when Physician Assistant Maggie Schreck, an injectables specialist at Truffles Medispa, invited me in for a skin consultation, my curiosity was piqued.
Schreck patiently answered all of my questions about Botox. In considering the treatment, the most important thing to me was that it would look natural—not that frozenfaced appearance that we've all seen. She assured me that she'd go light and that the injections would offer a facial pick-me-up without looking obvious. Schreck also noted that if I didn't like the results, it would wear off in about three months. So I agreed to have it done on the spot before I lost my nerve.
Given my acute aversion to needles, my nerves kicked in, and I closed my eyes and hummed. Schreck used an alcohol pad to clean the area, applied an ice pack to prevent bruising and then poked my forehead and in between my brows 17 times in what she called a "light sprinkling across the whole area to evenly distribute the Botox." It felt like pin pricks and was over within a couple minutes. While side effects can be light bruising and a headache/ heavy-feeling forehead, I didn't experience any. The smoothing effects should happen over a week, she noted, when I should come back for another consultation.
Over the course of the week, I watched as my forehead slowly and subtly ironed out. I could still move my brows and make my normal facial expressions (phew!), except when I tried to frown. That just didn't work. When I went back to see Schreck, she noticed one small spot where there was movement and added one injection so that everything was even.
The icing on the cake was a 45-minute brightening HydraFacial with licensed aesthetician Brooke Manwaring to tackle my other skin woe: sun spots. The customized facial included a 15% glycolic peel, a brightening ZO Skin Health booster and LED red light to help lighten my hyperpigmentation. I felt like a million bucks.
I purposely didn't tell anyone about my treatments to see what folks would say. In the weeks that followed, I received several compliments on my skin. Best of all? No one said, "Did you get Botox?" Success!
DETAILS:
$350 for Botox (32 units), starting at $200 for HydraFacial ($50 extra per booster)
770.460.2000
trufflesmedispa.com
@trufflesmedispa
---
What: HALO by Sciton Hybrid Fractional Laser
Where: AYA Medical Spa in Buckhead
STORY: Jennifer Bradley Franklin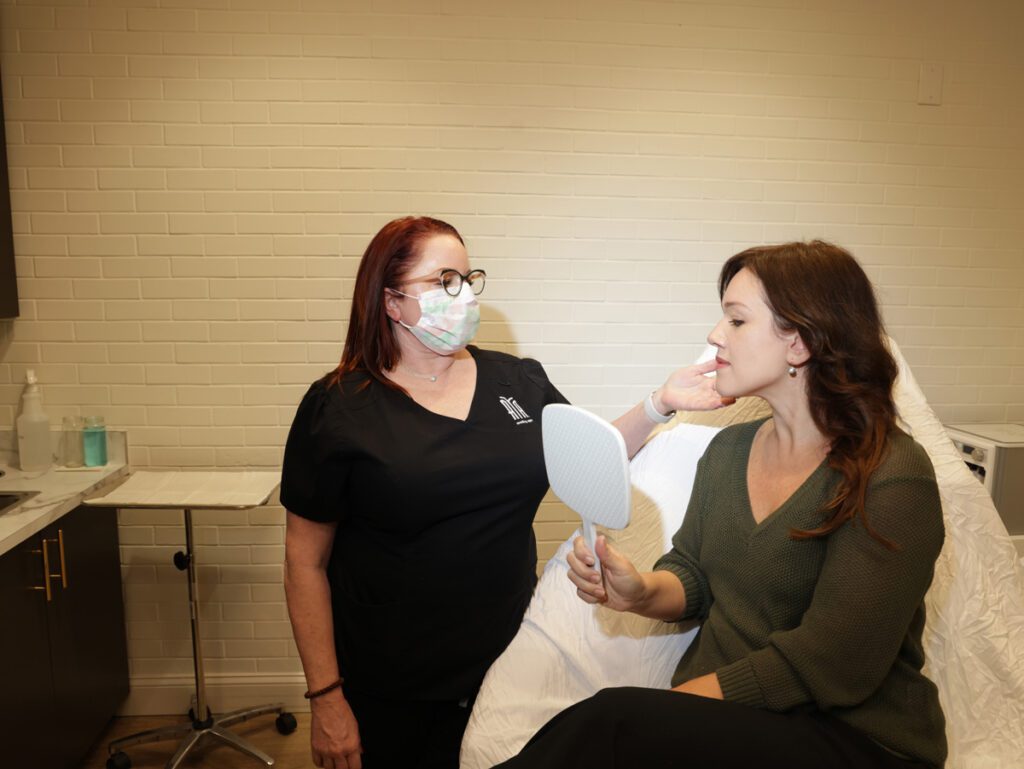 Beauty industry pros often call fall and winter "laser season," a stretch of time when we can be out of the sun, a prerequisite for just about any laser treatment. With this in mind, I scheduled a consultation with Amanda Thomas, a licensed aesthetician and laser practitioner with AYA Medical Spa's East Paces location. Though I've worn high SPF on my face just about every day since I was 12, the effects of a couple childhood sunburns and a sudden sprinkling of faint melasma on my forehead left me considering options. My goals included brighter, smoother skin on my face and neck, with reduced hyperpigmentation.
Thomas recommended the HALO by Sciton Hybrid Fractional Laser, a non-invasive treatment that combines two technologies for maximum results in minimal time. One treatment uses ablative (on the surface to remove damaged and dead skin) and non-ablative lasers (to heat the skin's deeper tissues to tighten and stimulate collagen) for a result that equals five treatments with other lasers. It's rated for just about any skin tone and can address issues such as sun damage, elasticity, age spots, hyperpigmentation, wrinkles and vascular conditions. I was sold.
I arrived for my treatment nervous but prepared, thanks to a check-in from Thomas, including her recommendation to use Alastin Regenerating Skin Nectar, a balm that helps clear away damage and support the skin's ability to produce healthy elastin in the two weeks leading up to the procedure. Thomas applied a topical numbing cream and gave me the PRO-NOX tube to breathe in a 50-50 mix of oxygen and nitrous oxide for a bit of pain and anxiety relief during the treatment.
She started by measuring every area of my face with the machine's wand to ensure the optimal coverage. The HALO system has builtin dynamic thermal optimization technology that takes the skin's temperature and adjusts as needed to guarantee even coverage. The first few passes of the HALO wand on each area were tolerable, but the intensity increased as Thomas ran the laser over again and again. The whole procedure only took about 25 minutes, and I was grateful it was over.
That night, I felt like my skin had an intense sunburn and that I was standing in front of a space heater. Ouch! I followed the instructions to use ice packs, take Benadryl to minimize the histamine response and sleep with my head elevated to reduce swelling. I woke up the next day with no pain and some puffiness, which continued to decrease throughout the coming days. Over the next week, my skin went through distinct phases: slightly red and swollen with visible pinpoints, bronzed with thousands of dark brown freckles called MENDS (microscopic epidermal necrotic debris, the damaged bits my skin was shedding), a sandpaper-like texture with flakes, and finally, pink baby skin peeking through. I stuck to a simple, twice-daily regimen of a gentle enzyme cleanser, antioxidantrich Alastin balm and high SPF—and tried hard not to touch my face.
By day seven, I felt like I was looking at a new person. My skin glowed and appeared lit from within. I'm told that I'll continue to see improvement over the coming months. Bottom line: The pain and less-than-lovely looks while my skin was healing were absolutely worth it.
DETAILS:
$1,650 for HALO face, $800 for HALO neck, $198 for Alastin Skin Nectar
404.600-3381
ayaskincare.com
@ayamedicalspa
PHOTOS: Sara Hanna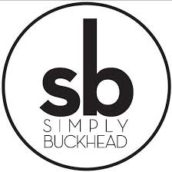 SimplyBuckhead
Simply Buckhead is an upscale lifestyle magazine focused on the best and brightest individuals, businesses and events in Buckhead, Brookhaven, Sandy Springs, Dunwoody and Chamblee. With a commitment to journalistic excellence, the magazine serves as the authority on who to know, what to do and where to go in the community, and its surroundings.