A sailing adventure in the Andaman Sea takes passengers to unspoiled islands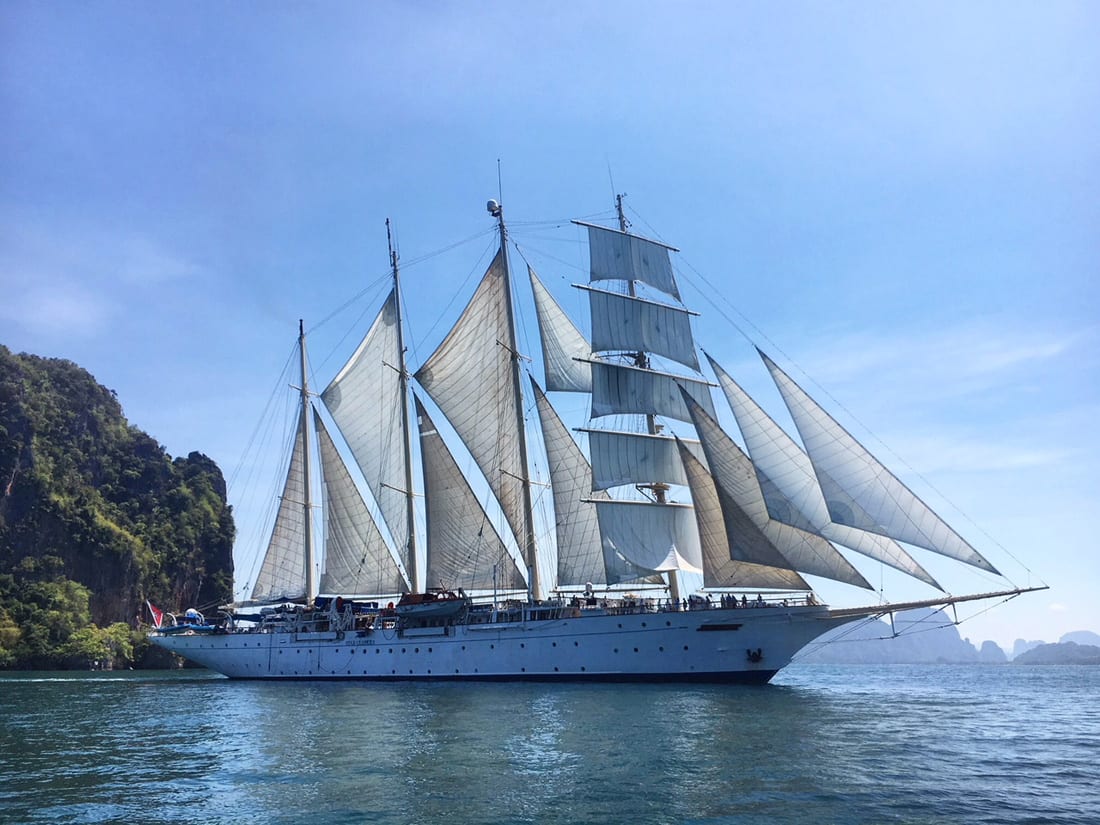 STORY & PHOTOS: Lindsay Lambert Day
When it comes to travel, arguably no category is more divisive than cruising, with travelers typically falling into one of two camps: the enthusiastic and the fiercely averse. As I step carefully out of a bright orange tender that's rocking in choppy waters and prepare to ascend a narrow staircase that hugs the hull of the Star Clipper, I contemplate which group I belong to.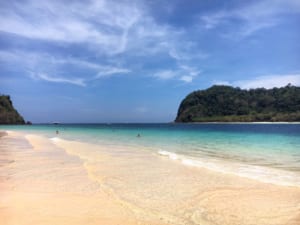 Until now, I've been on exactly one cruise, a sailing to several storybook villages along the Rhône River in France. With my home for that week a sleek, newly built riverboat and the Rhône a smooth, glassy byway for our journey, it didn't take long for me to decide that I was more than OK with cruising. But the present moment has me second-guessing that.
Built in 1992, the Star Clipper is a 360-foot, traditional tall ship with four towering masts, 16 sails and space for 170 passengers. In contrast to the riverboat's clean lines, bright lights and all-new everything, the Star Clipper is decidedly old-fashioned. It is neither new nor glossy, and that's exactly why my fellow passengers and I have come aboard.
While modern cruise ships, with their hotel-like interiors and amenities, all but obscure the fact that you're floating on open water, sailing on a tall ship such as the Star Clipper is all about being in sync with the sea. Working to find my footing on the narrow stairs as the ship bucks in the stiff breeze, I can already tell that I'm going to get my money's worth— and decide, once and for all, where I stand when it comes to cruising.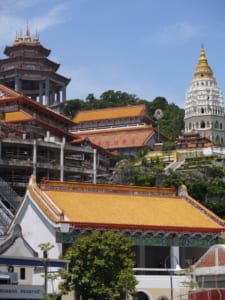 Our point of embarkation is Phuket, Thailand's largest island and a popular resort destination for party-hardy travelers from Australia, Asia, Russia and beyond. But we're not here to hang with hordes of tourists. Instead, we're setting sail for unspoiled islands in the far reaches of the Andaman Sea that aren't accessible via large, resort-like ships.
Over the course of seven days, we ply the Andaman's azure waters and drop anchor just offshore from several small, sleepy islands: Koh Butang, where monkeys race up knobby tree trunks and hope for fresh fruit handouts; Koh Adang, with its deserted coves and pristine beaches; Ko Rok Nok, where we kayak, snorkel and paddleboard in near total privacy; and Koh Similan, admittedly one of the country's most celebrated snorkel and dive spots, but too pretty to pass up. The closest we come to a true tourist experience is a stop at Khao Phing Kan, commonly known as James Bond Island, a spot made popular thanks to its appearance in the 1974 Bond flick The Man with the Golden Gun. Despite its high profile, on the day we visit, the crowds are thin, and we stroll around its all-but empty beaches with utmost ease.
Our island-hopping excursion isn't entirely without urban adventures, though. We spend a full day exploring Penang, Malaysia, climbing to the uppermost reaches of the Buddhist temple Kek Lok Si and strolling the buzzy streets of the island's capital, George Town. At the Penang Butterfly Farm, confetti-like clouds of the streaked and spotted insects flit all around us. At the Eastern & Oriental Hotel, where we stop for lunch, a small group of shipmates and I heap noodles and fresh vegetables into wide bowls before a chef bathes them in steaming, savory broth. Afterward, we pile into flower-strewn rickshaws for a ride through town, culminating with a visit to the exquisite Pinang Peranakan Mansion museum.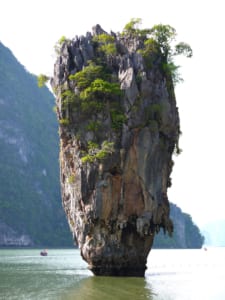 Back aboard the Star Clipper, we eagerly slip back into our island hopping routine. Our mornings begin with coffee and books in the ship's central lounge (the Wi-Fi is blissfully unreliable), and afternoons are spent shuttling back and forth from ship to shore, enjoying the best of both worlds. Evenings bring entertainment: traditional Thai dancing on deck, reading in the library, short workshops in napkin folding and knot tying. A cold cocktail and a hot meal are never far from reach.
On our final night, the captain invites everyone to join him on deck for a Champagne toast before we set sail back to Phuket. Taking in the open sea and endless sky around me, I raise my glass in a toast to this seafaring adventure and the many more like it that I now hope lie ahead.
STAR CLIPPERS
starclippers.com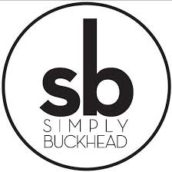 SimplyBuckhead
Simply Buckhead is an upscale lifestyle magazine focused on the best and brightest individuals, businesses and events in Buckhead, Brookhaven, Sandy Springs, Dunwoody and Chamblee. With a commitment to journalistic excellence, the magazine serves as the authority on who to know, what to do and where to go in the community, and its surroundings.