A quiet retreat provides the ideal contrast to hurried city life
By Giannina Smith Bedford

I love the constant motion of the city. I find the diverse people and nonstop action exhilarating. But every once in awhile, I need some peace and quiet—just a short getaway to recharge my batteries away from cement and traffic. When my most recent call for fresh air and nature struck, I didn't have to venture far to find what I was looking for.
Just 40 miles from the center of Buckhead, Serenbe is a pristine 1,000-acre sustainable living community in Chattahoochee Hills, Ga. Its focus on land preservation, agriculture, energy efficiency and green building, along with its 30 acres of farms have made it a national model for the future of development. Originally founded as a small bed-and-breakfast by Atlanta restaurateurs Steve and Marie Nygren, the now vast community's urban model promotes walkability and community living with private residential homes, commercial space, art galleries, original shops, stables and a 20-room inn.
Not in the market for one of Serenbe's enviable homes (unfortunately), my husband and I settled into a loft apartment perfect for our one-night escape. Situated atop the Paisley Salon on Selborne Lane, the modern style accommodation with a full kitchen, living room and balcony was across the street from the Blue Eyed Daisy Bakeshop (the nation's smallest Silver LEED-certified building). Upon arrival, our first order of business was a cup of coffee and a delicious homemade oatmeal raisin cookie from the welcoming eatery. After lingering over our cup of Joe, we strolled through the community's downtown, perusing vintage gifts at Greenhouse, smelling fragrant candles at Twig and picking out our dream home at the Serenbe Real Estate Sales Center.
Later that afternoon, we headed to The Farmhouse for afternoon tea. We sipped our warm herbal infusions and snacked on crackers spread with pimento cheese while rocking on the porch of the Inn's upscale dining destination (and the original Serenbe bed-and-breakfast). As we sat in silence listening to the wind rustle through trees, I felt the complete and utter stillness invigorate my city-tired soul. We eventually peeled ourselves out of the white wicker chairs and walked hand-in-hand past stables, horses and a hysterical threesome of pigs rolling in the dirt.
That evening, we headed to The Hil for dinner. Serving seasonal, classic American food, the restaurant is owned by Executive chef Hilary White, former executive chef of Buckhead's 103 West and Buckhead Life Restaurant Group's first female executive chef. I'd wondered all day where all the citizens and visitors of Serenbe were hiding, but upon entering The Hil's tastefully appointed dining room, the buzz so often heard in Atlanta's restaurants entered my ears. I didn't
mind, however. In a strange way, it made me feel more at home. Wine, margherita pizza, and risotto and vegetables later,
we walked back to our nearby apartment, which now felt like our own. We fell into a blissful sleep, knowing the next morning we would awake with the vitality to once again thrive in the big city.
THE INN AT SERENBE
10950 Hutcheson Ferry Road
Chattahoochee Hills, Ga. 30268
770.463.2610
www.serenbe.com
Photo Credit: Serenbe Farms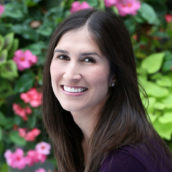 Giannina Bedford
Giannina S. Bedford is multi-faceted writer and editor. Her work covers design, travel, food and business. She's penned Simply Buckhead's home feature since inception and held a variety of editorial roles at the magazine. Her freelance work has appeared in Condé Nast Traveler, USA Today, Virtuoso Life, Hemispheres and TravelandLeisure.com. She also contributes regularly Atlanta Business Chronicle. Fluent in Spanish, Giannina was born in Miami and grew up in Brazil, Chile, Hawaii and Australia. She currently lives in Dunwoody with her two kids and husband.