The gumption of Greenville
This flourishing Southern town leaves little to be desired
By Giannina Smith Bedford
"You've got to go to Greenville!" This was the response I got nearly every time I mentioned I hadn't visited the South Carolina town—not to be confused with the Georgia or North Carolina municipalities by the same name. I finally began to wonder what it was about this particular Greenville that had everyone so excited. So I decided to take a weekend road trip—husband in tow—to find out for myself.
After an easy two-hour drive northeast of Buckhead on Interstate 85, we landed in downtown and settled in at the Courtyard by Marriott. This bustling hotel's prime location on West Broad Street is ideal for a weekend hoofing it to tons of city-centric activities. Once we parked the car, we didn't see it until we headed back home on Sunday.
We got the walking started on the way to dinner, passing Main Street's eateries, boutiques and The Westin Poinsett, a historic four-diamond hotel that underwent expansive renovation in the late 1990s and today caters to highbrow guests and lavish weddings. Throngs of Greenvillians were out strolling and listening to live music as part of Main Street Fridays at NOMA Square. After making our way through crowds reminiscent of a Piedmont Park concert, we found our dinner destination: Roost. With a view of the street-side festivities, we shared duck confit street tacos, a poached shrimp "carbonara" flatbread and Benton's bacon wrapped meatloaf before calling it a night in anticipation of an active next day.

Our early morning walk led us through the expansive Saturday Farmers Market on Main Street and the discovery of downtown's gorgeous oasis, Falls Park on the Reedy. Sipping coffee waterside, we took in the view of the cascading 30-foot falls from the curved and cantilevered Liberty Bridge. Once fueled and awake, our first activity on the agenda: more eating. We met our Tastes of the South Culinary Tour guide at Soby's New South Cuisine and got prepped on what would be an epicurean adventure to challenge even the biggest appetites. The next three hours consisted of sampling some of the top dishes at five Main Street restaurants. From fried green tomatoes with pimento fondue at Soby's to melt-in-your-mouth shrimp and grits at High Cotton—sister restaurant to the Charleston eatery by the same name—to jambalaya and gator bites at Ford's, it wasn't long before we started running out of room. Somehow, I managed to also scarf down Smoke on the Water's barbecue-sauced tender pulled pork and home-style macaroni and cheese and top it all off with a pecan tart with bourbon ice cream at Breakwater. Thank goodness this belt-popping mission included brief windows of walking to recover between restaurants.
The rest of the afternoon was spent burning off calories on foot (and dollars out of the wallet) popping into Main Street boutiques retailing everything from home wares and outdoor gear to high fashion. As evening began to set in, we set our sights on the West End's Fluor Field for a Greenville Drive baseball game, where the minor league fanfare was impressively engaging. It helps that Fluor Field's design, modeled after Boston's Fenway Park, includes its own "Green Monster," a 30-foot-high wall in left field, and manual scoreboard, creating an enchanting sports ambiance in which to root for the home team.
Hunger finally struck during our walk back to the hotel, so we grabbed an intimate table at the dimly-lit Pomegranate on Main and feasted on Persian cuisine—three kinds of hummus, lamb, tenderloin and chicken kebabs paired with an Argentinean Malbec. We left the restaurant in the later hours, but Main Street was still buzzing with crowds lingering over coffee and ice cream and taking evening walks through the park.
We were so enchanted with Greenville by Sunday morning we couldn't bear to leave. So we rented bikes at Reedy Rides and further explored our downtown surroundings on the Swamp Rabbit Bike Trail, a nearly 14-mile multi-use greenway that runs along the Reedy River, an old railroad corridor. We joined many locals on their Sunday morning jogs, but clearly marked running and biking lanes and friendly Southern attitudes made the trip a delight.
Approximately two miles from downtown, we took a break at Swamp Rabbit Café & Grocery, where the breads, pastries, soups and salads are made from scratch and the market retails a variety of local and organic products. After indulging in Counter Culture Coffee, an egg sandwich and a pão de queijo (Brazilian cheese puff) we hopped on our rides and headed back for the trip home.
Before we even hit the highway, I already missed Greenville. I know I'll be back, but in the meantime, the next time this captivating South Carolina destination is brought up in conversation, I'll be the one enthusiastically exclaiming, "You've got to go to Greenville!"
STAY
Courtyard by Marriott Greenville Downtown
50 West Broad Street | 864.451.5700 | www.marriottcourtyardgreenville.com
The Westin Poinsett
120 S. Main Street |  864.421.9700 | www.westinpoinsettgreenville.com

EAT
Pomegranate on Main
618 S. Main Street | 864.241.3012 | www.pomegranateonmain.com
Roost
220 N. Main Street | 864.298.2424 | www.roostrestaurant.com
Swamp Rabbit Café & Grocery
205 Cedar Lane | 864.255.3385 | www.swamprabbitcafe.com
DO
Falls Park on the Reedy
601 S. Main Street | 864.467.4350 | www.fallspark.com
Greenville Drive Baseball Game
Fluor Field | 945 S. Main Street | 864.240.4500 | www.milb.com
Greenville History Tours
864.567.3940 | www.greenvillehistorytours.com
Reedy Rides
12 W. McBee Avenue | 864.419.2944 | www.reedyrides.com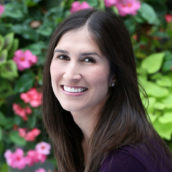 Giannina Bedford
Giannina S. Bedford is multi-faceted writer and editor. Her work covers design, travel, food and business. She's penned Simply Buckhead's home feature since inception and held a variety of editorial roles at the magazine. Her freelance work has appeared in Condé Nast Traveler, USA Today, Virtuoso Life, Hemispheres and TravelandLeisure.com. She also contributes regularly Atlanta Business Chronicle. Fluent in Spanish, Giannina was born in Miami and grew up in Brazil, Chile, Hawaii and Australia. She currently lives in Dunwoody with her two kids and husband.