Shimmering Shanghai
The old and the new collide in mainland China's financial capital
By Jennifer Bradley Franklin
"A multitude of people and yet solitude," Charles Dickens wrote in A Tale of Two Cities. These words echoed in my mind during my first trip to Shanghai, and I was struck by how the city is both extremely populated and peaceful, and how the two banks of the Huangpu River feel completely different from each other.
For the first leg of my China experience, I checked into the palatial Shangri-La Pudong, on the river's east side. The area has grown at warp speed since the Chinese government declared it a Special Economic Zone in 1993. What was previously farmland is now a booming cityscape, filled with skyscrapers (including the Shanghai Tower that, when finished in 2015, will be the world's second tallest), banks, shopping malls, condos and restaurants galore. The city's landscape looks like something out of the future, and yet, it doesn't feel crowded, even with the population burgeoning at somewhere around 26 million.

After settling into my room (with floor-to-ceiling windows for a jaw-dropping view of the river and the "old" city beyond), I made a beeline to CHI, The Spa, hoping to ward off the inevitable jet lag that comes with a 12-hour time difference from Buckhead.
My Jade Journey—nearly two hours with a traditional foot cleansing ritual, tea-scented bath and relaxing massage—helped delay exhaustion for a not-to-be-missed dinner of French cuisine at Jade on 36. It was an example of the Chinese appetite for and appreciation of Western food and wine, and the view from the hotel's 36th floor was arresting, as many of the mammoth buildings lining the river put on a nightly light show.

After a good night's sleep and a breakfast of fresh lychees, dragon fruit, dumplings and noodles at Yi Café, I set out to see the view from the nearby Oriental Pearl TV Tower, one of the most iconic buildings in Shanghai's landscape. From (nearly) the top at 351 meters, I had a 360-degree view and even took a ride on a short, but intense, little roller coaster. To skip the lines and enjoy a tour by an English-speaking guide in a trippy astronaut costume, spring for the "VIP tour" (approximately $30).
My second stop was the Jing An Shangri-La on the Puxi ("river west bank") side, which is steeped in history. The sparkling, 60-storey building matches the upscale area, which straddles the line between the former French and British Concession areas (the city was carved up into international settlements in the late 19th and early 20th centuries, so those areas were under other nations' rule and retain some of the character and architecture of their once-ruling countries).
Heated marble bathroom floors, electronic blackout curtains, original works of art, sparkling chandeliers, richly patterned carpet and stunning views made it exciting to settle into my room on the 54th floor. Shanghai makes it plain that capitalism is alive and well in China, shattering many of my preconceived notions. Multi-level outposts of Gucci, Cartier, Prada and Hermès were nearby, and it was nearly as common to see a Lamborghini as a Honda.
A city native recommended a lunch of "soup dumplings" at Din Tai Fung, and it turned out that their pork xiao long bao was my favorite bite of the whole trip. The steamed dumpling consisted of a delicate skin around a meaty piece of pork and still-steaming soup. It was fun learning to carefully pick it up with chopsticks, dip it in a mixture of vinegar, soy sauce and julienned ginger, biting off the edge and slurping the liquid "soup" out before downing the rest.
Next, I was off to the lush Yu Garden, conceived during the Ming Dynasty (the mid-1500s, for you history buffs). The walled garden's winding paths, full of traditional Chinese architecture, halls, pavilions, koi ponds and stone dragons, allowed me to find peace and reflection, though skyscrapers towered above its borders. Continuing the cultural odyssey, I visited the even older Jing'an Temple (literally "Temple of Peace and Tranquility"), built in A.D. 247. A giant Buddha, which is nearly 30 feet high and comprises 15 tons of silver, is the centerpiece of the working temple, home to monks who meditate and pray within the serene walls.
The fitting descriptors for Shanghai are nearly endless: sparkling, complex, futuristic, a collision of old and new. No matter what descriptor resonates most about Shanghai, for me, one stands out: spectacular.
---
Stay

Pudong Shangri-La | www.shangri-la.com
Jing An Shangri-La | www.shangri-la.com
Eat

Din Tai Fung | www.dintaifungusa.com
Visit
Oriental Pearl TV Tower | www.orientalpearltower.com
Jing'an Temple | www.shjas.org
Yu Garden | www.yugarden.com.cn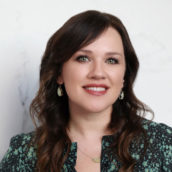 Jennifer Bradley Franklin
Senior Contributing Editor and Beauty Columnist at Simply Buckhead. Travel, Food and Design Writer and Author.