Coming home
A Peachtree Hills couple finds serenity in a renovated 1930s bungalow
By Giannina Smith Bedford | Photos by Sara Hanna
When insurance agent Maria McCool moved back to Buckhead in 2005 she thought she'd settle in her old neighborhood of Peachtree Park. With renovation in mind, however, she found her money went further in Peachtree Hills, where she uncovered the ideal fixer-upper—a 1930s abode she purchased from the sons of the original owner.
"I really felt the bones of it were going to give us the opportunity to do what we wanted to do without having to do two things that would really drive up the cost: the foundation or the roofline," she says.
McCool and her best friend, interior designer Sherry Hart, wasted no time before hiring a contractor to take the brick residence down to the studs in order to transform it into McCool's perfect little haven.
The six-month project expanded the kitchen and added an ample staircase to replace the tiny spiral staircase that previously led upstairs. A long, bowling alley-like room added across the back of the house by the previous owners was subdivided into a guest room, guest bathroom, master bedroom, laundry room and hallway. McCool also removed an old roofline hidden under the new roofline—an unusual scenario created by the previous owners during the addition of the bowling alley-like room. The roof removal helped transform the upstairs into a spacious office with high ceilings. From the outside, McCool's residence might look like a quaint cottage, but the 2,800-square-foot, two-story home boasts four bedrooms, three bathrooms and a basement.

"The original envelope of the home remained much the same, but the inside was completely altered," she says. "Because I do a great deal of entertaining, I wanted a house that had great party flow … I think that is something we accomplished by opening up the kitchen. I can have food in different rooms and you can just circulate very easily for a party."
When McCool originally bought and revamped her home, she was a single gal. But after meeting Mike Stell in 2007 and marrying him in 2009, it was time to add his personality to the dwelling. An avid gardener, Stell's biggest request was an outside living space to replace the jungle-like yard that McCool and Hart hadn't yet touched.
"I spend a lot of time working on it. It's a constant job and work in progress," says Stell, who sells capital equipment used in packaging.

Thanks to Stell's hard work the outdoors has been converted into a lush sanctuary complete with a full-size swinging bed (built by Stell) and fire pit made from repurposed elevator cables—a unique touch made by New Jersey-based fabricator Pete Abrams. McCool and her pooch, Punkin, now spend the majority of the spring and fall season lounging in the garden refuge.
"I made the comment one day that I wish we just had a bed in the backyard instead of a sofa. He took it upon himself to make that wish come true! I love it!" McCool says. "In addition to being an incredible gardener, Mike can make and build anything. He also did the shutters on the front of the house."

When the weather doesn't cooperate, the inside of the McCool-Stell home is just as welcoming as the outside—a mix of traditional furnishings with antique flea market finds and décor items that hint at the homeowners' love of music. There is a more than 100-year-old refurbished Lester piano (on which McCool learned to play as a girl) near the living room and a wall showcasing seven of Stell's guitars in the upstairs office.

"Sherry has been great about keeping the peace—a good little mediator to make sure we're both represented," McCool says. "He gets complete and total veto power on anything that goes outside and I get total veto power on anything that goes inside, but both people get a say."
The front entrance, once a screened-in porch, is now an inviting foyer with antiqued-mirrored coat closets. The adjacent living room features a slate-bordered gas fireplace; a plush couch from Old Colony in Greenville, South Carolina (McCool's hometown) and custom-made pillows in neutral shades; and a coffee table-ottoman that Stell re-covered in cowhide that he purchased at Scott Antique Markets.
Matching the neutral palette and traditional décor,
the dining room is adorned in Henkel Harris Furniture reproductions, an antique clock gifted to the couple from Stell's parents and an Art Deco-style cabinet McCool paid $200 for at flea market she hit on her way to a business meeting in Rome, Georgia.
Attached to the dining room, the expanded kitchen showcases New Venetian granite countertops, Mason jar light fixtures made by Stell, and a cozy breakfast nook surrounding an old storehouse table that rotates and expands, allowing up to eight diners at a time. "We love to cook and entertain and spend a ton of time in the kitchen," McCool says.
Each of the home's bedrooms displays a unique personality. The master is done in Asian-inspired furnishings—
including a bed from Hickory Furniture Mart in North Carolina that McCool purchased for $800 and a rug the couple picked up in Morocco on their honeymoon. Upstairs, the antique-themed guest rooms feature secondhand finds, one 
with an old radio cabinet and single beds from a garage sale and the other with furniture from the former Lakewood Antiques Fair all purchased for $300. The nearby bathroom also retains the vintage character with an old potato bin—now towel storage—which Hart and McCool scored at a flea market for $250. Although McCool kept the bathroom's small original bathtub, she installed a spacious sunken shower where the old spiral staircase once came up from the first floor.
The makeover of the McCool-Stell home has been a continuous undertaking, but the end product is one that ultimately matches its daily dwellers to a tee.
"Truthfully, I love our home," McCool says. "I hope it is the kind of place where people feel they can kick off their shoes and make themselves at home." Don't mind if we do.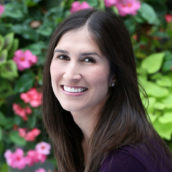 Giannina Bedford
Giannina S. Bedford is multi-faceted writer and editor. Her work covers design, travel, food and business. She's penned Simply Buckhead's home feature since inception and held a variety of editorial roles at the magazine. Her freelance work has appeared in Condé Nast Traveler, USA Today, Virtuoso Life, Hemispheres and TravelandLeisure.com. She also contributes regularly Atlanta Business Chronicle. Fluent in Spanish, Giannina was born in Miami and grew up in Brazil, Chile, Hawaii and Australia. She currently lives in Dunwoody with her two kids and husband.