Classic and Creative Martinis
By Jennifer Bradley Franklin | Photos by Sara Hanna
American satirist H.L. Mencken is said to have called the martini "the only American invention as perfect as the sonnet." Whether the cocktail, classically served in a stemmed glass that bears its name, is fully American or has influences from around the globe, Buckhead barkeeps shine with its distinctive presentation. Here are some of our favorites.
1. Cibo e Beve: Negroni ($10 for 3 ounces)
This classic Italian cocktail is equal parts Campari, Dolin Rouge sweet vermouth and gin (Tanqueray, in this case). The drink is built in the glass around a piece of hand-carved ice, and stirred, though guests are welcome to request it served "up" in a martini glass, sans ice. The Negroni gets a leathery bitterness from the Campari and subtle sweetness from the vermouth. Since it's an aperitif, it's the perfect way to start a meal (the Italians ardently believe that the Negroni will prepare you to fully enjoy whatever gustatory delights follow).
4969 Roswell Road N.E. | Atlanta 30342
404.250.8988
www.ciboatlanta.com
2. Whiskey Blue: Grapefruit Basil Martini ($14 for 5 ounces)
This delightful libation embodies the freshness of spring. Bombay gin, housemade simple syrup, just-squeezed grapefruit juice and muddled fresh basil are shaken together and poured into a chilled glass, garnished with a bright green basil sprig. The combination is straight-up tart and herbaceous, with the flavors of the gin's juniper berries and the subtle peppery notes of basil. Insider tip: Ask for a "skinny" version with less syrup and a splash of soda.
3377 Peachtree Road N.E.  |  Atlanta 30326
678.500.3190
www.watlantabuckhead.com/whiskey-blue-atlanta
3. King + Duke: Classic Gibson ($12 for 3 ounces)
This classic gets a clever twist from the crackerjack drink-slingers at King + Duke: Diminutive silverskin onions are peeled, pickled and smoked over the open flame for which the  restaurant is known. Then Bootlegger vodka and Dolin vermouth are shaken and garnished with the aforementioned onions, skewered on the side. The result is a remarkably balanced, savory martini with delightful smoky notes.
3060 Peachtree Road N.W. | Atlanta 30305
404.477.3500
www.kinganddukeatl.com
4. Chops Lobster Bar: White Chocolate Mint ($10 for 7 ounces)
If you prefer to drink, rather than eat, your dessert, this minty-sweet martini could be just the
decadent way to end a meal. Van Gogh double chocolate vodka, Pinnacle peppermint bark vodka,
white crème de cacao and Bailey's Irish Cream are shaken together and poured into an oversized
glass rimmed in white chocolate and colorful crushed peppermint.
70 West Paces Ferry Road N.W. | Atlanta 30305
404.262.2675
www.buckheadrestaurants.com
5. Umi: Leap of Faith ($13 for 4.5 ounces)
Umi seems to be collecting rising-star bartenders (including Andy Minchow and Gabe Bowen), and their cocktail menu is proof. This clever martini—served in a coupe glass—is a blend of Iichiko shochu (which lends sake-like softness), fresh yuzu, lemongrass syrup and a dash of range bitters. The drink has a surprise: A dash of ponzu gives it a slight saltiness that complements the adventurous garnish, a piece of pristine yellowtail and a paper-thin jalapeño slice. It's like a little snack and a drink, in one.
3050 Peachtree Road N.W. | Atlanta 30305
404.841.0040
www.umiatlanta.com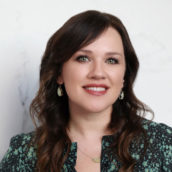 Jennifer Bradley Franklin
Senior Contributing Editor and Beauty Columnist at Simply Buckhead. Travel, Food and Design Writer and Author.