This pastoral resort in Sylacauga, Alabama, is the idyllic winter getaway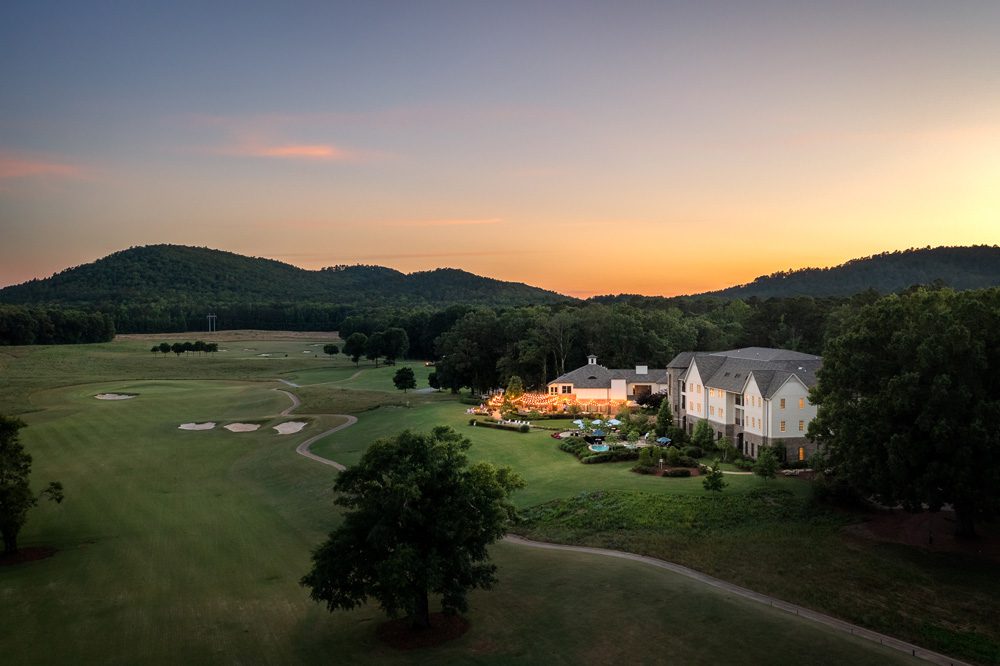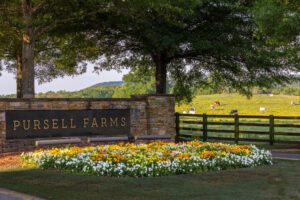 My table at Old Tom's Pub overlooks the rolling pastures of Pursell Farms, a family-owned resort in central Alabama. Below me, a few couples are playing bocce just steps from the 18th hole of FarmLinks, the Hurdzan-Fry Environmental Golf Design, Inc. course that almost seems carved out of the countryside. I watch the playful competition with a pang: I wish my husband was here.
It's not the first time I've longed for him to be with me this weekend. Upon arrival, I quickly learned my room at The Inn is dubbed The Honeymoon Suite, and I can see why. The spacious bathroom has a double vanity and an inviting soaking tub. Sumptuous Matouk linens provide next-level luxury throughout. My antique, king-size canopy rice bed is the room's main focal point. It's tall, stately and intricately painted. I'll have to hoist myself into it.
As I walk through the inn, I notice walls of historic photos and artifacts of the surrounding area, ample antiques and a few family photos. Pursell family member and artist in residence Vaughan Spanjer says, "When we designed the inn, we wanted it to feel like you were walking into someone's home—our home."
The lobby features a chess table for a quick game. A fire pit outside looks like it was made for sipping wine under the stars. A gas fireplace ready for winter sits just outside the pub, a gathering spot with a pool table once owned by Sylacauga's most famous resident, Jim Nabors, who starred as Gomer Pyle on "The Andy Griffith Show."
I rush into the lobby, noticeably late for my sunset tour. Three couples are chatting amongst themselves, and my thorough tour guide double-checks that I'm alone. There's that pang again. I silently curse my husband's job, grab my picnic basket and climb into the sprinter van. It wobbles along the gravel roads as the guide points out a few facts about the property. When we crest the vista, I am captivated by my surroundings, almost forgetting that I'm solo on this romantic excursion. This is what Pursell Farms calls the "secret place." It overlooks the Coosa River to the west and the Appalachian foothills to the east.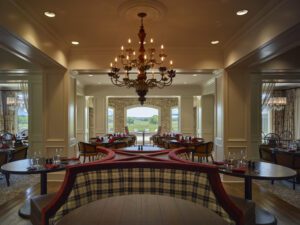 Several Adirondack chairs are set up. I settle in with my personal charcuterie and a split bottle of pinot grigio. It's too cloudy for a true sunset, but there are still picturesque views as far as the eye can see. One couple calls their kids who are back home in Tuscaloosa. Another ventures down the hill to take a few photos. The final couple toasts. It's her birthday, and they take a trip annually to celebrate. I text a quick "wish you were here" to my husband.
On the way back down the mountain, we all start chatting. Each partner has spent the day enjoying the other's company. My Tuscaloosa friends say they tooled around in one of the complimentary golf carts to explore the grounds for nearly three hours. The birthday girl and her beau did Pursell's two hour UTV tour. The last couple received massages at Spring House Spa. Each holds hands as we enter the inn. Like me, a few head to dine at Arrington, the Southern-inspired onsite restaurant. The four-course prix fixe menu changes often and, when I was there, included seasonal selections such as bacon-wrapped quail and herb-roasted lamb.
As I settle at my table for one, I resolve that I'll be back soon, and next time, with my husband by my side.
PURSELL FARMS
256.208.7600
pursellfarms.com
@pursellfarms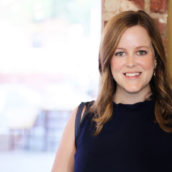 Nicole Letts
Wellness columnist at Simply Buckhead and dog columnist at Atlanta Pet Life. Lifestyle writer specializing in women's interests, travel, people and interiors.