Adult sports leagues turn up the fun and fitness!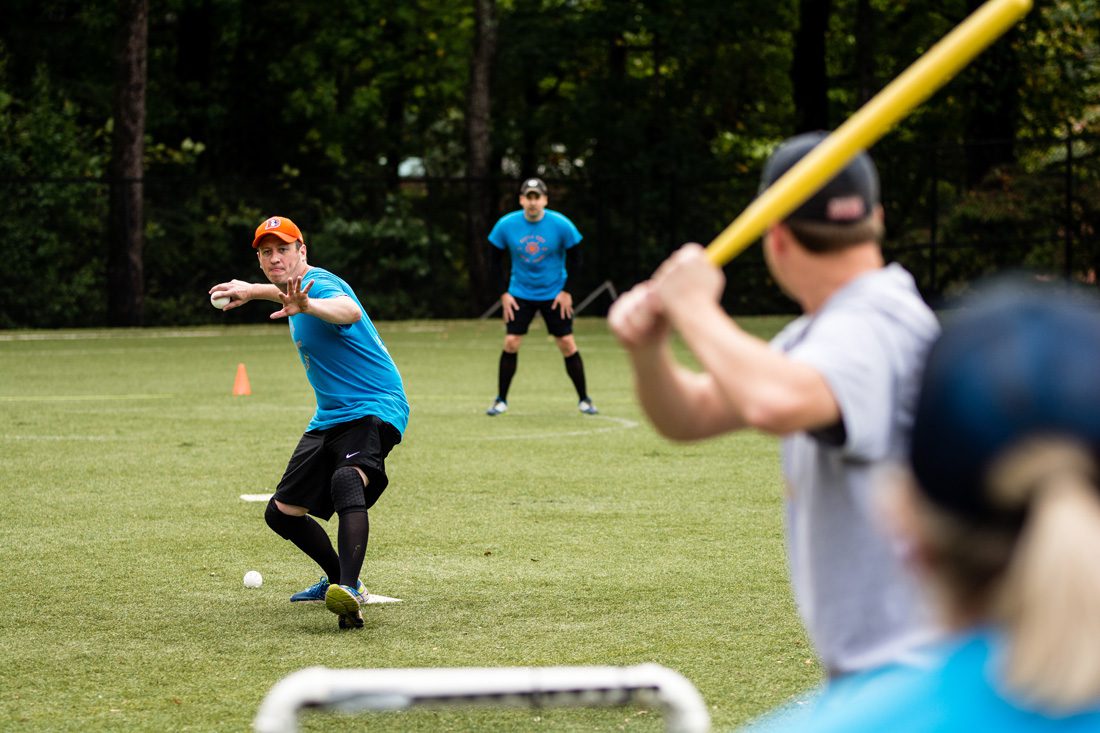 Playing sports isn't just for kids or professional athletes. It's never too late to get your game on. Whether you've got athletic talent or just want to have fun, turn up the dial on your sports fitness with these adult rec leagues that range from the low-key to competitive in a neighborhood park near you.
Atlanta Sport & Social Club
GET SPORTY: Soccer, softball, kickball, flag football, ultimate Frisbee and more
LOCATIONS: Various, including Brook Run Park, Hammond Park and Peachtree Hills Park
Founded in 2012, Atlanta Sport & Social Club is a recreational sports league giant. Pick your sport preference with more than 70 leagues at play every season. If you're super-competitive, go for flag football or basketball. "We have teams that have won national championships. Our players take it very seriously," says Kassidy Callahan, sports leagues marketing manager.
If you're less competitive and in it purely for fun, go for kickball or softball. "You are playing a game you played in elementary school, so you are totally just out there to have fun! Our softball also gets a lot of people wanting to try something new for the first time," Callahan says.
Leagues run for eight weeks, with the last dedicated to playoffs. Make sure you get a spot by signing up at least three weeks in advance of the league's start date. Individual costs will vary between $65- $150 depending on the sport and location. Social events include a pub crawl, block party and wine festival throughout the year.
SIGN UP:
678.869.4690
atlantasportandsocialclub.com
@atlantassc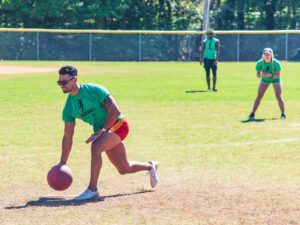 GO Kickball
GET SPORTY: Kickball, softball, flag football, volleyball and pickleball
LOCATIONS: Various, including Keswick Park, Hammond Park and Blackburn Park
GO started in 2005 amongst friends wanting to play the game with each other. It has held onto this non-intimidating, social culture while expanding to 25 cities across the U.S. and into other recreational sports.
"We have always put an emphasis on the social side of sports," says Lindsey Kassen, senior director of the Atlanta market. "Kickball is that sport anyone can play."
Games are played each season for seven weeks, including six regular games and one tournament championship game. You can create your own team as a captain and invite friends to join, or you can sign up as an individual ("free agent") to get added to a team. GO has free agent matching technology that helps it match players with a team based on common interests and competitiveness level.
Registration fees vary by sport: Kickball is typically $69 per person. With your signup, you get a team T-shirt, discounts at a designated league bar and theme-week prizes.
SIGN UP:
gokickball.com
@gokickballatl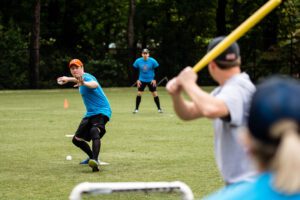 Atlanta Wiffleball Club
GET SPORTY: Wiffleball
LOCATION: Hammond Park
This coed rec league is run as a nonprofit social club during the spring and fall, and is open to adults of all skill levels. Wiffleball games, a simplified version of baseball that typically uses a lightweight plastic ball and bat, are played on Saturdays at Hammond Park in Sandy Springs.
"Wiffleball is more challenging than you think! The most common injury is to the ego. Coming with a mindset to have fun and meet new people will guarantee a good time for everyone," says Dan Kelsey, founder and commissioner.
The spring season starts in early March, and fall typically starts in early August. Sign up at any time, but deadlines for T-shirt orders are typically four to six weeks before the season starts, and the earlier you sign up, the better chance of playing on a team with your friends. The $35 per person registration includes a team T-shirt and seven regular season games and playoffs.
SIGN UP:
atlantawiffleball.com
@atlantawiffleballclub
NAME OF THE GAME
Trying to come up with a team name? Callahan says, "The funnier, the better. Our teams will usually have something to do with the sport or a famous player like 'Mahomies' or 'Almost Atlanta United.' Don't take the name too seriously."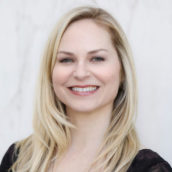 Karina Antenucci
Managing Editor and Wellness Columnist at Simply Buckhead. Blogger at Badass + Healthy.