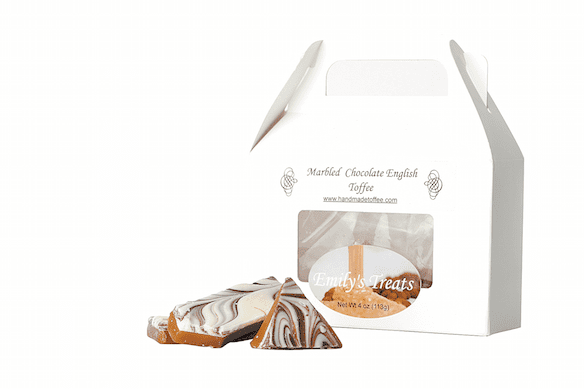 Sweet is a flavor that kids of all ages can appreciate. How better to get a sugar fix than nibbling on some candies? Here are a few of our favorites, available in our neighborhood, Buckhead. Some are nostalgic, others are grown up, but all of them are delicious and guaranteed to satisfy your sweet tooth.
Lucy's Market:
Chocolate Almond English Toffee ($6.50 per box) Butter is the first ingredient in this chocolate covered toffee and you can really taste its richness. Made in Georgia by Emily's Treats, the crunchy toffee is covered with a generous layer of rich chocolate and sprinkled with crushed almonds before being broken into bite-sized pieces, just right for a sugary snack.
102 West Paces Ferry Road N.W. Atlanta 30305 | 404.869.9222 www.lucysmarket.com
Richards Variety Store:
Bacon Candy ($5.93 per tin) These individually wrapped candies might look like old fashioned red and white swirl peppermints, but instead of sweet mint, you'll find a burst of sweet and smoky pork. That's right, this kitschy tin contains bacon flavored treats. Whether you're a true bacon enthusiast or just want to play a sweet trick on your unsuspecting friends (or would-be candy thieves), these novelty candies fit the bill.
Richards Variety Store
2347 Peachtree Road N.E. Atlanta 30305 | 404.237.1412 www.richardsvarietystore.com
Whole Foods Buckhead:
Go Organic Hard Candies, Pomegranate ($2.99 per bag) For a one bite sweet treat, these delicious hard candies fit the bill. Made with evaporated cane juice, brown rice syrup and pomegranate, the individually wrapped treats have a juicy, sweet tart flavor. Plus, since they're organic, glutenfree, non GMO Project verified, void of artificial flavors and colors, and made in the United States (in Hillside, New Jersey, to be precise), you can enjoy this one guilt-free.
77 West Paces Ferry Road N.W. Atlanta 30305 | 404.324.4100 www.wholefoodsmarket.com
Caja Popcorn:
Sea Salt Caramel (starting at $23.95 for a 1-gallon tin) If you like a little butter with your confection, this crunchy, fresh popped caramel corn might be your candy nirvana. Each fluffy kernel is doused with sweet and butter laden caramel and finished with just a hint of salt to balance the flavor. Plus, since it's made right in Buckhead, you know you're getting the freshest popcorn in the neighborhood.
2333 Peachtree Road N.E. Atlanta 30305 | 404.846.2156 www.cajapopcorn.com
Southern Art:
Peanut Brittle ($9 per bag) Few treats seem more quintessentially Southern than peanut brittle. This recipe is by celebrity chef Art Smith, who developed it from one his grandmother, Mable Jones, created in her home in Jasper, Florida. The result is Georgia grown peanuts (naturally), suspended in lacquered, honey hued, cooked sugar for an almost stained glass effect. It's broken into manageable pieces and bagged in clear cellophane for easy toting (or giving). Just a bite or two will have you in a happy, sugar induced high.
3315 Peachtree Road N.E. Atlanta 30326 | 404.946.9070 www.southernart.com